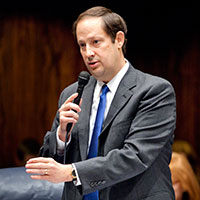 Negron seen leading in race for Senate President
STORY BY LISA ZAHNER (Week of December 11, 2014)
Photo of Joe Negron
Joe Negron, a staunch conservative who represents eastern Indian River County and the barrier island in the Florida Senate, is locked in a tight battle against the more moderate Republican Jack Latvala, a lobbyist from Clearwater, to become state Senate President two years from now.
Negron is seeking the Senate presidency for 2016-2018, his final two years.  Traditionally, legislators pick their leaders well in advance of the term, and the Negron-Latvala rivalry has been brewing since at least 2012. Republicans dominate the Senate by a 25-14 margin, just two seats shy of veto-proof power over Gov. Rick Scott.
The 53-year-old Negron, who last week rotated off the chairmanship of the Senate Appropriations Committee, attended a meeting Friday at Vero Beach City Hall about legislative priorities and afterward, spoke to Vero Beach 32963 about his aspirations to lead the Senate.
"All politics is local," Negron said, noting that controlling the legislative agenda is good for the folks back home because "it gives me the advantage and the opportunity to make sure the Treasure Coast has a seat at the table."
Negron says he's confident he has the support he needs from fellow Republicans. "The current status is that I'm several votes ahead," Negron said.
The final caucus vote could be months away and may depend on the outcome of an April 7 special election to pick a new senator from Flagler County, where Sen. John Thrasher resigned in November to become president of Florida State University.  Both Republican candidates in the Jan. 27 primary are reportedly pledged to Negron. The winner will face Democrat David Cox.
Negron said Friday, "We're hoping to keep that seat."
Negron is a Stuart attorney and former Florida House member who won Sen. Ken Pruitt's old seat in a special election in August 2009. Indian River County has grown accustomed to having its senators in leadership roles. Since Pruitt, who led the Senate from 2006 to 2008, former Sen. Mike Haridopolos, a Brevard County college professor who represented parts of western Indian River County, served as Senate President from 2010 to 2012.
Tallahassee insiders say the rivalry between Negron and Latvala is intense, though Negron downplayed the political differences between them. But it could be said that the contest parallels what many see as the ongoing wrestling match between Tea Party conservatives and moderates for control of the GOP.
"I think every member of the Senate has their own ideological point of view," Negron said. "I'm interested in the environment, and I'm a pro-consumer Republican," but added that he's also concerned about fostering a robust economy and a climate that's favorable for businesses. The Palm Beach County native said he has high expectations for his home state. "My vision for Florida has a lot to do with higher education. I'd like to see us get elite status."
Despite Negron's soft-pedaling of the rivalry, the ideological contrast between Latvala and Negron took center stage last session when Negron opposed a bill sponsored by Latvala and pushed by Gov. Scott. Awarding in-state tuition to students with illegal immigration status was something Negron couldn't stomach.
But Latvala carried the governor's water and, with the help of the anemic Democratic caucus, the bill passed and was signed into law. Scott had campaigned against this in 2008, but flip-flopped in an election year to pander to the increasingly important Latino voter.
Latvala won that round by a 2-to-1 margin, 26-13 with one member excused.
Latvala, 63, comes off a somewhat notorious chairmanship of the Senate Ethics Committee during which critics have hurled barbs at him over ethics issues. The Sunshine State News has slammed Latvala for his key role chairing the Senate Redistricting Committee charged with determining the new bounds of Florida's congressional districts, while earning his bread and butter as a federal lobbyist.
Sunshine State News Executive Editor Nancy Smith wrote on April 3 that, throughout the process, Congressmen worked Latvala for favorable district boundaries and then, "The same Jack Latvala would turn around and lobby these 'begging and pleading' members of Congress again as soon as Tallahassee business ended.  You think it's never dawned on him that this is a conflict of interest? Or, at least, the perception of one?"
Smith, in the same column, questioned Latvala for allegedly shrouding his lucrative lobbying income within his Largo-based company, Gulf Coast Imprinting. The company prints custom envelopes and campaign materials, as well as direct-mail products for nonprofits and businesses.
"Federal disclosure documents show the Clearwater Republican was paid more than $600,000 over the past six years to lobby for defense appropriations for a pair of nonprofits."
After serving a maximum eight years from 1994-2002, Latvala came back in 2010 for another round.  Since then, Latvala and Negron have been duking it out for the heir-apparent slot. Latvala has gathered political chits by spreading money around in tough races and fundraising for fellow Republicans.
Corralling, cajoling and horse-trading for votes doesn't come naturally to Negron. He's not a back-slapping, joke-telling, good ol'boy type of politician. Neither is he considered particularly warm and fuzzy. He's an intellectual and somewhat aloof, but when engaged, he's quite effective one-on-one.  Yet, he's probably not the first guy you'd pick to toss back a beer with.
Editor-in Chief of his Stetson University newspaper before earning his law degree at Emory University and a Master's of Public Administration as a Zuckerman Fellow at Harvard University's John F. Kennedy School of Government, Negron has more academic credentials than most local politicians.
For the current legislative session, both Negron and Latvala hold coveted spots on the Appropriations and Rules committees. Negron and Latvala were each tapped to chair a hefty appropriations subcommittee – Negron getting Criminal and Civil Justice and Latvala getting Transportation, Tourism and Economic Development.