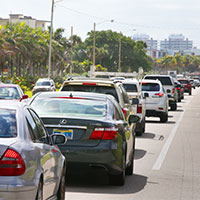 Beachside streets have never been this crowded in memory
STORY BY MEG LAUGHLIN (Week of February 27, 2014)
A drive down A1A between Pelican Plaza and Beachland Boulevard, or a walk down Ocean Drive almost any time of day, tells the story: More traffic, both on foot and in cars, than ever before in Vero Beach. More people. The upside: An improved economy and deliriously happy beachside business owners.
The downside: Longer wait-times. Fewer parking spots. And the niggling fear that, with the crowds, Vero Beach may be on its way to becoming – perish the thought – Miami. 
"We're having a wonderful February. But it's funny because a lot of customers are disgruntled about the traffic they have to wait in to get here," said Suzanne Leigh of Leigh Jewelers on Ocean Drive.
A few blocks down at the Lemon Tree cafe, customers sit outside on a weekend morning, waiting 45 minutes for a table for breakfast or lunch. On weekdays, the 50-seat restaurant is serving 600 meals a day.
"It's crazy. I've never seen so many people," said owner Paul Castraberti.
The rental market is a further indication of how busy the island is: "Prospective tenants are having to wait months and months for short-term seasonal rentals," said Beach and Beyond real estate agent Jim Runyon.
"It's hard enough to find available rentals but if you've got a pup, forget it," said Runyon, who said it had taken him five months to find an available oceanfront condo for a couple with a small dog.
County public works director Chris Mora says that a count of cars going through traffic lights on SR 60 and A1A quantifies what seems apparent to the eye: There are more people here than ever before.
"It takes more than one red light to get through some of the intersections. Historically, the busiest time has been the third week of March, but we're already surpassing that now," said Mora.
Another measure of record crowds: Vero Beach police are issuing a lot more parking tickets this year. Drivers are overstaying parking space time limits; others are parking in undesignated places.
"In January, 2012, we issued 85 parking citations. In January, 2013, there were 81.  This year in January, we issued 128. The numbers of people needing parking are definitely up," said Vero Beach Police Chief David Curry.
Indian River Shores mayor Brian Barefoot frequently drives on A1A from John's Island to St. Ed's for morning meetings. In past years, he allowed 20 minutes and got there with time to spare. Now, though, it takes about 40 minutes, he said.
"I've teased our public safety officers that maybe they should have fewer cruisers parked along the roadside so people will speed up," said Barefoot.
But on the good news side: Many of these people are headed to places where they spend money, and business is fabulous.
"We have 90% occupancy, which is 30% over last year. We're having a record first quarter. We're busier than we've ever been," said Costa d'Este Beach Resort manager Ed Riley.
Citrus Grill's Scott Varrichio said the same thing: "We're seeing record crowds and that means record money. People are in a spending mood. This year between Jan. 1 and Feb. 19 we've only had three nights that were not better than last year and last year was fantastic."
A few miles north on A1A at Vinz Wining and Dining, Zandra Simm also had good news: "Last year, people didn't seem to know we existed, but they certainly know now." At Vinz Sunday barbecue last week, there was "standing room only," said Simm.
Paula and Ray VanWagenen, owners of Classic VIP Limousine, have depended in past years mostly on John's Island and Windsor winter residents going to and from area airports. This year, they say, business is branching out.
"Most of our business is going to and from the Orlando airport, and in January, West Palm picked up a lot. We're also getting a lot of people going in and out of Miami, and business is better than ever," said Paula.
Jim Grabenbauer, harbormaster at Vero Beach City Marina, sighed with relief about a week ago because the wind finally died down enough for boats and yachts to make the crossing to the Bahamas. Prior to that, the Marina was chock-full, he said, with boats from 16 feet long to 120 feet – "from little center console fishing boats to yachts with baby grands."
The 108 wet slips were taken, as were the 57 mooring buoys and the 65 dry storage spots. "We had to turn away boats looking for dockage at night," said Grabenbauer.
But the good news: "Boating is one of the best ways to measure a booming economy because it's all about leisure and the time and money to relax, and boating is booming," said Grabenbauer.