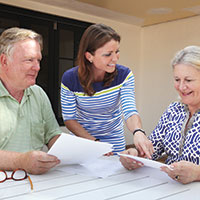 Citron Bistro to soon debut at Village Shops
STORY BY MICHELLE GENZ (Week of February 6, 2014)
Photo: The McLaughlins look over the menu with future Citron Bistro manager Jessica Lawson.
The sun was blaring down on the fresh white paint being rolled onto walls of the Village Shops Monday afternoon. But in the office of the plaza's new owners, Jay and Joan McLaughlin, the talk was of umbrellas, the canvas outdoor kind, ordered in blue to match the captain's chairs in their new restaurant, Citron Bistro.
Slated to open next Saturday, Citron is a casual order-at-the-counter breakfast-and-lunch spot, offering daily newspapers and wifi as well as beer and wine.
Citron is to be considerably more relaxed than the McLaughlin's Manhattan restaurant, Island, near their home in Carnegie Hill, an Upper East Side neighborhood. They have been commuting every two weeks for nearly a year since buying the 1970s-era shopping center and overseeing the Village Shops ongoing transformation. 
Island is described as "clubby" in one of many glowing online reviews. Others warn to make reservations: it is always packed at lunchtime.
Whether the same is likely to be true at the tiny bistro at the back of the Village Shops is anyone's guess. But the McLaughlins are convinced that the trickledown from Citron will fill the surrounding shops, and not the other way around.
Citron is expected to set the tone for the rest of the plaza, the McLaughlins say. But there's even more heat on this kitchen: they believe the very success of their new shopping center hinges on the viability of the restaurant.
For much of the space's 30-year history, it's been the other way around. Just in the past dozen years, a half-dozen eateries have had a go at defining the tucked-away café, hidden from street view behind a bank of stores that front A1A in Indian River Shores.
Most recently, it was Coco's, a café that relocated to the nearby Surf hotel soon after the McLaughlins did not renew Coco's lease.
The 24,000-square-foot plaza was bought for $3.85 million last April. Built in the 1970s, until recently it had 17 tenants in seven multi-colored bungalow-style buildings. Many of those businesses have moved elsewhere, as McLaughlin pursued his vision for the center and selectively renewed leases, while other tenants fled the impending mess of renovation.
Citron's success depends largely on whether the residents of John's Island, Windsor and other tony developments are willing to drive a few minutes for a change of venue. "You can't eat at the club every day," says Joan.
The fuss over the terrace's Tuuci umbrellas – costing upwards of $1,000 each – hints at the clientele the pair expects to lure.
"We are an Indian River Shores restaurant," says Jay McLaughlin, alluding to the wealth of the island's north end village.
"A lot of these gentlemen still get up at the same time that they did when they were professionals," he says. "They don't mind coming down here, even if they don't have any other reason to do it other than it's a new venue and a chance of pace. We want to make sure we create something that they will be comfortable with."
Like Island, the McLaughlins were after a French-inspired look at Citron. The menu, though, includes mostly American-style food, jazzed up with modern touches.
While Citron's beer and wine license will be a plus to a leisure-driven lunch crowd, for working professionals, the lure may be the coffee. The McLaughlins have gone out of their way to find a local roaster, Rio Coco. With a new Astra espresso machine and French-press coffee, they may have nailed an island exclusive on non-corporate coffee.
The McLaughlins, who renovated a home in The Moorings when they moved here seven years ago, turned to their friend Steve Mulvey of Quail Valley Club to help find a manager for Citron. Mulvey recommended Jennifer Lawson, a former employee and Vero Beach High School graduate who has worked in local restaurants for 15 years.
Lawson recently spent a week in New York, going daily to Island to train. "They wanted to keep her," Jay says.
At Saturday's soft opening, she and her co-workers will be outfitted in – what else? – J.McLaughlin striped T-shirts and polos.