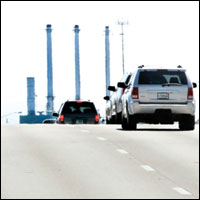 Kramer confers regularly with top foe of electric sale
STORY BY LISA ZAHNER (Week of February 6, 2014)
Vero Beach Vice Mayor Jay Kramer called or was called by the leading foe of the Vero electric sale, Florida Municipal Electric Association Executive Director and lobbyist Barry Moline, 46 times in the past six months, according to phone records obtained by Vero Beach 32963.
About half of the calls, dating from Aug. 21 to Dec. 27, were initiated by Moline to Kramer. The other calls were initiated by Kramer. The total time the two spent talking on these calls was 583 minutes.
Kramer made and received the calls on his personal cellphone. They thus did not appear on city phone records, and only a specific records request under Florida's Sunshine law led to their disclosure.
Kramer for the past three years has led Vero Beach opposition of the sale of Vero electric to Florida Power & Light, but the phone log obtained Monday was the first direct evidence that he has been in constant contact with the FMEA, the lobbying organization for municipal electric utilities.
Since the movement to sell Vero electric to FPL started in 2008, Moline has been one of the most acerbic critics of the sale.
His organization funds eight lobbyists who defend municipal electric. The FMEA also filmed and distributed a video in 2011 featuring local opponents of the sale, aimed at defeating the referendum that approved lease of the power plant site to FPL.
Most of Kramer's calls to Moline were made from Vero Beach, but some were made from Indiana and Iowa. The vast majority were during the business day, with a few exceptions, including a 31-minute call from Moline to Kramer at 11:25 p.m. on Sept. 3.
The Vero Beach City Council had met at 6 p.m. Meeting minutes reflect that transactional attorney John Igoe reported back to the council what had transpired at a joint meeting of FPL, the Florida Municipal Power Agency and city officials on Aug. 23 in Orlando.
There were three calls on Dec. 2 in the lead-up to the Dec. 3 council meeting. Then there were four calls back and forth the day of the Dec. 3 council meeting. On the agenda that day were several items related to Vero electric, including proposals by Kramer to reduce Vero electric rates and to marginalize outside electric customers' representation on the city's Utility Commission.
Kramer's personal cell phone records were opened up to public scrutiny after former councilman Charlie Wilson asked for copies of Kramer's emails and records of his phone calls with Moline.
"Mr. Kramer stated at a public meeting that he was in regular communications with the Florida Municipal Power Agency/Florida Municipal Electric Association. Email records furnished by you, thank you, did not show any email communications which means Mr. Kramer is communicating for public on his private or public cell phone which makes his records subject to Florida sunshine," Wilson wrote to City Clerk Tammy Vock on Jan. 29.