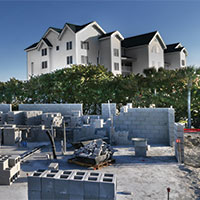 New home development roaring back to life
STORY BY STEVEN M. THOMAS (Week of February 13, 2014)
After being dormant for years, new home development is coming back to life on the barrier island, with more than half a dozen subdivisions in the planning or building stages between the inlets. Add in several large projects on the river just across the bridge and in Melbourne Beach and 400 new luxury homes are in the pipeline.
"The cycle is commencing again and from mid-2014 through early 2015, a lot of new product will be coming online," says Michael Thorpe, co-owner of Treasure Coast Sotheby's International Realty.
The surge in new development is driven by what Thorpe calls "a vastly improved real estate market," and the fact almost no new subdivisions or spec homes were built on the island in the past five years.
"If you look at a long stretch of island, from north of the Sebastian Inlet to the Fort Pierce Inlet, less than one half of one percent of the homes on the market were built in or after 2012," Thorpe says. "At the same time, many buyers are only interested in new construction."
"There is definitely a strong appetite for new product, but our new-home inventory is at a 30-year low," says Clark French, broker associate at Premier Estate Properties, who with his partner Cindy O'Dare recently opened Old Oak Lane Development to meet the needs of buyers who want to move into a home that is new to the world as well as to them.
 "There is a void in the market that needs to be filled," French says. "The banks and developers and builders need to get going, because there is a ready buyer for that new home product."
"Without a doubt, new homes will be a more significant part of our market this year and next," says Dale Sorensen, managing partner of his family's real estate business. "Inventory has been declining for a long time because nobody was building and at the same time demand has gradually crept up. I expect to see building and development increase."
Thorpe, whose company is the exclusive agent for four island subdivisions, is creating a new-home sales center at his office on A1A. "With virtual reality tools and other technology, we will be able to walk buyers through the houses and give them a good feel for what the various developments are like before taking them out to see new homes.  This will be much more efficient than spending the whole day in the car driving up and down the island."
Barrier island developments represented by Thorpe and his partner Kimberly Hardin Thorpe include Avalon, River Club, Michael Creek and remaining lots on Marsh Island.
Avalon, located a short distance south of Round Island Park, got underway just prior to the real estate crash and then stalled after only three homes were built. Repossessed and resold, it is now in the hands of well-capitalized investors, according to Thorpe.
Subdivision infrastructure and four homes are complete. On offer are 29 additional homes on the West side of A1A that will be between 2,500 and 3,000 square feet, with prices in the $600,000 – $700,000 range. There will also be six or seven larger oceanfront homes offered for $2.5 to $3 million."
River Club in Indian River Shores has 27 finished lots and land that can be plated for another 34 homes.  Thorpe says the property owner, who brought the partially-finished development out of bankruptcy, is negotiating with builders to begin putting up model homes.
Michael Creek, a superbly positioned 60-home development near the island end of the Wabasso Bridge, was plated and approved just before the crash and then mothballed like countless subdivisions across the country.  Developer Cary Glickstein has decided the market is now strong enough to launch the community as originally planned – although the homes will be somewhat different from first envisioned, adapted to today's market.
"The homes will be right-size, right-price, with wonderful architecture and lots of community amenities for active adults," Thorpe says.
French and O'Dare are marketing Old Oak Lane, a 10-home luxury development in Old Riomar, where golf course homes will cost approximately $2.75 million; the East End oceanfront townhomes in Central Beach, which are priced at $2.25 million; and a 6-acre oceanfront development in the estate section where 8 to 12 luxury homes can be built, depending on the subdivision layout. French says the equestrian-friendly land might also be sold to someone who wants to build a multi-house family compound.
French and O'Dare also specialize in single-lot development. "We always have six or eight lots for sale and we are meeting in our new space everyday with buyers, builders and architects," says O'Dare.  "Sometimes we just broker the lot, sometimes we are involved with the whole package, putting people together with the right civil engineer and advising them about what they can and cannot build on a particular lot."
"Building can be very intimidating and some buyers want us to stay involved and walk them through the whole process, which we are happy to do as full-service brokers," French says. "Cindy and I are both intimately familiar with the development process, especially on the ocean, and we can give buyers every tool they need to build successfully and the confidence to proceed. If we can help someone get a handle on the building process it serves our primary focus, which is to sell the lots our clients have listed with us."
New homes are also available in Palm Island Plantation, where the  3,000-square-foot Somerset West Indies model is priced at a little over a million dollars; the Estuary in Indian River Shores, where a partnership that includes Dale Sorensen Sr. is developing properties; in North Shore Club near the Disney Resort; and in other  locations.
"Everyone thinks the real estate market is going to be just fantastic over the next few years," says Thorpe. "People have now begun to build – cautiously, selectively and intelligently – and we are going to be in a great position to offer what has become the most desirable housing product."