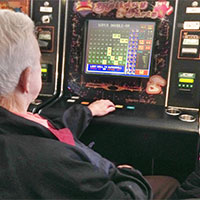 Does this look like illegal gambling? Not to sheriff's deputies
STORY BY BY MEG LAUGHLIN AND EILEEN KELLEY
(Week of January 23, 2014)
Less than a year after new state laws brought Florida's burgeoning "internet café" and "adult arcade" gambling business to a grinding halt, the once-darkened storefront gambling parlors are up and running again.
In Indian River County, seven arcades sporting slot-like machines are currently operating.  The method of playing the games at five of them would appear to be clearly illegal – the law requires that gaming machines be coin-operated – and six of the arcades are flouting the law by offering big prizes redeemable for cash.
"It's illegal in my opinion. Customers play a game of chance to get products to sell or exchange for cash, and that's clearly gambling," said Mike Fasano who served in both the Florida House and the Florida Senate, where he sponsored the bill to regulate the gaming arcades and so-called "internet cafes."
The regulations, sponsored by Fasano, outlawed the use of paper currency to play the machines and banned gift cards which could be exchanged for cash prizes. As a result, over 1,000 internet cafes in Florida shut down last spring.
But in the past few months, they've been reopening like gangbusters.
To skirt the law, instead of requiring that coins be inserted in the machines, staffers take cash from customers – usually $10 or $20 at a time – and apply the money to a stored-value card that customers insert in the machines.
"It's a joke," said Fasano. "It's a sleight-of-hand to use illegal cash."
Customers then push buttons to stop rolling bars, cherries and even Florida grapefruit and hope to get a winning sequence. When they do, points can be used for further play, which is legal, or accumulated for appliances, costing hundreds of dollars, which is illegal because – like the gift cards – they can easily be exchanged for cash.
"These adult arcades, like the internet cafes, need to be better regulated or shut down," said Fasano.
Furthermore, the current law says that a customer can't put more than 75 cents on a play, but games for over 75 cents a play abound at most of the Indian River arcades and are clearly marked as $1, $2 and $5 machines. The law also says that prizes can't be valued at over 75 cents, but adult arcades get around that by letting players accumulate 75-cent wins until they have hundreds of them to exchange for big appliance prizes.
Those prizes are clearly displayed at most of the arcades with number stickers on them that tell the price, but they are called "points" by management.
"There is no difference in what we had before that was illegal and what we have now," said Fasano.
Indian River County sheriff's deputies, however, say they are seeing "no violations" during their visits to adult arcades – even though the use of cards, often loaded up with $20 in credit poking out of the machines, and the display of big prizes with price tags is blatant, along with signs saying management can order anything a customer wants.
"That's not to say crimes aren't being committed," said sheriff's department spokesman Thom Raulen. "But if they are, we're not seeing them."
A look, however, at what is occurring at the seven adult arcades in full swing between south Vero Beach and Sebastian raises the question: How can sheriff's deputies possibly miss what's going on?
At The Mirage, at 8200 State Road 60, players buy stored-value cards to insert in the machines for play, often putting the suggested amount of $20 on them. Across the dim room of slot-like machines, players – mostly between 50 and 80 years old – sit at machines with the plastic cards inserted in them and play for hours, pushing buttons to come up with wins or losses.
The wins go on a running point tally on the cards toward prizes – like a $165 CD player on display, or gasoline. Management also gives the verbal guarantee that more valuable prizes have been ordered and are on the way.
But the big enticement at Mirage is "BP points," which entitle winners to use their "credits" to fill their gas tanks at the BP service station next door. Mirage management acts as the middleman on the cash payment exchange, since cash prizes are illegal. A sign in Mirage tells players they can exchange prize credits for BP points.
At Lucky Star, 6600 State Road 60, customers are urged to put "$20 or more" on the cards. They are then told that while the prizes on display – like coffee makers, chenille throws, beach towels – are worth between $6 and $40, management will be happy to order prizes worth $100.
At Nan's Arcade on Oslo and SW 27th Ave., the stored-value cards are also used. While the prizes displayed are not worth more than $10, players are told that management can order much nicer things – "like a flatscreen TV or anything you want."
Near Nan's, Bobby's arcade bustles. Of all the arcades in Indian River County, it's the busiest. Like most of the others, players put $10 or $20 on cards to insert in the machines.
And, like the others, players win appliance prizes on display, which are worth far more than the legal amount. And, like the others, the staff is exceedingly helpful and great at creating a friendly atmosphere, where popcorn, sandwiches, coke and pie are furnished without charge.
At Bobby's, players seemed to be calling out "jackpot" more frequently than at the other game spots. In a 10-minute period last Thursday night, four people hit the jackpot, which credited large numbers of points toward prizes (or more playing time) to their players' cards, which were inserted in the machines.
With each grand slam win, Bobby himself ran over to the winners and loudly congratulated them by first name: "Great going! Good for you, Mike!" bellowed Bobby over Tommy Edwards '50s hit, "It's All in the Game," on the sound system. 
Applause and cheers broke out across the packed room, while a beaming Mike, who appeared to be past 70, gleefully waved around the room, then went back to playing.
"I know it's entertaining for some seniors, which is good," said Fasano. "But nothing protects them and that's not good. The prizes are getting bigger and bigger and the seniors are losing more and more money to try to get them."
Down the road from Bobby's at the Goldmine, which also uses management-furnished stored-value cards in the machines and offers illegal appliance prizes that cost over $100 – including a $150 coffee maker that costs $100 at Bobby's – customers and management get along so well that customers were contributing money for a memorial service for an employee's family member.
"We're all a family here," said a staffer.
Yet, amid the hugs, tears and generosity, the playing continued, with customers forking over $10s and $20s to be added to their cards for insertion in the machines.
Heading toward Sebastian at 8980 North US 1 is the Paradise arcade, which uses legal tokens instead of plastic cards, in keeping with the law – even though the cost of the prizes appears to break the law.
Players insert a $1 token in a coin slot on the machines to play and possibly win an $89 Dirt Devil vacuum or, as they are instructed, "a $499 flatscreen TV or anything else you want," which management offers to order.
In Sebastian at Roseland and US 1, the Goldmine arcade also uses the stored-value cards, with employees suggesting a minimum amount of $20 be put on the card.  But Sebastian Goldmine offers no illegal prizes.
"What you get is points toward more playing and more enjoyment. We offer nothing illegal," explained an employee, who is calling out numbers to 15 customers – mostly women over 60 – in a bingo game, while six others play the slot-like machines.
"Here, we pay only for the right to have fun and be with friends," explains a customer who is eating a sub furnished by management, which also gives players wine.
But along with regulating the prizes, Goldmine management also regulates the wine. A sign tells customers: "Only two cups of wine per day, not per shift." That suggests some customers spend the entire day and evening there, which could make a big dent in a monthly Social Security check.
Brian Kongsvik, who runs the hotline for the Florida Council on Compulsive Gambling, said he used to see hundreds of elderly players at the gaming parlors wiped out because they spent eight to 12 hours playing and put everything in the machines.
"Horrible stories about people losing their homes over playing became nonexistent after the regulations closed the parlors down last spring," said Kongsvik.
But the creeping tendency of most arcades to increase the ease with which larger amounts of money can be deposited in the machines and the offer of expensive, redeemable prizes has made arcade popularity skyrocket again.
"We're starting to get calls," said Kongsvik, who refers people to programs to break their gambling addictions.
Indian River County assistant state attorney Tom Bakkedahl said he was under the impression the arcade management teams were playing by the new set of rules and exchanging small wins for inexpensive sundries like toilet paper and peanut butter.
Still, he expressed frustration with the state's new law, saying that lawmakers really didn't do much to fix what had long been considered a grey area that allowed these arcades to operate for decades.
"We're trying to figure out what the new laws are saying," said Bakkedahl.
Katie Betta, spokeswoman for Senate President Don Gaetz, was not surprised to hear the laws were being violated in Indian River County and said the Senate's Committee on Gaming was looking into reports of arcades breaking state law.
"Members of the committee are aware of reports regarding certain games and prizes that have arisen in the months following the effective date of the law and have received thousands of comments from constituents, including local law enforcement, café operators, advocates and those opposed to internet cafes and other forms of gaming ...," Betta said in an e-mail to Vero Beach 32963.
But sheriff department spokesman Raulen said complaints about illegalities have been rare in Indian River County.
If something illegal is going on, it's not when we're there," he said. "Arcade managers seem to really want to work with us to stay within the law."