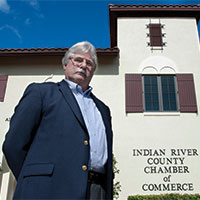 New Chamber of Commerce to focus on Vero Beach
STORY BY LISA ZAHNER (Week of January 9, 2014)
Photo: Charlie Wilson in front of building of Indian River Chamber.
Former Vero councilman Charlie Wilson and two colleagues last week founded a new Chamber of Commerce – the Vero Beach Chamber, not to be confused with the existing Indian River County Chamber – to return the focus of tourism and economic development in the county back to Vero Beach and the barrier island.
"The need for a Vero Beach Chamber of Commerce is clear. We need to think Vero first," Wilson said. "People from across the country don't say, 'Let's visit Indian River County.' They say, 'Let's go to Vero Beach.'
"Vero Beach is unique and needs a Chamber that makes Vero Beach businesses and Vero Beach tourism its priority," he said.  "Vero Beach needs its own Chamber of Commerce for the same reason Sebastian has its own Chamber."
Wilson said he takes issue with the Indian River County Chamber of Commerce for many reasons, not the least of which is the chamber takes more than a half-million dollars in government funding annually, much of which goes to cover salaries and overhead.
"The Indian River Chamber does a fine job in some areas but they have become stagnant and too dependent on money from county government," Wilson said.
That money is all under the control of county – not city – entities, giving Vero and its officials little clout when it comes to tourism or economic development.
The three-pronged focus of the new chamber will be promoting tourism for Vero Beach, promoting economic development and maintaining the quality of life that is Vero Beach.
One of the first orders of business of the new Vero chamber will be to set up a visitor information kiosk or center in a busy spot along Ocean Drive, similar to other tourist destinations, offering information about lodging, dining, attractions, cultural activities and eco-tourism.
He has three possible locations identified for the visitor center and hopes to nail that down in the coming weeks.
Another project will be to publish an attractive, hardcover coffee table book of Vero Beach annually to be placed in hotel rooms and other places where it will be seen by tourists. Wilson said he was inspired to do this after seeing a book on Tampa Bay that offered lots of useful information to drive visitors to local merchants, eateries, hoteliers and service providers.
Wilson is also critical of the small empire he says chamber president and chief executive Penny Chandler has built with her staff of six and her $1.5 million, 5,000-square-foot office building constructed in 2010.
"The New Vero Beach Chamber of Commerce does not need a fancy building or highly paid staff and will not accept government money, leaving us free to bring tourists to Vero Beach and support the needs of business, not the wants of government," Wilson said.
The Indian River County Chamber's auditors even identified this reliance on government funds as a risk in the audit statements of the economic development and tourism divisions of the chamber.
"Tourism receives all of its support from the county. The loss of the appropriation from the county, a significant reduction in the level of tourist development taxes collected by the county, or a severe economic downturn may have a materially adverse effect on the financial position and operations of the Tourism Division," wrote the Rehmann firm which completed the audit. A similar note was printed in the economic development audit statement.
Though his move to start a "rogue" chamber might seem like the poke of a stick directly in the face of Chandler and her operation, Wilson said he doesn't really see the organizations being in direct competition.
"The Indian River Chamber can continue to do what government pays them to do. The Vero Beach Chamber will not ask the County Commission for grants of any kind," he said. "The new Vero Beach Chamber's goal is to do more, for less and to do it better."
Chandler did not return phone calls for comment.
To get up and running, the new Vero Beach Chamber of Commerce, Inc., has a provisional board of three people – Wilson plus long-time Central Beach residents Dan Stump, an attorney, and Mark Mucher, a computer systems and technology contractor. Between now and the end of March, a board of 15 members will be assembled and committees will be formed.
Wilson has volunteered to head up the Vero Beach Chamber for $1 per year for the first three years while the fledgling organization documents its activities so it can apply for accreditation in early 2017.
As the new chamber grows, Wilson said the aim is to avoid the trappings of complacency and entitlement he feels have caused the Indian River Chamber to lose its edge.
"They receive more than a half-million dollars yearly for their tourism and economic development efforts. Unfortunately, nearly half of that amount, over $250,000, is spent subsidizing their internal expenses leaving little to actually promote tourism and economic development," Wilson said.
"The Indian River Chamber has become so dependent on government money, that the Chamber often supports issues important to government even when they have a negative impact on its business members."
The new Vero chamber is seeking 100 charter members who hold occupational licenses within the city of Vero Beach, plus associate members who want to be part of the chamber but who might not have a business address in the city. Memberships for a small business of up to 20 employees will be $195, with larger businesses paying $325 and associate members $225.
In less than one week, the new Vero chamber has 10 members committed and another 25 probable, Wilson said.
"We support anything that's going to encourage businesses and tourism to come to Vero – absolutely," said Matt Willis, owner of Cardinal Property Management, who manages several commercial properties in Vero, including the 2001 Building where the new chamber office is located.
Willis said he sees distinct roles for both the established Indian River County Chamber and the new Vero Beach Chamber.
"I've known Charlie a long time and I feel that he has the business acumen to bring some new marketing for Vero Beach," he said. "I think he will market it very well and that, between it and the other chamber of commerce, it will help the community."
In addition to promoting Vero Beach businesses and tourism in the city and on the barrier island, the new Vero chamber will fight for Vero to get its fair share of tourist tax dollars, revenue Wilson says is long overdue to the city.
"Like the Sebastian Chamber, Vero Beach needs someone looking out for them. Between 60 and 70 percent of the money collected to attract tourism to Indian River County is collected from rental properties in the area to be served by the new Vero Beach Chamber of Commerce," he said.
Vero has sometimes asked for a cut of that money from Vero Beach hotels and motels to support an urgent need, but has been turned down.
For example, when City Manager Jim O'Connor approached the Tourism Development Commission during the 2011-12 budget year to request about $85,000 for emergency dune repair to make the city's beach boardwalks safe for tourists, they were turned away empty-handed.
"Who's watching out for Vero Beach? It's hard to tell, so it is time to 'Think Vero First'," Wilson said.
"I'm excited about the possibilities for Vero. Vero has been ignored and we're going to benefit tremendously from the electric sale and until then we'll be supporting that," said Mucher, a director of the Vero chamber. "I'm upset that a majority of the tourist dollars seem to come from the city of  Vero Beach but when we ask for a penny to restore the dunes, they say no."
The new chamber's tourism website will be www.welcometovero.com and its general information and member website will be www.verochamber.com.