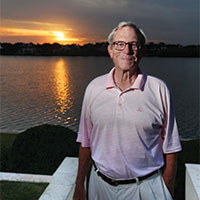 Retired banker, 'in love' with lagoon, funds estuary workshop
STORY BY STEVEN M. THOMAS (Week of January 16, 2014)
Photo of Edward Crutchfield
Edward Crutchfield, who built one of the biggest banks in the U.S. in the 1980s and '90s, pulled $50,000 out of his own pocket to fund Save the Indian River Lagoon Estuary Now's workshop this week at the Historic Courthouse in downtown Vero.
A John's Island resident who moved into his waterfront home in 2007, Crutchfield says he read in Vero Beach 32963 about Commissioner Tim Zorc's desire to mobilize the community to save the ailing estuary and called him up to offer assistance.
"He didn't know me from Adam," Crutchfield says. "But I told him I supported what he was trying to do and was ready to help, with finances or otherwise, and he took me up on it."
Buoyed by Crutchfield's support, Zorc joined forces with marine contractor Jeffrey Meade and Vero Beach Utilities Commission member Scott Stradley to form Save The Indian River Lagoon Now, Inc., a private not-for-profit corporation.
The group is dedicated to bringing scientists, local government officials, state and federal agencies, business representatives and other stakeholders together to create a comprehensive restoration plan for the central lagoon, a cause close to Crutchfield's heart. An avid fisherman, the retired banker spends two days a week out on the lagoon with a guide, hunting snook and other game fish.
"The lagoon is what drew him here," says Crutchfield's wife Barbara. "If it was to deteriorate very badly, we would be living someplace else."
Crutchfield was only 32 when he became president of First Union Bank in Charlotte, NC, making him the youngest head of a major bank in the United States.
Named CEO and Chairman of the Board in 1984, just as interstate banking was legalized, he embarked on an epic period of expansion, earning the nickname "Fast Eddie" by acquiring some 100 banks over the next 16 years, increasing First Union's assets from $7 billion to nearly $300 billion.
As president and then CEO of First Union, which later absorbed Wachovia and then merged with Wells Fargo, he was instrumental in transforming Charlotte from a provincial town to an international banking capital, building the gleaming towers of today's skyline where nothing but small pre-Depression brick buildings stood before.
"Ed Crutchfield had as much to do with the rise of Charlotte as an international city and world banking center as anyone else I have met in my time here," says North Carolina Governor and former Charlotte Mayor Patrick McCrory.
"He has always been a visionary and he has a way of getting people engaged in his vision," says Wells Fargo Executive Vice President Bob Bertges.
One of the first banks Crutchfield scooped up was the old First Bankers of Indian River County in 1985. He says he "fell in love with the Indian River" when he came to Vero to look the bank over.
"I love to hunt and fish," says Crutchfield, who founded the North Carolina chapter of the Nature Conservancy in the 1970s. "I came here to see the bank and a man named Richardson who was head of it showed me around and I thought, 'My Lord, you mean to tell me this little piece of land is between the Atlantic Ocean on one side and this big beautiful river on the other and there are quail fields just a short drive away? It is Valhalla!'"
Retiring here in 2007 after trying Palm Beach life for a while, the Crutchfields enjoyed the lagoon that flows behind their home when it was thriving and have witnessed its decline over the past several years, with unprecedented losses of seagrass, fish and marine mammals.
The Crutchfields' concern about the Indian River lagoon amounts to something like anguish.
"The Indian River is absolutely critical to this town," says Ed. "I grew up in little towns and I know what can happen to them when things go wrong. They can dry up and blow away."
Despite the severity of the estuary's problems, Crutchfield says he is optimistic about the waterway's future. "It seems like enough people have this on their radar now, in the legislature and even the U.S. Congress, that something will get done. Somebody is going to cut some big money loose and things will start to move.
"If people are fiercely determined to make something happen, it will happen. That is what it takes."