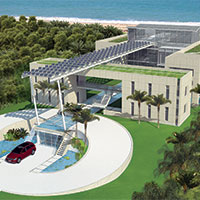 Is Vero ready for a sustainable modernist home?
STORY BY STEVEN M. THOMAS (Week of January 23, 2014)
Is Vero ready for a striking modernist home on the ocean with a suite of sustainable features that include rooftop gardens, geo-thermal heating and cooling and glass walls that darken like sunglasses in bright light.
Partners Joe Foglia and Vic Lombardi, developers and general contractors who have teamed with architect Tom Hoos, think this concept – unusual for Vero – will have strong market appeal for sophisticated environmentally-minded buyers from South Florida and California, and perhaps even local residents.
"More and more of my clients in Windsor and John's Island are interested in modern design," says Hoos, who designed the virtual house. "They want clean; they want simple. I see public taste really changing even from two or three years ago. There is a new generation coming along."
"We think people have seen enough of the Mediterranean style," says Foglia. "We could be wrong about that, but in the end, this is probably the right look for this project. The energy conservation features and green footprint have a lot of appeal to certain buyers."
If the partners are able to build the house the way they want to, it will include rotating solar panels that capture the sun's available energy at all hours and seasons and natural water gardens that purify swimming pool water without the need for chlorine or other chemicals.
For the time being, the house exists only in virtual form as Hoos refines its features and completes a detailed online model that will allow prospective buyers to walk through the structure, experience its ambiance and request design modifications if desired.
It will take shape in concrete, steel and glass if and when a buyer comes along who is willing and able to spend between $15 million and $20 million for a home projected to be 12,000 square feet under air and 18,000 under roof.
It would be hard for most builders to attract a buyer for a house of that magnitude based on nothing more than an online model, however detailed, but Foglia and Lombardi have track records that inspire confidence.
Foglia got his general contractor's license in 1986 at age 19. "I think I was the youngest GC in Florida at that time," he says.
He moved his business from South Florida to Vero Beach in 2003 and has been busy building ocean- and river-front homes ever since, most often in partnership with Lombardi, who has several decades of experience as a luxury home and commercial real estate developer.
The pair currently have four oceanfront residential projects underway on the island with a total cost including land in the neighborhood of $75 million.
The homes include an 18,000-square-foot modernist home on Ocean Drive south of the Jaycee Park boardwalk that Foglia says will be done in the next few months; an 11,000-square-foot house on Gracewood Lane that is about a month from completion; the East End townhouse project in Central Beach that includes five multimillion residences; and a massive home in the estate section that Foglia says will be the largest house in Indian River County.
"It will be 42,000 square feet under roof, 25,000 under air" he says of the $35-million project.
Hoos' bona fides are equally impressive.
Since growing up in Stuart and graduating from the University of Florida, he has had a wide-ranging career working for large architectural firms in the U.S. and abroad as an architect, executive and design chief.
During a 10-year stint in Los Angeles in the 1990s, he worked side-by-side with Frank Gehry, one of the most renowned architects of the 20th century, helping design the famed Walt Disney Concert Hall, and with Richard Meier on the Getty Center Museum, another L.A. architecture icon.
After Los Angeles, he opened a successful Vero Beach practice with Mark Vigneault, designing homes in Windsor, John's Island and Orchid Island.
When the housing crash hit Florida, Hoos put his skills to work as vice president of a 1,100-person architectural firm in San Francisco and as chief of design for a 300-person architectural engineering company in Cairo, Egypt. He returned to Vero last summer to participate in the island's recovering real estate market.
Hoos has been busy since his return, designing among other buildings the 42,000-square-foot home Foglia is building in the estate section.
That house was conceived and marketed as a virtual home, like the sustainable modernist home they are marketing now.
Foglia and Hoos offered the estate section home, then planned for 24,000 square feet, in January 2013 as an online model backed up by their professional reputations. Foglia says they had a deal within about 90 days but the buyer wanted something bigger than what they had planned.
Palacio Tranquillo, as the estate section home was called in marketing material, was envisioned for a specific lot, but the buyer bought the adjacent lot as well and Hoos adapted the design to nearly double the size of the house.
The sustainable home is not attached to a particular piece of property.
"The modernist house is designed for the Vero Beach oceanfront," says Foglia. "It is adaptable and will fit on just about any one of the estate lots that is available, most of which are about 125 feet wide and 500, 600 or 700 feet deep, usually between an acre and acre and a half. You need that much land for a true estate feel, which is the way this project has to be presented."
Foglia, Lombardi and Hoos are partners in the current venture, sharing the costs of design and marketing in hope of a great professional opportunity and substantial payday.
They are flexible in how they are willing to work with a buyer.
"We could do it turnkey, where the buyer puts down a 20 percent down payment and then says, 'see you at closing,'" Foglia says. "In that case, we would put bank financing in place, acquire the land and build the house and transfer ownership when the project is complete."
Alternately, the owner could self-fund or secure his own financing and make a down payment and a series of progress payments as construction proceeds, with a final payment at completion. Either way, the design can be modified to suit the buyer's desire for sustainability, metering the number and extent of green features.
Lombardi says it will be about a two-year project, once a buyer signs a contract.
"Plans and permits would take four to six months and then there would be a 15 to 18 month construction timeline," he says. 
The partners are hopeful the sustainable home will attract a qualified buyer as quickly as Palacio Tranquillo, where Foglia is close to completing the concrete and steel shell only about a year after the home was first unveiled in electronic form.
"Elon Musk would make a good buyer for us," Hoos says, referring to the Pay-Pal billionaire behind the Tesla luxury electric car and the SpaceX rocket program. Since SpaceX launches its Falcon 9 rockets from Cape Canaveral, a Vero home would be convenient for the 42-year-old entrepreneur. "Someone like Musk who has the money and is attracted to fresh ideas and modern design would be perfect."