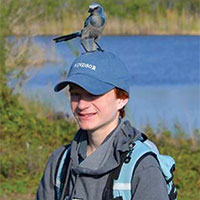 Windsor teen killed in Austrian avalanche
STORY BY MICHELLE GENZ (Week of January 2, 2014)
Photo: Cameron Bespolka at the Indrio Savannas.
Early one rainy morning at his English boarding school, Cameron Bespolka posted on-line a rare moment of hesitation before heading off to his beloved birding patch to count and identify birds.
The 16-year-old,  who frequently visits his family's second home in Windsor, almost never missed a Sunday without rising at 6 a.m. to bird watch, his headmaster would later note in tribute.
Braving the day's misery, Cameron left his computer to trek to his field. There in the dripping grass was a baby woodpecker, soaking wet and unable to fly.
Cameron knew all he could do. He found the bird a bit of cover and "left him be," he posted when he got home, along with a photo of the bedraggled bird.
A week before Christmas, nature got the best of Cameron. An ornithology prodigy whom fellow birders predict would have become "world-class," he was buried in an avalanche on a ski slope in the Austrian Alps. Unable to move, he died before rescuers could reach him, though they were able to free his father, Kevin Bespolka, 51. The elder Bespolka suffered collapsed lungs and a serious knee injury and was airlifted from the scene.
Cameron's triplet brother and sister, Nicholas and Megan, as well as his younger sister, Sienna, 12, are left to comfort their devastated parents. Cameron's mother Corrine and his sisters weren't on the slopes at the time.
The next day, Corrine's sister, Johanna Cruickshank, as well as the Bespolkas' close friends from Vero, the Austrian-born director of the Windsor Gun Club Nicky Szapary and his wife Stephanie, arrived at the resort, Lech am Arlberg, to lend support to the grieving family.
Cameron's brother Nicholas was not injured but had to witness the snow's assault on his father, brother and the ski instructor who was leading their lesson. The guide was able to free himself quickly and called for help. Reports say he and Nicholas then rushed to help the others.
The skiers all carried avalanche airbags, and they were reportedly deployed. They were also equipped with shovels and transceivers for the off-piste run, which, while not officially sanctioned, was not prohibited. The avalanche threat that day was at the lowest level, one. 
Until disaster struck, the family likely only heard about one piece of equipment missing: Cameron forgot his binoculars. He posted that on-line, along with a list of all the birds he still managed to see.
On his holiday to the same resort last year, he posted this:
"Nice week skiing in Lech Austria," wrote the then 15-year-old. "Snow finches, alpine accentor, 3 toed woodpecker and bearded vulture were highlights."
The post was typical of Cameron's travelogues. Birds embellished every place he went, like glitter on a greeting card. Once, while staying at Windsor, he took a trip to Universal Studios with his family, and afterward noted that the best part was "seeing a brown thrasher out the car window!"
The Bespolkas bought their home in Windsor in 1999. Tooling around the quiet streets of the very private gated community, the ginger-haired toddlers were the apple of everyone's eye, said a neighbor.
Cameron had only taken up birding in adolescence. When one birder asked him how he had learned so many birds by the age of 14, he told him he had read the Sibley bird guide cover-to-cover four times. "It's been hard. I had to learn two continents," he told him.
On-line birders in England called him "a rising star" in wildlife.  One birder in Sweden posted that Cameron was a "textbook example of talent that is coming through the ranks."
A schoolmate wrote that he and Cameron were the only birdwatchers in their school.
"What a complete tragedy, I still cannot believe it," said the poster, who goes by TimSG80, of Dorset. "He was a really great and funny guy, liked by everyone, and had an extraordinary knowledge and an immense passion for birds for someone of any age, let alone a 16-year-old. We talked for many hours about birds we had seen and hoped to see – he was hoping for alpine choughs and alpine accentors while skiing."
"I hope he got to see them," posted another birder in response.
"Yes, he did," replied still another, who had apparently seen Cameron's final posts of sightings. They included a golden eagle, on the day before he died. 
Cameron's knowledge of bird habitats showed in the diversity of his "patch," a small region near his boarding school that he monitored for birds and returned to at least weekly. From pristine woodland to meadows to a sewage reservoir, his patch brought him a thrilling sense of satisfaction while taunting him just enough with near-misses – "dips," in the lingo of birding – to keep coming.
Vero birders said that at 14, Cameron had surpassed the skills of many lifelong birders; at 15, he was "already leagues above us."
He had an acute memory for detail, a razor-sharp focus and the ability to discern not only visual traits like shape, size, color and movement, but sounds as well.
On top of that, he had his parents' love of outdoor adventure; in August, he went to Zermatt to watch his father and his team climb the Matterhorn, an effort that raised nearly $300,000 for a cancer center in their home town.
"Well done, Dad!" Cameron noted on his blog, then got to the point: the birds he'd seen there.
Nancy Irvin, on the board of the Pelican Island Audubon Society, will not forget her time bird watching with Cameron and two adult birding friends.
"He just had such an influence on me, I can't tell you," Irvin said.
"He was literally delightful. You hear all of these bad things about kids playing video games all day long. Then all of a sudden, you meet Cameron. He's just restored my faith in kids."
"I've never been birding with someone that young," she said. "Here I am in the back seat with this 14-year-old with his binoculars and his bird book. You just shut your mouth and listen and you can learn so much from this 14-year-old kid."
Then she invited Cameron to her backyard, which she had turned into a haven for hummingbirds, a species that doesn't exist in England.
The bird-watchers came through a rear driveway so as not to startle the birds, including painted buntings at her feeder.
"I was kind of embarrassed," Irvin says, laughing at the memory.
"He's coming from the polo club and we were trampling through plants to get to the back yard. I told him 'Cameron, this is how the other half lives.'
"He was tickled pink," Irvin recalls.  "He got a ruby-throated hummingbird for his life list."
In his honor, she's now calling hummingbirds 'Camerons.'
"Hummingbirds are like jewels," she says, "and he was just a jewel."
On Dec. 7, ten days before his death, he posted photos from his visit to Vero in the spring.
In his first three days here, he had amassed a list of 91 species.
"This is a decent total since I haven't birded obsessively," he wrote on his blog.
Not obsessively? He had been to Pelican Island twice, as well as marshes in Fellsmere and Blue Cypress Lake out State Road 60.
Working with Sebastian birder David Simpson, considered one of the best birders in the state, he saw a roseate spoonbill, a bald eagle and a fulvous whistling duck,"our target bird."
Their visit to Blue Cypress Lake did not yield a short-tailed hawk, "though annoyingly it had been seen the day before," he posted.
On a July trip to Florida, he watched pelicans hatching "which was very awesome," he notes.
Simpson recalls taking Cameron to the St. Sebastian River Preserve to find the rare red-cockaded woodpecker, a species that nests in colonies and has been nurtured by conservation efforts for half a century.
Making their way together through the tall pines, they listened for the calls of birds the red-cockaded flocks with – eastern bluebirds, pine warblers, and brown-headed nuthatches – and talked about how to manage habitat to encourage particular species. 
"Cameron already knew most of the stuff," Simpson said. 
"Cameron Bespolka's Birding Blog: Twitching, dipping and patching!" Cameron called his blog, begun in 2012, obviously already taken with the jargon of birders.
 Twitchers are birders who travel long distances to see particular birds; "dipping out" is when they just missed the bird they were looking for.
"I would just like to show you this set of Florida scrub jay, must be one of my favourite birds ever, Stunning!!!" he wrote, after taking a birding trip to the Indrio Savannas just north of Fort Pierce.
He posted 17 photos of the cocky blue-and-grey jays, including one sitting on his hand and on his hat.
Cameron made friends easily but on-line, among the mostly adult birding community, he was a treasured specimen: youthful, gifted, diligent and witty. A vegetarian, he was also concerned with animal rights and the environment.
Forced to leave his baby woodpecker to the elements that rainy morning, Cameron showed a grasp of the power of nature, the frailty of life and the too-often futile urge to intervene.
That wise resignation may now be the envy of those who loved him, their rufous-headed wonder stilled by the snow.