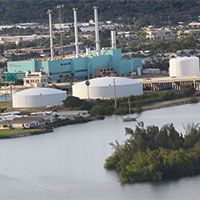 Winger and Kramer seen diverging on electric sale
STORY BY LISA ZAHNER (Week of January 16, 2014)
Vero Beach Mayor Dick Winger and Vice Mayor Jay Kramer dove into November seeming eager to join forces, but Kramer's confrontational performance at last week's City Council meeting saw Winger distance himself from the man he recently praised for sage advice.
Winger, who preached civility and cooperation after taking the gavel, felt the need to beg pardon from Florida Power and Light External Affairs Director Amy Brunjes after Kramer lashed out not only at Brunjes, but at most everyone in range during the afternoon portion of last Tuesday's very long council meeting.
"Amy, thank you for coming, and I'm sorry for this display," Winger said.
For three years since being elected in 2010 as part of a pro-sale landslide then almost immediately doing an about face, Kramer has generally held his tongue when matters of the electric sale came up.
Instead, Kramer has authored opinion pieces and fed information (and misinformation) to bloggers and publications bent on stopping the sale of Vero Electric to FPL. He also filed a formal comment with federal regulators urging them not to approve the sale.
But with the council no longer controlled by a pro-sale majority, Kramer decided to let fly last week about his desire to sell off the 61 percent of Vero's customers outside the city limits and see the city retain ownership of the utility.
"You've done a fine job of controlling it so nobody comes up with a partial sale," Kramer said to Brunjes.
In addition to accusing FPL of violating the contract with the city by talking to the Orlando Utilities Commission and to the Florida Municipal Power Agency, Kramer also demanded a statement from FPL on how the city can get out of the FMPA All-Requirements Project before 2016.
Kramer suggested FMPA officials should come to Vero's meetings so the council can ask questions directly of FMPA, implying that the city would get more accurate information than from Brunjes.
Brunjes took issue with Kramer's flat statement that the sale would not happen for a couple of years. "It is not pretty obvious to FPL that this is not going to happen for several years," she said.
She said it was "news to us" that there is not a clear path forward. Brunjes said she hoped to come back with an answer "in the very near future" and that FPL is diligently evaluating the verbal response received from FMPA before Christmas. If a deal can be hammered out, it's set to be voted up or down by FMPA in February.
Kramer told Brunjes that the scheduled Feb. 20 FMPA vote "doesn't mean anything" because the FMPA cities have to approve it. He also said the new contract would need to go back for yet another referendum.
As long as the city remains whole, Brunjes said, the contract remains within the "substantially similar" bounds of the March 2013 referendum.
"I don't agree with you with the city remaining whole. I've gone through the numbers and I don't agree with that one bit," Kramer said.  "I'm sorry, you're going to try to go ahead and put another contract together, you're starting from scratch.  Let's get something done, let's stop screwing around."
Kramer said he didn't want to just "warm chairs" for the next two years and wanted the City Council to agree to get electric rates down by looking at a restructuring of the city's electric utility, or through a partial sale.
"It's pretty obvious that we're not going to sell this thing to FPL in the next couple of years, so we need to do something in the meantime," he said.
Winger asked Kramer twice for specific proposals. Kramer suggested shutting down the power plant, selling off part of the system and commissioning an optimization study.
Councilwoman Pilar Turner jumped on Kramer for not offering "practical" policies that abide by the city's contractual agreements and regulatory requirements. She pointed out the staff has reduced total operational costs by 14 percent and had made significant cuts in personnel and capital expenditures.
Winger acknowledged that at some point, the residents would demand the council take action to get rates down, but he sided with Turner this time and basically told Kramer to sit tight until after Feb. 20 when the city should know whether or not FPL and FMPA are able to agree on terms to fast-track the sale.
"These things take a long time to analyze, the public doesn't always understand, but they really really do," Winger said. He said there seems to be light at the end of the tunnel.
 "This just one of those things that takes patience," added Councilman Craig Fletcher.
Kramer's motion died for lack of a second.
Winger's defensive body language was closed-off to Kramer during much of the discussion, with his right hand held up to his face – blocking his view of Kramer in the vice mayor's chair – yet remaining open to Turner on his left.
Winger pointed out later in the meeting that shutting down the power plant would require costly transmission upgrades and that any major cost-cutting measures would take time, at least six to nine months, before they would show any results.
"This City Council is taking the course we're on, we're not changing it," Winger said, after declaring he is opposed to a partial sale and is dedicated to getting the full utility sold to FPL.

"Let's hold the course, let's not debate, whatever the case – partial sale, public service commission. None of it matters," Winger said.