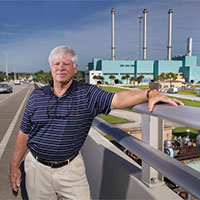 Jim O'Connor's effort to manage life in 'paradise'
STORY BY LISA ZAHNER (Week of July 31, 2014)
Photo: Jim O'Connor concluding his third year as Vero Beach city manager.
Vero Beach City Manager Jim O'Connor gets around town – a lot – and everywhere he goes, he hears the same description of his adopted hometown.
"The one thing that stands out to me, I don't care if I'm sitting at Ocean Grill having a glass of wine, or at the Vero Beach Hotel and Spa out on the balcony having a glass of wine, or if I'm downtown walking the art walk, I have heard so many people say, 'We live in paradise,'" O'Connor said. "We live in paradise is a very uplifting part of living in Vero Beach. It is a unique place.
"I think that's the fundamental that sort-of keeps us afloat," he said. "Otherwise, all our crises would probably sink us."
This idealized characterization of Vero Beach as paradise is both a grand compliment and a hefty challenge. Implied in the accolade is the veiled yet stern warning not to screw it up.
O'Connor officially took the helm of Vero Beach in late July 2011. To allay the fears of a City Council desperately seeking some continuity following a period of major upheaval and turnover of key personnel, O'Connor committed to stay at least three years.
The veteran city manager was 62 at the time and had been at his post in Winchester, Va. for less than two years. Taxpayers picked up the tab for O'Connor's moving expenses and some temporary housing, so the council wanted to make sure that their new city manager was not just looking to fund his long-distance move so he could retire.
Now 65, O'Connor has kept his word. He could retire, and considering the tumult of the past three years and the challenges that lie ahead for a city at war with its neighbors over its electric utility, no one would fault O'Connor for wanting to kick back and enjoy "paradise" instead of trudging on as its chief custodian, charged with doing whatever it takes to keep Vero Vero.
"I am one of those people that I don't know what I would do if I retired. I'm happy doing what I'm doing," O'Connor said "I don't do golf and I don't do fishing."
It's a good thing O'Connor doesn't have these time-consuming hobbies, as he's got plenty to keep him busy – especially when season rolls around.
The seasonal nature of Vero and the way its population mushrooms in the winter months, O'Connor said, was the biggest surprise he encountered on the job. The number of calls to his office and demands on the staff go up exponentially, he said. He agreed that it feels like having company in town from November to April.
But all year-round, residents want the grass mowed, the beaches raked, the parks picture-perfect, the lagoon restored to health, the cemetery protected, the ghastly utility plants off the riverfront, trash picked up at the side of the house, and critters trapped and relocated.
They want dapper police officers in spiffy cars to arrive at a moment's notice to solve crises big and small. Last but not least, they want Florida Power and Light electric rates. But don't dare increase taxes to get all this done.
This conundrum might overwhelm a lesser man, but none of this is new to the unflappable O'Connor, who has managed cities for four decades. Vero is the seventh city he's run and it will likely be his swan song. His wife, Sherry, like the beleaguered career military wife who's finally had the opportunity to put down roots, said she's picked up and relocated her life for the final time.
"Sherry said that if I took another position somewhere, I would probably be commuting," O'Connor said, noting that Sherry also loves her work as a per diem Registered Nurse at surgery centers here in Vero.
Marathon commutes not seeming like a great option, O'Connor intends to try to bring some of the projects he's started to fruition. When he took the job, he hoped Vero by this time would be well on its way to a closing date on sale of the electric utility.
That outcome appearing bleak, O'Connor must now lead nearly 400 employees who were finally just getting used to the fact that Vero electric soon would be gone through murky waters.
Power plant employees who had begun seeing the glass as half full – some even looking forward to increased wages and job opportunities with FPL – are now facing all-but-certain layoffs as a majority of the council seems determined to shut down Big Blue.
"The employees had gotten to the point where they realized that they would get a 20 percent raise with FPL and FPL has a defined-benefit retirement plan and now we're saying to them, 'You're not going to get that 20 percent raise and we're taking away your defined-benefit plan,'" O'Connor said.
Piled atop that uncertainty, Vero electric is under fire from both the Town of Indian River Shores and the Indian River Board of County Commissioners, the Shores mounting a lawsuit in circuit court and the County taking its case for secession to the Florida Public Service Commission.
A total of 61 percent of Vero's electric customers want a divorce when 30-year franchise agreements expire in 2016 and 2017 and it's likely to be the messy, costly kind. So far, the Shores has budgeted nearly a half-million in legal fees and matching that wouldn't even make county officials blink.
O'Connor said anyone who has an electric franchise agreement will be watching the outcome in both of these cases because a favorable outcome for the Shores and the County could trickle down into a major deregulation of utilities. "The idea of franchises would go away. Why would you sign a franchise?" he said.
The first public meeting in the mandatory conflict resolution process with the Shores is Aug. 21, and the city will need representation before the PSC to keep its service territory from being carved up.
How much does O'Connor think it will cost for Vero's crack utilities attorney Robert Scheffel "Schef" Wright to fend off these attacks? The city manager said he couldn't even venture a guess. Whatever it costs, all of Vero's 34,000 electric ratepayers – ironically including the 22,000 hoping to secede – will fund it.
When he looks back on accomplishments, O'Connor said he's pleased with the people he's hired to help him lead the city, starting with Finance Director Cindy Lawson, who came to Vero the same week as O'Connor.
Even the city's harshest critics would admit that the level of transparency of city operations and financial reporting has undergone a complete turnaround over the past three years. Where the previous administration under former Police Chief Jim Gabbard operated behind a veil of secrecy, O'Connor has not tolerated staff efforts to give members of the public or the media the run-around when it comes to releasing public records.
Accountability is important, O'Connor said, and that's why the newly imposed employee evaluation system is one of his top priorities going forward.
For decades, city workers were not reviewed by their supervisors, a situation remedied by the previous City Council under then-Mayor Pilar Turner. O'Connor recently hired Human Resources Director Gabrielle Manus to spearhead this effort.
The position had been vacant since the retirement of Robert Anderson in 2012. In addition to tackling the employee review project, Manus will also help O'Connor navigate tense negotiations with unions as Vero strives to shift investment risk by closing out its defined-benefit pension plan and starting a defined-contribution plan.
O'Connor, along with City Attorney Wayne Coment and City Clerk Tammy Vock, serves at the pleasure of whatever permutation of the five-member City Council is currently seated. During this month's budget workshops, the council pleaded with O'Connor and his department heads to devote their energies to long-range planning.
"I think what you've got to do is get down to our core services and based upon information given today, how do you do that? Long-range planning in local government is about two years," O'Connor said, referencing the time it takes to elect a new three-vote majority on the council. "We've weathered several years of contraction and if there had been a little bit better definition of what core services were, I think that would have been a little easier.
"If you have a City Council that says, 'I don't care what happens, we're not raising property taxes,' that's our most viable revenue stream because that's the only one the City Council has any real control over," he said.
In other words, elections have consequences. For example, O'Connor said, there's been a "philosophical change" in the direction of the council since the election of Councilwoman Amelia Graves and the re-election of now Mayor Dick Winger last November.
"There's been a change in how aggressive we are in doing cutbacks. When I first came here three years ago, we were very aggressive, take no prisoners and I think that's tempered," he said. "Now we're talking about do we need more lifeguard hours. Three years ago we wouldn't have been talking about more lifeguards."
O'Connor said he's accustomed to super-charged, deeply engaged small-town politics, but he said the way democracy is exercised in Vero is, in some ways, unique.
"Every city has folks who come to a council meeting and have a cause to undertake and the forum to do that is City Hall, and when you have television cameras, that's the place to come.
"Most of the cities I've worked in you have that type of conversation to get people whipped up, but you're not whipping up the entire city of 15,000 people," O'Connor said. "But in Vero those people get a lot more attention."
Oddly, O'Connor seems to enjoy what he calls "exciting" politics. But he's also extremely grateful for the vast majority of citizens who take a more laissez faire attitude.
"You've got to remember, and this has always been the shining light for me, that if you keep their water running, their commodes flushing and the lights on, the average person doesn't have the time to pay attention to Jim O'Connor," he said. "And that's 90 percent of the people.  All they care about is that the lights come on when they flip the switch, that the garbage gets picked up and that when they flush the toilet, they don't pick up the newspaper and read that it went directly into the river."