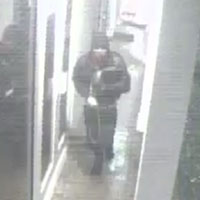 Shores police play key role in solving laser burglaries
STORY BY MEG LAUGHLIN (Week of July 17, 2014)
Photo: Security footage shows one of the thieves.
A late January break-in and the theft of a $100,000 laser from an island plastic surgeon's office seemed unlikely to result in an arrest.
But diligent police work involving law enforcement agencies in Indian River Shores, Vero Beach and South Miami recently resulted in two arrests and is likely to lead to two more and the solving of four additional laser theft cases.
In Indian River Shores on Jan. 30 at about 10:25 pm, four men dressed in black, with their faces mostly covered, kicked in the floor-to-ceiling window of Dr. Alan Durkin's Ocean Drive Plastic Surgery offices and clinic on A1A, and stole an expensive Palomar laser system and six laptop computers.
At the time, police did not know that within two days of the burglary, expensive lasers had also been stolen from four more clinics and spas – two in Martin County, one in Broward County and one in Miami-Dade County.
That information eventually led to a valuable link that is helping police solve the five crimes.
Video surveillance tapes from the Shores break-in of Durkin's office showed four men prying the window loose with a crowbar and kicking it until it shattered, then leaving with the equipment.
But identifying them was impossible because their heads and faces were covered with hoodies, ski caps and bandanas. 
Two detectives, however – Tim Dempsey of Indian River Shores Public Safety Department and David Rodriguez of the Indian River County Sheriff's Office – remained at the scene for hours, looking for clues.
Dempsey went to the 7-Eleven next door to Durkin's office and got hours of surveillance tapes. They showed a sporty black Mercedes and a black pickup truck at 7-Eleven gas pumps at 10:15 pm on Jan. 30.
They also showed the face of the Mercedes driver, and the two vehicles pulling into Durkin's parking lot at about 10:20 pm.
The surveillance videos at Durkin's building showed the window being smashed a few minutes later.
Within 12 hours of the theft, police had linked two vehicles to the crime and had a close-up of the face of the Mercedes driver. They also had surveillance videos of the Mercedes and pickup truck on Ocean Drive in Central Beach minutes before they arrived at the 7-Eleven.
Two days later, Roxanne Durkin, who manages her husband's business, noticed a few blood spots on the blinds where the window had been smashed and called police, who sent the blood to a DNA law enforcement database, made up of people formerly charged with crimes. 
Weeks later, a DNA match came back to Kelsey M. Davis, 26, from North Miami. Shores police punched his name in Facebook and Davis' face came up, wearing the same Miami Heat cap he wore in the 7-Eleven video, and appearing to be the same person.
Shores police had a suspect but wanted more evidence before making an arrest.
Then, they got a call from Lisa King, a detective in South Miami. King said she was investigating several laser thefts in South Florida and had seen a notice from Vero Beach about a laser burglary.
The methods used to break in and the number of burglars and clothing were the same, she said.
Shores police sent her the close-up of Williams, and King said he was also a suspect in a South Miami stolen laser case, which had already resulted in one arrest, after a suspect sold a laser to a police confidential informant working for a laser servicing company.
The arrested suspect was Maurice A. Davis, 26, who owned a black pickup truck that had been repossessed.  The names of Davis and Kelsey Williams were on the titles of the pickup truck and black Mercedes.
South Miami police knew Williams was "Davis' associate" but didn't have enough evidence to make an arrest. However, after getting the evidence from Shores police, Miami police arrested Williams.
A DNA saliva swab from Williams matched the blood from the blinds in Durkin's office, confirming Williams' presence at the Indian River Shores break-in and burglary.
With two of the five laser thefts resulting in two arrests, police are now working on making two more arrests and solving the three other laser theft cases.
The common denominator:  The five laser owners, including Durkin, sent their lasers for servicing to the same Miami company in the month before the burglaries.
That raised the question of whether there is a link between one or more employees at the laser servicing company and one or more of the burglars?

"We expect to know that soon, and make more arrests," said Shores police chief Mike Jacobs.