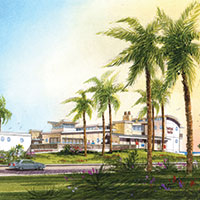 Luxury restaurant set for site of old P.V. Martin's
STORY BY STEVEN M .THOMAS (Week of July 17, 2014)
Photo: Artist's rendering of restaurant to be built on South A1A.
A new 6,000-square-foot fine-dining restaurant is coming to the oceanfront a few miles south of the county line in the North Hutchinson Island location where popular eatery P.V. Martin's stood for many years.
"I think everybody will be blown away by the caliber of food and drink and the music venue," says Stephen Brinley, the Treasure Coast Sotheby's agent who brokered the sale of the vacant 3.1-acre property to Vero Beach businessman Joe Caragol and partners. "These guys are in the food business and they know restaurants and they are serious about making this a destination property. It is going to be very upscale and posh."
Tentatively named South Orchid Island Club, the venture has preliminary site plan approval from St. Lucie County and is awaiting response to its state Department of Environmental Protection permit application.
"The ground-floor dining room will have a double-sided fireplace and there will be a second-floor dining area above with a balcony that wraps around and gives beautiful views to the southeast," says project architect Jeff Ray, principal of Atelier d' Architecture. "There will be a beautiful outdoor bar and a curvilinear deck that has full ocean views. There may be some tables down on the sand.
"The county is very excited about the project. One of the commissioners said he can't wait to have a cocktail out on the deck. The developers want to fill the void that has existed since P.V. Martin's closed."
Originally called Red Tail Hawk before being renamed, the earlier restaurant was a ramshackle, New England-style wooden building with a great seafood bar and a lounge that was popular with Vero residents.
"A lot of people used to come down from John's Island to eat or have a drink," Brinley says.  
Severely damaged by the 2004 hurricanes, the restaurant was razed in 2005, leaving a lonely parking lot that has gradually been overgrown by coastal scrub. The property was listed at one point by Continental Real Estate companies of Coral Gables for $1.5 million.
The current owners, operating as South Orchid Island LLC, paid $750,000 for the parcel last November, according to St. Lucie County property records.