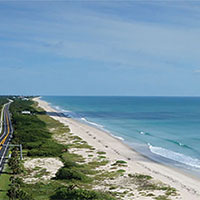 Vero oceanfront boom spills over the county line
STORY BY STEVEN M. THOMAS (Week of July 24, 2014)
North Hutchinson Island, the five-mile strand of sand, palm trees and high-rise condos south of Round Island Park long  viewed as the red-headed stepsister of our barrier island community, suddenly is attracting the attention not just of local builders and brokers but developers from around the country.
With oceanfront land and homes for sale on the Vero Beach side of the county line an increasingly scarce and pricey commodity, the unspoiled beaches and vacant tracts along the St. Lucie County stretch of our barrier island (despite different names, it's all one island) are starting to look more appealing to investors by the day.
"I think there is a boom coming down there, and it is not far away," says Treasure Coast Sotheby's agent Stephen Brinley. "There are very few places left in the world like that area. It has become an exceptional opportunity."
A wide range of brokers, developers and government officials contacted by Vero Beach 32963 share Brinley's opinion.
"That area is the last great place left to be developed, coming north from Dade County and Palm Beach," says Michael Thorpe, co-owner of Treasure Coast Sotheby's. "People from South Florida look at North Hutchinson Island as a paradise. The beaches are wide and unspoiled, and the residences are a fraction of what they would be in Lauderdale, Palm Beach or Vero." 
Projects on the drawing board include a 400-unit condominium/hotel resort with public amenities planned by Las Vegas billionaire Phil Ruffon; an "ultra-luxurious" Carlton-like condominium project by Buffalo, NY, developer David Huck; a 6,000-square-foot fine-dining restaurant on the beach; and a custom-built oceanfront estate offered by Boca Raton builder Olin Hill.
"We have a gorgeous estate lot just south of the county line," says Hill. "It is 125 feet on the ocean and 700 feet deep. We are convinced the lack of building lots north of the line will increase the desirability of lots on North Hutchinson."
Hill is offering a 7,000-square-foot British West Indies home, fully decorated and furnished, on a 1.6-acre lot for $6.5 million, which is less than half what new oceanfront estate homes north of the line are listed for.
Those Indian River County estates are much larger and more luxurious, to be sure.  But the St. Lucie home still might seem like a bargain to certain buyers who want a big lot and a nice house on the ocean at a lower pricetag.
"Up until recently, there has been some hesitancy about buying oceanfront lots in St. Lucie," says Vero Beach general contractor Joe Foglia, who is involved in Hill's project. "But I am under the impression that perception is changing. With this latest buying craze, most of the lots up here have gone under contract and I think the lots down there will be the next to go.
"If there is no more supply up here but there is still demand, people are going to find some place to go, and that will affect the price of the St. Lucie lots."
Oceanfront property south of the county line has long been stigmatized by high-end buyers, developers and real estate agents. There has been a sense that land and housing there is just not as desirable because it is in St. Lucie County instead of Indian River County, and too far from Vero Beach to share the enhanced value created by Vero's growing international reputation as a premier resort and retirement community.
But Foglia, Brinley and others point out the area is not all that far from Vero and has inherent virtues of its own that add to its potential, including wide, accreting beaches and clear water that is good for diving.
In Vero, the city and county fight a constant battle against beach erosion, but because sand tends to pile up on along the shore north of inlets, the North Hutchinson Island beaches get wider every year. 
"Something else I love about this stretch of coastline is all the park and preserve land," says Brinley. "There are thousands of acres that will never be developed in Avalon State Park, Queens Island Preserve and other parks, which makes the land that can be developed that much more valuable. Another plus is they just repaved that entire stretch of A1A, and put in bike lanes and sidewalks and new pedestrian crossings. They spent a ton of money on landscaping and it looks really nice."
"I used to think that area was so isolated," says Dale Sorensen Real Estate agent Janice Jolly, who recently listed a $1,295,000 oceanfront lot on North Hutchinson. "Now that I have been driving back and forth, I don't find it inconvenient at all. It is nine miles to 17th street and I can be in downtown Vero in 15 minutes."
"We have found seasonal residents do not mind the drive into Vero Beach and enjoy the quiet atmosphere of North Hutchinson," says Dale Sorensen Jr., talking about buyers at Oceanique, the island's premier condominium community where units have sold for as much as $1.1 million.
Besides being reasonably close to Vero Beach, North Hutchinson residents enjoy another key geographical advantage: They are equally close to the picturesque Fort Pierce waterfront with its popular seafood restaurants and bars, sport fishing marina, theater, eco tours and museums. The waterfront and small adjacent downtown regularly host craft fairs, farmers markets, antique car shows and other special events, giving St. Lucie island residents a second handy dining and entertainment option just minutes away.
"North Hutchinson is definitely going to emerge as an exciting up-and-coming area," says Jolly. "It won't be long, either."
Prices are already on the rise. A spreadsheet provided by St. Lucie County Property Appraiser Ken Pruitt shows that per-square foot prices for single family homes on the island are up more than 20 percent in 2014 compared to 2013.
In another sign of the times, developments that languished during the downturn are coming back to life.
"We have had multiple offers on the four completed houses at Avalon Beach and one is slated to close in the next week or two," says Thorpe, who is the listing agent for the 37-home ocean-to-river development half a mile south of the county line.
Thorpe says the owners were toying with idea of selling the land and four existing homes as a package to another developer to get their money out but decided it is too good of an asset to unload wholesale in the rising real estate climate. "They are designing five new floor plans and are fully committed to building the project out."
Something similar is occurring at Queens Island Preserve a few miles south.
"We recently sold the property to a developer who is in discussions with [Vero Beach General Contractor] Vic Lombardi to build a model home," says Brinley. "There are 10 oceanfront lots and six lots on the west side of A1A. The oceanfront lots are about 85 feet wide by 400 deep and lot/home packages will be available for around $3 million."
David Huck's Ocean Palms luxury condominium project was approved just before the crash and is just now coming back to life after sitting idle for a number of years.
"The project is fully permitted and some units are presold," according to Brinley, who says he is a partner in the development. "This project will raise the bar down there in terms of luxury condominiums. It is going to take it to a whole new level."
Situated on 440 feet of prime oceanfront, the two-building condo will be mix of highly-amenitized 3,000-square-foot and 4,000-square-foot units selling for as much as $1.5 million.
Real estate value is contagious, whether the trend is up or down. When an urban neighborhood is improved or gentrified, nearby areas start to perk up, too. People who can no longer afford to get in on the ground floor in the fixed-up neighborhood sink their money and sweat equity into the next block, which gains value in turn and pushes the increase in desirability and price a block further down the line.
Something like that is what is happening on North Hutchinson Island. People from South Florida, where it can cost $50 million or more to be on an oceanfront estate lot, have been coming to Vero for a while to live their beachfront dreams and get a better living experience for a lower price. But the Vero oceanfront is almost filled up.
So, inevitably, buyers who can't find what they want up here will be looking a few miles down the road in St. Lucie where there is a fair amount of beachfront property left.
"The next big move will be south of the line," says Hill.