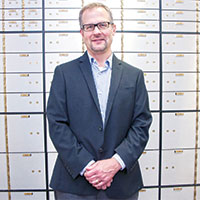 'Angel investor' brings expertise to Marine Bank board
STORY BY LISA ZAHNER (Week of June 5, 2014)
Photo: Marine Bank investor Ken Lehman.
Bank investor Ken Lehman last week attended his third board meeting as a director of Marine Bank and Trust, Vero's sole local bank of which he is now the largest shareholder with $4.3 million in stock, and continued to keep the low profile he has maintained since the beginning of his involvement.
Lehman flew in a few hours before Tuesday's board meeting, stayed the night in a suite at the Riverhouse Lodge at the Quail Valley River Club, and flew back home to the suburbs of Washington, DC, the next day. The former Securities and Exchange Commission attorney said he wants his presence within the bank leadership to be "invisible to the local community."
Characterizing himself as an "angel investor" back in December when he first spoke with Vero Beach 32963, so far Lehman seems to have made good on that promise. No major changes have been made, no new managers have been brought in and CEO Bill Penney is expected to remain as Chairman of the Board.
Infusing much-needed cash in community banks and then backing off to watch his investments prosper is what Lehman has been doing for nearly 15 years, from New Jersey to South Florida.
His stock acquisition has shored up the bank's capital and alleviated the pressure being put on Penney and the board by federal regulators.
The nature of Marine's client base and mission of serving the local Vero Beach business community meant that the bank's customers got hit hard when the real estate and new home market bottomed out. But now that both the housing market and the bank have turned a corner, Marine Bank is planning to expand services and to recruit seasoned bankers to join its ranks and serve its local customers.
Penney pointed out that Lehman, though he owns just over than a quarter of the bank's stock, is one of more than 400 investors in Marine Bank and Trust. With regard to his participation in board meetings, Penney called Lehman "a very astute guy" and said he listens intently and contributes to the discussion when areas of strategy and banking policy come up.
"When it comes to local banking decisions, Ken leaves that to us," Penney said, noting that Lehman does not serve on any of Marine's committees which make decisions on major loans or which help manage the personnel and day-to-day operations of the bank.
One thing Lehman said he's learned from interacting with Marine board members and being in the loop is how deeply the bank is involved in Vero Beach.
"The thing that struck me about this bank is that it's woven so deep into the fabric of Vero Beach," Lehman said, from being involved in community events to sponsoring charitable activities and simply having a presence everywhere around town. Lehman praised Penney for his leadership in this area, saying he "does this better than anybody."
Serving on the board of a bank, according to Lehman, is not just about taking part in the planning and decision-making process. It's about personally bringing clients into the bank, and that's where he says Marine's laser-like local focus gives it an edge over a big corporate bank.
"Community bank directors are local businesspeople who think about the bank all the time," Lehman said. "A local accountant or attorney on the board would be thinking about the bank and how can the bank help this client of mine, or does the client have a need for financing?"
Penney said it's exactly that person-to-person approach to banking that is growing Marine's list of depositors.
"We're having great success in luring away customers who are tired of being treated like a number at a big bank," Penney said.
With that growing customer base, Marine is planning to expand its menu of services beyond loans, personal and business checking and savings accounts. This summer Marine customers will be able to begin planning for retirement or managing their current investments right where they do their everyday banking. Penney said he's finalizing negotiations with a nearby wealth management firm to provide those client services in partnership with Marine Bank and Trust.
Though he's not a local business owner, Lehman said he brings his own specialization and expertise to the board.
"Now I'm not a local attorney or accountant, and I don't have local clients that the bank can help, but I do have pretty extensive banking experience as a banking attorney and I can bring a lot of opportunities in terms of growing the local financial community," Lehman said.
Being on the board of several community banks around the country in which he has tens of millions of dollars invested, Lehman said he enjoys a unique vantage point of being able to not only see trends, but also to have access to inspectors and auditors who regularly review the banks and discuss issues with boards.
In those informal discussions, Lehman said he's able to gain valuable insight into banking practices and even into what may be coming down the pike in terms of bank regulation. That knowledge, he said, he can relay to Penney and the Marine board so it can be incorporated in the bank's long-term strategy.
According to Penney, no further major offering of new Marine Bank and Trust stock is on the horizon. But Lehman could bring more cash to the table down the road, if needed, as he did not purchase the entire $5 million in stock that federal and state regulators approved this spring.
With mergers and acquisitions of small and large banks leaving employees and clients feeling untethered, "There are always displaced bankers and opportunities to increase the bank's business," he said.
Penney said Marine is in a position to recruit banking professionals who have become disillusioned or have been downsized due to a bank takeover, but who are still very much committed to customer service.
"We're going to be here a long time and we're going to hire people who were displaced," Penney said.