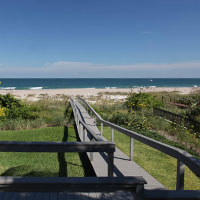 Oceanfront real estate activity on island exceeds 'peak of boom'
STORY BY STEVEN M. THOMAS (Week of June 5, 2014)
The barrier island's oceanfront real estate market exploded at the end of the season with an unprecedented number of lots, homes and condos going under contract or closing between mid-April and the end of May.
"I have never seen this happen before," says Premier Estate Properties broker associate Cindy O'Dare of the oceanfront sales flurry. "It is not like I can say, it is back to the level of activity at the peak of the boom. It is beyond that. This is something new."
According to MLS data, 24 oceanfront lots and homes with an approximate value of $65 million were sold or contracted for in the six-week period. Buyers also purchased or agreed to purchase 35 condominiums on the beach worth a total of $21.6 million during the same timeframe, pushing the aggregate dollar values of all oceanfront deals over $86 million.
"It is unbelievable!" says Dale Sorensen Real Estate broker Matilde Sorensen. "There has been a huge absorption of oceanfront inventory."   
By late May, properties on the ocean were so scarce buyer's agents were going back to expired listings to try and find something suitable for their clients.
"I have worked with a lot of oceanfront buyers recently, and you have to get creative," says Norris & Company Realtor Debbie Bell. "In this case, I showed the buyer everything out there but there was nothing that met her needs.
"So I remembered a house that Cheryl Gerstner had listed a while back and called her.
"She called her seller to see if he was still interested. He was, and when my client walked into the house and got a big smile in her face I knew this was the house for her.
"I still have four or five oceanfront buyers I have to find things for so I hope we get some more listings soon!"
"We put the deal together in a day and a half," says Gerstner, a broker associate with Alex MacWilliam Inc.
O'Dare says she had a similar experience in May.
She went back to a listing that had expired a year ago to find a beach property for a client.
The frenetic oceanfront activity took place the length of the island from the Estate Section in the south to Ambersand Beach, where Treasure Coast Sotheby's agent Janyne Kenworthy sold or put under contract five beach lots worth $3.5 million during April and May.
"The market is wonderful," Kenworthy says. "I believe people are just tired of sitting on sidelines and waiting.
"They are jumping on board before the prices rise.
"Our prices are still very good, but there is not a lot left. Everything is being scooped up. What is left will sell at higher prices."
"There are no oceanfront lots left for sale on Reef Road. I have never seen that before," says Moorings Realty Sales company agent Erika Ross, who sold one beach lot on April 25 for $1.7 million and put a multimillion lot/build package on Reef Road under contract in May.
Premier Estate Properties and Dale Sorensen Real Estate handled the bulk of the oceanfront transactions.
O'Dare and her partner Clark French had the highest-dollar deal, putting under contract a 41-acre parcel in Indian River Shores listed for $16,950,000.
That property, which was entitled late in the boom for a community called Providence that was never built, includes four oceanfront lots zoned multifamily that French values in the $8 million to $10 million range.
French and O'Dare also sold three single-family lots adjacent to the Providence oceanfront parcel to a developer for $5 million and sold or put under contract another four homes or lots, including a 6-acre $5,750,000 property across A1A from The Moorings golf course.
Sorensen agents had the highest number of beach transactions, putting seven properties under contract and handling 20 transaction sides on sold properties between April 15 and May 30.
Matilde Sorensen was the company leader, personally selling or putting under contract five properties with a total listed value of $19,500,000, more than 20 percent of the $86 million oceanfront total.