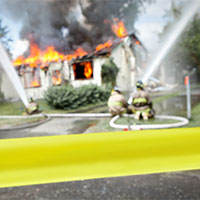 County proposal to provide fire services wouldn't aid Shores with insurance rating
STORY BY LISA ZAHNER (Week of June 12, 2014)
Before making a final decision to hire and train up to 13 additional people for its Public Safety Department, the Indian River Shores Town Council sought a quote from Indian River County on what contract fire services would cost. The price tag came in at $529,599.
That's about a quarter-million dollars less per year than it would cost to max out staffing for the Town's own triple-certified Public Safety Department.
But there's a catch. According to Town Manager Robbie Stabe, hiring county firefighters to respond to Shores fire calls would not help the Town escape an unacceptable rating when the Insurance Services Office reviews the department in early 2015.
"It was clearly explained to me by the South-East Regional Manager of ISO that having a contract with the county to provide fire services will do absolutely nothing to improve the following two important issues.
"ISO will still conduct the Field Assessment solely on our Public Safety fire suppression capabilities first. If we are below the minimum standards in any of the categories (two areas of concern are staffing, training), they will automatically rate the entire Town at a Class 10," Stabe wrote in an email to Vero Beach 32963 on Monday.
Stabe said the nearest county fire stations are more than five miles from some parts of the town, and that also would raise major red flags with ISO inspectors. Having county fire personnel work out of the Shores fire station, he said, would logistically not be an option for various management and jurisdictional reasons.
"In other words, we still must increase our staffing levels to meet the minimum standards regardless of whether or not we contract out to the County.
"Without increasing the staffing levels, the required training cannot be completed due to inadequate staffing," Stabe said.
The hard look at Shores public safety staffing was prompted by acting public safety Director Capt. Mike Jacobs, who voiced concern that the Shores might not fare so well when the ISO completes the next rating for fire protection factors.
Currently the Shores is rated a 4, which is considered good on a 1-to-10 scale with 10 being unacceptable. The ISO rating is used by insurance companies to set homeowners' premiums and, if the town was substantially downgraded to a 9 or a 10, that could result in much higher premiums for residents.
So where does the county's reponse leave the Town, its budget and its taxpayers?
"Basically we are right back to the consultant's recommendation: Do it right or get out of the business altogether!" Stabe said.
"I am recommending that council approve a modification to seven-man shifts rather than the eight-man shifts they tentatively approved last month. That will reduce the required budget amendment to this year's remaining budget and will then also reduce the costs in next year's budget as well."
A consultant review this spring recommended the Town have up to nine people available at all times to cover daily eight-hour fire, paramedic and law enforcement shifts, plus have floating staff on-hand to cover sick days, training days and court time, and reinstate such services as marine patrol, beach patrol and bicycle patrol for a more comprehensive public safety presence throughout the Town.
That option would cost between $750,000 and $850,000 per year. The council voted last month to move forward and begin the process of recruiting people and vetting candidates, but not hastily hire people until the county proposal was received.
At the direction of the council to pursue all options, Stabe contacted County Executive Joe Baird, who he said jumped on the idea of adding the Town to the County's Emergency Services District.
Currently, Town residents do not pay the $1.98 per $1,000 of assessed property value that other county residents pay because the Shores provides its own service.
When Stabe told Baird the Town was not interested in joining the district, only contracting for fire services, he said Baird told him to "prepare them (the town council) for sticker shock."
Jacobs told the council that the department is typically staffed with two people for the fire truck, one for the ambulance and two patrol officers on the road.
Optimal staffing would be four firefighters who could operate both of the town's fire vehicles, if necessary, two people on an ambulance (the town has two of those) and two on road patrol, those officers ideally being cross-trained to fight a fire or assist with a medical emergency.
Since Jacobs' initial presentation to the council about staffing issues, the Town has arranged to put the ISO rating off until early 2015 to give management a chance to come into compliance.