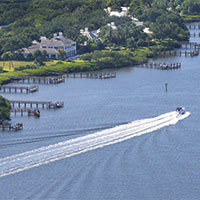 Demand for riverfront homes sees sales soar in May and June
STORY BY STEVEN M. THOMAS (Week of June 19, 2014)
Photo: Riverfront homes along the Indian River Lagoon.
While attention has recently been focused on record-breaking oceanfront real estate sales on the barrier island island, it turns out demand for riverfront homes is just as strong, with well over $100 million in new contracts and closings in May and June.
An $8 million sale in John's island that closed on May 1 was the highest priced riverfront home to change hands since 2007 and came within $100,000 of setting an all-time record high.
"Architecturally, it is one of the most spectacular homes on the island, with details you will find in only a very few homes in Florida," says John's Island Real Estate broker Bob Gibb of the house at 161 Terrapin Point on Gem Island.
"We have had quite a season with riverfront sales," says Michael Thorpe, co-owner of Treasure Coast Sotheby's International Realty, whose company sold half a dozen riverfront properties worth more than $8.5 million in April and May and racked up more than $4 million worth of new listings.
"The value proposition is very strong on the river compared to waterfront on the ocean, with the per-square-foot price on the river about two-thirds as much as on the ocean for comparable homes in communities of equal stature. The differential is mainly in the land cost."
"It has been very, very busy with very good prices!" says Dale Sorensen Real Estate Broker Matilde Sorensen, who sold the highest-price lot ever in Riomar Bay for $2.15 million on May 28. "We are getting multiple offers on many properties."
Business has been so brisk at Sorensen's firm – where agents represent eight sellers and four buyers in pending sales and have had handled one side or the other in nearly half of closed sales – that Matilde Sorensen and her husband Dale Sorensen Sr. cancelled a planned vacation.
"We were supposed to go away a few weeks ago," she says, "but you have to stay and work when it is this busy."
"There have been some significant sales on the river that broke the logjam that built up during the downturn," says Clark French, broker/associate At Premier Estate Properties. "In the past year or so, we have seen the riverfront really start to recover in volume and pricing and trade at a pace comparable to oceanfront."
Clark and his partner Cindy O'Dare sold or put under contract some $15 million worth of riverfront property in April and May.
According to the Multiple Listing Service, riverfront sales on the island totaled $36.8 million in May and April, and approximately $47 million worth of new homes and lots went under contract. Add the value of property sold or contracted in John's Island – which does not participate in the MLS – and the grand total comes to well over $100 million.
Besides the $8 million sale, Gibb reports that his company closed two other sales and put three homes or lots under contract during the period, including one $6 million property and another valued at $4 million.
Riverfront sales were strong along the length of the island, from The Moorings in the south – where Moorings Realty Sales Company agents sold at least seven homes and put four more under contract in April and May – to Ambersand Beach, where Treasure Coast agent Janyne Kenworthy sold a $625,000 riverfront home, and Marsh island where Thorpe closed a $3.9-million deal on May 30.
Riverfront sales show no sign of slowing in June. Gibb says he has another $6 million home about to go under contract and Matilde Sorensen put a $6,750,000 property under contract on Friday, June 13.
As with oceanfront, the sales boom is eating into island inventory.
"Riverfront is getting extremely picked over, particularly if you are discerning and want certain characteristics such as water depth or a particular view," says Thorpe. "It is getting harder and harder to find good homes."
John's Island Real Estate has no direct riverfront inventory left and only seven homes available on John's Island Sound.
Island agents say this is the time for buyers interested in riverfront property to make a move. Likewise, riverfront homeowners who have considered selling but hesitated because of a glut of properties may find this a great time to test the market.
"We aren't at the point they are in some places where houses typically sell the day they list, but we are getting closer," says Matilde Sorensen.