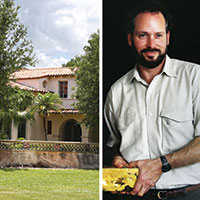 Treasure hunter who hid in Vero for decade back on lam
STORY BY PIETER VANBENNEKOM (Week of June 26, 2014)
Photo caption: Greenwood Mansion where Tommy Thompson (shown at right with gold) spent decade lying low in Vero.
For almost 10 years, Vero Beach real estate agent Vance Brinkerhoff knew he could count on a monthly visit from the strangest customers he ever had. Treasure hunter Tommy Thompson, or his assistant and girlfriend, Alison Antekeier, would come to his office and pay the $3,000 monthly rent on the historic Vero mansion they were renting from him in wads of smelly, moldy $100 bills.
"If he'd sit in my office with the cash, it would smell all the way across the room," Brinkerhoff recalls. "Obviously, he'd hidden his cash in a smelly, moldy place – but the money was good. He'd always ask for a signed receipt."
No one else in Vero seemed to know who Tommy Thompson was, but Vance knew. And he knew the origins of the money – a gigantic stash of gold recovered from a shipwreck off the Atlantic coast in a daring scientific mission that had netted Thompson millions, but also triggered a series of tangled lawsuits that kept him mostly in hiding and on the run.
In one of those civil suits, a judge in Ohio issued a bench warrant for Thompson's arrest, and later his picture went up on billboards all over Ohio and elsewhere as a wanted man.
The moment Thompson heard of the warrant for his arrest, probably from his Ohio attorney via one of the many "burners" – prepaid throwaway cell phones he used for brief periods of time and then discarded – Thompson left Vero in a great hurry, presumably taking the considerable rest of his fortune in cash and gold coins with him.
Brinkerhoff doesn't know the exact moment when Thompson and his girlfriend blew town. All the signs were that he had abandoned the ramshackle Greenwood Mansion, built in 1932, in a great hurry. 
When federal marshals ultimately arrived in Vero with a search warrant, Brinkerhoff – who let them into the home at 28th Avenue and 20th Street – says they found grocery bags full of cash wrappers, all marked "Federal Reserve Bank of Miami: $100 bills" totaling $10,000 in value each. There could have been millions and millions in cash in those wrappers, Brinkerhoff said. But the cash itself was gone.
The marshals also found a book left behind by Thompson on how to change your identity.
Could Thompson have altered his appearance on the run? Maybe, but Brinkerhoff somehow doesn't think so. Thompson always appeared more or less the same to him, scruffy-looking with a curly beard, of medium to slight build, medium height. He's now in his late 50s.  Brinkerhoff's best guess is that he's hiding somewhere in the Carolinas, not too far from the spectacular success of his deep-sea exploration.
Thompson located the wreckage of the SS Central America – the "ship of gold" – at the bottom of the Atlantic in 6,000 feet of water in the late 1980s after investors, mostly from central Ohio, provided him with $22 million for the expedition. The Discovery Channel once dedicated a special program to the feat.
While Thompson recovered a lot of gold that was being shipped by individual prospectors in the California gold rush back to banks in New York, a persistent rumor, never officially confirmed or denied by the U.S. government, is that the Central America, which went down in a violent hurricane in September of 1857, had also been carrying 15 tons of gold owned by the U.S. Army.
The gold Thompson did bring up from the ship later sold for in excess of $50 million.  His financial backers, however, claimed they never saw a penny of their investment returned and began a legal battle – which continues to this day – for their share of the bounty.
Over the years, the Treasure Coast, and Vero in particular, has attracted many rich people.  Some have had better motives for taking up residence in our quiet seaside village than others.
Thompson first contacted Brinkerhoff the year before the 2004 hurricanes, after he found that the Coldwell Banker Ed Schlitt agent was the Realtor who controlled the ramshackle former mansion that he had identified as an ideal place to hole up.
Thompson leased the home on a month-to-month basis in the name of a dummy company, Trident Holdings (the trident being the symbol of the sea god Neptune).
Thompson was fanatical about keeping his name off any official records. He had the utilities to the Greenwood Mansion put in Brinkerhoff's name and then reimbursed him monthly – again in those moldy $100 bills.
"He wasn't a big consumer," Brinkerhoff recalls. The house had no air-conditioning. It was built before A/C was invented, but the two-foot-thick cement walls kept the inside relatively cool even in summer. 
Thompson was always very cautious about any contact with strangers, and every time a contractor had to get access to house, it was a drama that Brinkerhoff had to solve with finesse.
One of Thompson's many eccentricities was that he insisted there be no new carpeting anywhere in the house. Thompson said he had picked up some kind of reaction to carpet fibers from a bug bite sustained during a youthful camping trip to South America.
Since no one locally knew who he was, Thompson wasn't a recluse and often ventured out. He liked shopping at Walmart – and paying with those moldy $100 bills – and Brinkerhoff once found him and his girlfriend dining at the Italian Grill.  Over the years, Brinkerhoff and Thompson struck up a friendship. Brinkerhoff would have Thompson and his girlfriend over to his house for barbecues.
Now, Brinkerhoff believes that the Tommy Thompson treasure hunt chapter of his business life is finally over.
Thompson and his cash and gold apparently are gone for good, never to return to Vero, and Brinkerhoff – who has turned down requests from the national media to tell the Thompson story – is ready to move on. The Greenwood mansion is under a lease-purchase contract to a new buyer, who will also inherit the truck and R/V that Thompson left sitting in the driveway when they fled Vero.
Where does Brinkerhoff think in hindsight about Thompson? Was he just a scoundrel and a thief who cheated his business partners, the people who financed his expedition to the bottom of the ocean with expensive and intricate robot technology?
Brinkerhoff says Thompson strongly felt that the spot in the ocean off the Carolinas should be respected and protected as a graveyard memorial. A total of 425 men died in the sinking of the SS Central America, the largest single peacetime loss of life in the history of U.S. maritime shipping.
"Tommy felt strongly that this wasn't just some place to plunder," Brinkerhoff recalls. "He wanted to protect the site."
Brinkerhoff said he kept hoping that the Ohio litigation would eventually be settled, that Thompson would be allowed to keep the lion's share of his gold fortune, and buy the Greenwood Mansion, which would then be turned into the headquarters for future scientific missions.
Obviously, that never happened.