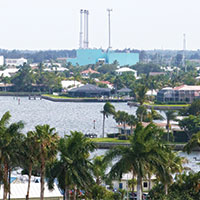 Sale of Vero electric to FPL now clearly dead
STORY BY LISA ZAHNER (Week of June 5, 2014)
The proposed sale of Vero electric to Florida Power and Light was based on a nearly four-year-old commitment by the Orlando Utilities Commission to take over the city's long-term power contracts, but OUC notified Vero officials this week that part of that deal is now a non-starter.
Without OUC taking on Vero's contracts with the Florida Municipal Power Association co-op, the sale of Vero electric to FPL is dead.
City Manager Jim O'Connor admitted there is now "very little hope" of completing the sale.
"This was our third try of getting released from the power supply agreements and unless there is another option that has not been thought of, I am not sure how we fix this problem," O'Connor said Monday afternoon after receiving the letter from OUC.
Thirty years ago, according to public records and city officials, the then sitting City Council approved contracts committing Vero, its customers and its utility assets to a power co-op that the city could only exit via the assumption of those contracts by another municipal utility.
Only a municipal utility like OUC could take over those contracts due to the tax-exempt nature of the bonds involved in the co-op's financing of its ownership share in the Stanton 1 and 2 coal plants and the St. Lucie nuclear facility.
FPL officials and the city's transactional attorneys brokered a deal in which OUC agreed to take over Vero's share in the FMPA projects, in exchange for $34 million to compensate OUC for having to purchase overpriced power from the co-op.
Vero would have also paid OUC another $20 million to exit the city's 20-year $2 billion wholesale power contract 15 years early, for a total of $54 million. The balance of the purchase and sale agreement between Vero and FPL was based upon that transfer to OUC actually taking place.
At the time, no red flags were raised publicly suggesting major problems with the bond covenants.  For more than three years, Vero and FPL considered OUC a partner in the effort to bring the sale to fruition.
The Vero Beach City Council declined to mount a legal challenge to the validity of the 2010 power contract with OUC despite serious concerns about the deal, in part because OUC was helping Vero sell its utility to FPL.
During the same time period, FPL even brokered a side deal to sell OUC much sought-after options in the planned Turkey Point nuclear expansion.
The details, OUC and the transactional attorneys say, were to be hammered out later.
More than three years passed.
Two referenda were approved by voters. More than $1.5 million in legal fees was spent by Vero's 34,000 ratepayers in support of making the sale happen – a sale which relied upon the fact that OUC would hold up its end of the deal.
In late April, OUC officials notified Vero that it needed to resolve a conflict between the FMPA's bond covenants and its own bond covenants. OUC bondholders would need to remain first on the utility's list of creditors, which would force FMPA bondholders to take a secondary position.
Over the past few weeks, OUC has tried to find a solution that would convince FMPA to re-work part of the bond covenants.
The letter sent by OUC to City Hall Monday afternoon by OUC President and General Counsel Chris Browder concludes: "Given the incompatible requirements between OUC's and FMPA's bond requirements, I cannot recommend to OUC's Board that OUC take assignment of the Vero Beach Power Sales Contracts as currently drafted. In my opinion, based on discussions with FMPA and advice of Bond Counsel, OUC has no feasible means by which to consummate the proposed assignment and assumption of the Vero Beach Power Sales Agreements without violating its own Bond Covenants.
Last month during a presentation to the Taxpayers Association of Indian River County, Mayor Dick Winger expressed his frustration with the fact that these bond issues didn't come to light at the beginning.
When asked if he thought someone – one of the highly paid, very smart people on at least one of the negotiating teams, or definitely someone on OUC's legal staff – should have known this problem existed, Winger answered that yes, reasonably, someone should have known.
So the bottom line is that Vero Beach can't even pay OUC $34 million to take what it once thought were valuable assets.
Utility activist and CPA Glenn Heran, a staunch proponent of the sale who had shown in his 2010 financial model that Vero Beach electric customers would be better off on FPL even if the city gave away its electric system, said Monday that even that absurd scenario is not possible.
He was not surprised by OUC's conclusion, however, and speculated the matter could now very likely fall into the hands of the courts.
"The FMPA's contracts are so restrictive that, not only do they render the city's power purchase rights and assets worthless, they render the utility itself worthless and impossible to sell," Heran said. "The inability to dispose of your assets negates the fundamental principles of ownership. The City of Vero Beach and 19 other communities might think they own their utility, but they don't. The concept of local ownership and local control is illusory."
How the FMPA values those assets will in the coming months be the focus of a Florida Auditor General's probe, as the $200,000 placed in the state budget was not vetoed by Gov. Rick Scott, according to Rep. Debbie Mayfield, who worked the House Appropriations Committee to get the item in the budget. Mayfield said Monday that what's been ordered is a "detailed, complete operational audit." She added, "It needs to come to light how the FMPA operates and how they're structured."