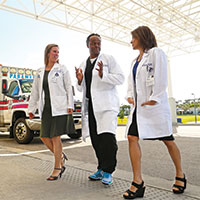 Hospital's new ER team committed to improvement
STORY BY MEG LAUGHLIN (Week of March 20, 2014)
While acknowledging that the past few months produced some horror stories, the new team managing the Emergency Room at Indian River Medical Center is committed to turning the situation around, reducing wait times and improving care.
Roderick Bennett, the top executive of the new firm that took over the management of the Emergency Department, says he is confident that eight specific steps being taken now – including the hiring of more nurses, opening up more hospital rooms and having more physicians on duty at Vero Beach's unusual peak hours – will produce rapid improvement.
The new team has also set tough standards for minimum amounts of time by which patients will receive certain critical treatments and it is committed to living up to those standards.
The new ED team freely admitted that the transition of the past few months was tough and that some patients no doubt had horror stories to tell.
One such story was that of Sea Grove resident Sandie McGuinness, who arrived at the ED with a fractured hip the day after Thanksgiving. She was climbing down a ladder at Vero Beach Marina to get on a friend's yacht when the steps collapsed and she went flying, crashing into the boat and dock on her right side before slipping into the water. 
In a panic, husband Mike and friends lifted her out of the water and into the McGuinnesses' car. Mike sped to the hospital's ED. There, McGuinness – in shock, excruciating pain and soaking wet – sat in the lobby for two hours before being questioned by a triage nurse about the terrible pain in her hip, knee and hand. Then, she waited to be X-rayed and seen by a physician. 
After another hour and a half of waiting, she and Mike left, after being advised by a doctor friend who dropped by the ER to try to get things moving for her. "When he failed, he recommended we leave and go to Vero Radiology the next morning," said McGuinness.
At Vero Radiology, X-rays revealed a fractured hip, which led to a hip replacement on New Year's Eve and another trip to the ER a few days later because of unrelenting abdominal pain.
On the second ER visit in early January, even though she arrived in an ambulance and was put in an ER bed immediately, McGuinness said she waited six hours  – four for a CAT scan, then two more for an IV and prescriptions – before being discharged. 
"I would be very reluctant to go back to the IRMC Emergency Room," she concluded.
Unfortunately, McGuinness' ER experience at IRMC during the late fall and early winter was not terribly unusual. Stories abound about patients waiting for hours to see doctors, get to rooms or be discharged.
But the new ED leaders at the hospital want McGuinness – and anyone else who has experienced a long wait at the ER – to know they're taking complaints very seriously, acknowledging problems and are focused on fixing them. "We want everyone to know that we are very dedicated to reducing ER wait-times," said new ER director, physician Ayesha Hussein.
McGuinness' first frustrating visit to the ER on Nov. 29 occurred one day before the ER management company and doctors were replaced by ApolloMD, a new management company with mostly new physicians. The impending switch, when McGuinness arrived there in late November, put the ER in limbo.
Morale was low over the imminent management change and job losses, as well as published Medicare ED wait-times worse than those of other area hospitals and the national average. Doctor and staff suggestions of how to improve wait times were mostly on hold in anticipation of the new team taking over.
But, although the new Apollo team began Dec. 1, things did not turn around quickly.
Revamping the ER so that wait-times vastly improve is like "turning a battleship," said Apollo regional president Bennett, an MD and Emergency Room expert from New Orleans who makes frequent trips to IRMC.
A number of factors caused January waits in the ER to be "horrible," he acknowledged. "I got more than a few extra gray hairs in January."
Hospital documents show that the average wait time spent in the ED in January before a patient was admitted was seven hours. The national average last year, according to Medicare, was four and a half hours. Also, the average time before being sent home was about three and a quarter hours, as compared to a national average of about two and a quarter hours.
But ED director Hussein, who was a medical director of an ED in St. Petersburg, cautioned that these time averages don't tell the whole story:  "The data is important because it helps us with ideas for improvement. But great metrics don't relate to the quality of care."
Quality should also be measured, she suggested, by "the expertise of those who serve you – the seasoned nurses at IRMC and the ED physicians – all board certified."
But, she emphasized, she does not want anyone to think that improving wait times is not of major importance.
The recent long wait-times, she and Bennett both said, have been caused by new Apollo doctors having to learn systems and procedures unfamiliar to them. Furthermore, the new team underestimated the numbers of patients expected in the Emergency Department for January.
Although the January ED numbers were almost 6 percent below what the hospital predicted in documents, Bennett said he never saw the documents with those numbers and estimated January numbers based upon the 2013 yearly volume, adding in a 5 percent increase for season.
"The seasonal swing was much greater than we expected," said Bennett, "and we didn't realize that peak times at IRMC are between 10 a.m. and 2 p.m., not at the usual time at the end of the work day, which meant we didn't have enough doctors earlier in the day."
The unusual morning and midday peak times are explained by the great number of retired people in Vero Beach during the season.
Also, a lack of staffed rooms in the hospital meant there was no place to move all of the patients out of the ER, which increased the waits of patients in the lobby as well as in ER beds.
"I told (hospital CEO) Jeff Susi in December that we have to decompress – relieve the pressure with more beds," said Bennett. "He got right on it, but it took until February to get that accomplished."
To turn the battleship around and greatly reduce wait-times in order to win back the confidence of unhappy ED patients like McGuinness, Bennett and Hussein say the hospital is making major ED improvements.
These include:
- Patients presenting at the ED now see a triage nurse, physician's assistant or nurse practitioner within 10 to 30 minutes after arriving so that blood tests and X-rays can be immediately ordered, if needed.
- Patients with chest pains get an EKG within 10 minutes, no exceptions.
- The former ratio of doctors to midlevel providers – nurse practitioners and physician's assistants – was 45 percent to 55 percent. But the hospital has flipped that ratio so that more ED doctors are available to see ED patients.
- The hospital is opening up more patient rooms: Ten beds on the 2E wing, which is a transitional unit, are open now, as is a new 16-bed overflow space.
- "Scribes," college students majoring in healthcare fields, move computers on wheels throughout the ED collecting patient responses in order to improve patient satisfaction.
- The nursing staff is increasing.
- The hospital administration is "extremely committed and focused on" supporting the new ED team.
- More ED physicians will be available at peak times, and more will be hired.
While the February wait-times were better than January's, they still are worse than national averages.
In February, the average time patients waited to get to a hospital room was a little under seven hours, and the time it took to get discharged was about three hours. The national averages are four and a half hours to get to a room and two and a quarter hours to be discharged. 
"March will be better than January and February, and we expect things to continue to get better," said Bennett.
"We want to be honest about what's going on. We want to show the good with the bad and keep our promises so that people have confidence in us," said Bennett.
McGuinness said she'll be watching and would like nothing better. "I'd love to be able to go to the ER at my local hospital, if – God forbid – I ever need it again," she said.