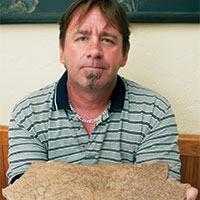 Real or fake: Fossil hunter Kennedy displays second etched Ice Age bone
STORY BY MICHELLE GENZ (Week of March 27, 2014)
Photo of Fossil hunter James Kennedy
After more than a year of offering sneak peeks to a select few sworn to secrecy, Vero's celebrated amateur fossil hunter James Kennedy has revealed to the world via a History Channel TV show that he has a second etched bone.
Kennedy made international headlines in 2009 with his discovery of a bone from a large Ice Age mammal etched with a drawing of a mastodon or mammoth. When that find stood up to rigorous testing, it was hailed as the oldest work of art ever discovered in the Western Hemisphere.
Now Kennedy claims he has had another etched bone all along, this time of a stick figure spear fisherman and his catch.
He has yet to have any tests run on the latest etching. "I've been keeping it under wraps because of all the garbage I went through with the first one," he says.
While key experts involved in the first bone reportedly know about this second find, there is far from the same clamor for testing this time. Kennedy says he wouldn't allow it anyway; he says he refuses to go through what he went through with the first bone, a drawn-out tug of war between scientists and Kennedy, who was loathe to let go of his bone, and ended up traveling with it to Washington for tests and castings at the Smithsonian Institute.
The first bone passed that extensive scrutiny and more from scientists in Colorado and at the University of Florida. But to the researchers' chagrin, Kennedy sold that bone to a private collector in March of last year. By contractual agreement, the amount was never disclosed.
Kennedy says he contacted Scott Wolter, a Minnesota-based geologist and host of the show "American Unearthed," sometime last year.
The show, now in its second season, has reached as many as a million viewers per episode. But it is not without its detractors, some of whom call it "pseudoscience."
Wolter declares the show tells the "hidden history that we never learned in school."
Kennedy would likely agree: entirely self-taught, he is a lifelong fossil hunter without a college degree but with an impressive understanding of the region's archaeology. "He's got a genius for finding things," says Ron Rennick, a Harvard-educated art collector and auctioneer who has taken up fossil hunting after representing Kennedy in the first bone's sale.  
In October, Wolter brought his crew to Vero to tape a segment called "Swamp Mammoth."
The episode aired in February. In it, Wolter speaks with Dr. Dennis Stanford, head of the Smithsonian's Paleoindian program who has lectured here on Vero's archaeological importance. Wolter also interviews Dr. Rachel Wentz, an expert in the 6,000-year-old Brevard County site known as Windover Bog.
Kennedy appears in the last segment, and takes Wolter out to a spoil island in Sebastian, where the two instantly discover a set of mastodon teeth. Both swear that though the shot was set, the find actually occurred spontaneously. "This was totally 100 percent," said Wolter in a phone interview last week, on location in North Carolina. "Everything we found was legit. I probably went home with five pounds of bone and teeth." 
Though he knows the etched fisherman bone has not been tested, Wolter declared it looked "absolutely legitimate" when Kennedy with cameras rolling withdrew it from its metal case.
"It's not fake," insists Wolter, "They're saying it's fake and they'll try and smear it, but at the end of the day it's going to be vetted out and it will stand up to scrutiny."
So far, scientists have shown no urgency in testing the fisherman's image.
"I have other obligations," says Dr. Andy Hemmings, director of the current excavation of the Vero Man site, where Ice Age mammal bones and human bones are believed to have been found together 100 years ago. "It doesn't do me any good to see neat things when I don't get to know where they came from. That's useless to me. I can't do anything with it. I have to take somebody's word for it. It's undocumented, so it's not useful scientifically."
The original excavation at the Vero Man site rocked the archaeological world. Prior, there had never been proof of people inhabiting the area earlier than 8,000 years ago. The Ice Age lasted until around 13,000 years ago. Tests on the first bone Kennedy found certainly pointed to the Ice Age coexistence of man and beast. But beyond a morsel kept by the Smithsonian, further examination appears not to be an option with the bone in private hands.
"There are far too many unanswered questions about the bone and it's not available for scientific study so as far as I'm concerned it might as well not exist," says Hemmings. "This is why we record everything in place. We document it, we photograph it. Nobody has to take my word for anything."
The notion that Vero Beach may have been an Ice Age artists' colony was floated by experts when Kennedy made known his discovery of the first bone in 2011.
That bone was exhibited with much fanfare at the Vero Beach Museum of Art, and though archaeologists pleaded with Kennedy not to sell it to a private collector, their offers were far less than the seven-figure sums being bandied about by Kennedy.
An international online auction planned by Rennick was called off when the market for such collectibles went soft in the recession, and in the end, Kennedy sold the bone in March 2013. Rennick, who is on the board of the group raising funds for the Vero Man site, still hopes the bone will one day end up in a museum.
All the while, Kennedy claims, he has been sitting on another etched bone, hiding it at home even as he demanded the utmost in security for the first bone.
Kennedy says he found the two bones at the same time, in the same place – north of the Vero Man site on privately owned property. He says both were originally stored together in a box labelled with the location. He had no idea either was etched until he took the box out from under his kitchen sink to clean them, a year or more after he had found them.
"When I saw the etching on the first one, I went back and checked the box for more and I found the second one. But I've been told before: if you find four Picassos in your basement, say you only found one."
Kennedy says the only expert who has seen the bone thus far is Paul Bahn, a British archaeologist who visited Vero in conjunction with the early fund-raising effort for the Vero Man dig.
"He made note just as I did of the many more carved details in the first bone," Kennedy says.
In Bahn's 2012 talk at Vero's Emerson Center, he said, "If there's one, there's inevitably more." The audience of more than 1,000 presumed he was speculating. Kennedy now says he had shown Bahn the secret second bone. Bahn, who led the team that discovered Britani's first Ice Age cave art in 2003, could not be reached for comment.
Rennick, who represented Kennedy in the sale of the first bone, says the fisherman etching is of a different style from the mammoth or mastodon sketch, and that its stick figure resembles drawings he has seen in museums in Europe.
"There's a very good chance it's real," he says. "But it needs to be authenticated before he shows it around too much more."
He speculates that it could be the work of a second Ice Age artist, or a practice piece in the learning curve of the first artist. Then again, he adds, it could be the work of someone from 100 years ago, when the Vero Man site was a tourist attraction that sold souvenirs.