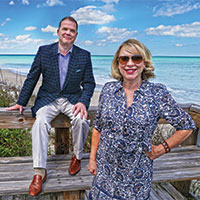 Largest buildable piece of land in Shores comes back on market
STORY BY STEVEN M. THOMAS (Week of March 13, 2014)
Photo: Clark French and Cindy O'Dare
The largest buildable piece of land remaining in Indian River Shores – with the potential for development of an ocean-to-river private community of luxury condos, townhomes and single family dwellings – has come back on the market.
 "It is a total of 41.5 acres that stretches from the ocean to the river," says Premier Estate Properties Broker Associate Clark French, who with his partner Cindy O'Dare recently listed the property just north of Palm Island Plantation for $16.95 million.
"The zoning is such you can do multifamily or single-family. A real mix of product is possible with condos or townhouses on the ocean and courtyard homes or larger single-family on the river side. It is a blank slate with a full range of development possibilities."
The tract includes 4.75 acres on the ocean, between A1A and the tideline, and 33.8 flat, mostly high-and-dry acres between A1A and the lagoon. Also part of the package is a private island with recreational development potential.
"The island could be a great amenity for a community with a dock and gazebo and walking trails," O'Dare says.
The 41.5 acre property offered by Premier has 353 feet of ocean frontage, 620 feet of river frontage on the island shore and another 2,200 feet of island shoreline.
The ocean-to-river tract was assembled from grove land in 2004 as the real estate boom was ramping up and sold to McGough, a construction and development company headquartered in St. Paul, MN, for $16.5 million.
McGough hired Orlando planning and architecture powerhouse The Evans Group to design a high-end island community called Providence that would take full advantage of the gold-plated barrier-island location.
Evans came up with a plan that included 12 opulent condominiums and 11 townhomes in five buildings on the land between A1A and the beach. On the river side, planners envisioned 21 courtyard homes, 33 single family homes and seven riverfront estates. A man-made lagoon, clubhouse, swimming pool and river dock were among the amenities.
The plan was approved by Indian River Shores; a glossy package of virtual reality building renderings, floor plans and aerial photography was printed, and island brokers say there was "significant interest from the community."
"I had nine people lined up to buy condos," says Kay Brown of Premier Estate Properties. "They had put down deposits and were looking forward to moving in."
But the market crashed before construction began and McGough put the project on hold.
"They were fully approved and had permits for everything, but the permits expired," says Tom Laboon, local manager for current owner Beachlen Development.
Beachlen, which is owned by Philadelphia businessman and philanthropist Brook Lenfest, bought the property in 2012 for $10.95 million dollars, creating Charleston Estates Vero LLC as a holding company for the project.
"They bought it partially for land-banking purposes and partly to explore its development potential," says French.
A year ago, Laboon was leaning toward the idea of building three or four large estate homes on the river and three on the oceanfront that would have been similar in scale to the two oceanfront properties Beachlen developed in the estate section. Those houses, known as Sandy Lane and Splendida Dimora, have more than 15,000 square feet under air and are on the market for $15,995,000 (Sandy Lane) and $16,995,000 (Splendida Dimora).
Laboon said the rest of the 41-acre property would be laid out in 1- to 1.5-acre lots with houses about half the size of the estate section homes.
"We are talking to local realtors to see what makes sense, but I think the houses will be about 7,000 square feet under air," Laboon said at the time.
The Indian River Shores Town Manager at the time, Richard Jefferson, said last year he was sure Laboon's plan was "something the town will look on favorably."
Some engineering work and approvals from state agencies were still pending at that time, however, and before the project broke ground Lenfest began to focus on a larger development opportunity in Philadelphia, where he plans to build two high-rise hotels with a total of 700 rooms.
In December, the last piece of that puzzle dropped into place on that project when the Philadelphia City Council approved a $33 million tax break for the $280 million development, and Lenfest decided to put the Indian River Shores property up for sale.
"I need to focus on the Philadelphia hotel development," Lenfest wrote in an e-mail to Vero Beach 32963. "That is the main reason I decided to sell the property [in the Shores]."
Employing a database company, French has identified 4,000 builders and developers in Florida who have pulled permits for residential projects with construction cost of $1 million or more. He and O'Dare will market the property to that group and through their wide-ranging national and international networks.
"We had two groups who flew to Vero specifically to look at the property the first week we listed it," French says.
"It is an absolutely gorgeous piece of property," O'Dare says. "You can do a lot with this land."
"Considering its size, location and amount of frontage on the ocean and river, we think it represents a tremendous bargain," says French. "This same property in Palm Beach would easily be priced at $200 million."