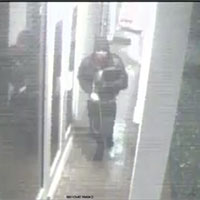 Riomar residents on edge after two daring midday burglaries
STORY BY MEG LAUGHLIN (Week of March 13, 2014)
Photo: Security camera footage showing burglars leaving office of plastic surgeon Alan Durkin.
Two daring midday burglaries of expensive homes in Riomar last week that netted thieves significant quantities of jewelry have Vero Beach police putting out the word: Lock your doors when you leave home.
"If you leave for only a few minutes, lock up, and if you see something suspicious, call the police," said Vero Beach police spokesman John Morrison. "If you're wrong, someone will get to meet a police officer and there's no harm done."
The two jewelry heists, within a few blocks of each other, were remarkably similar. One was on Ocean Drive just off Lady Bug Lane; the other was on Riomar. In both cases, thieves entered beautiful homes through unlocked doors and walked out with valuable jewelry and heirlooms.
A neighbor on Ocean Drive saw two young men exit the house across the street from her with pillow cases and drive off in a silver van. There were no witnesses to the Riomar theft. But because of similarities police suspect the same crooks entered both homes.
Both robberies happened at midday while the home owners were gone for little more than an hour. The Riomar couple made a quick run to a Publix supermarket, and the Ocean Drive couple made a quick trip to a doctor's office. Also, in both cases, the thieves took large jewelry boxes filled with jewelry from back bedrooms and bathrooms, leaving everything else untouched.
The Riomar couple lost a 19th century silver watch fob from Ireland inherited from an aunt and heirloom diamond earrings, as well as a valuable pearl necklace and other jewelry. The Ocean Drive couple lost a gold rope necklace, a mother's brooch, wedding rings and other valuable jewelry – all taken away in pillow cases from their own pillows.
"We've lived here for many years and always left our doors unlocked; so we never expected to be robbed," said Ocean Drive resident Teri Vanmeter. "What can I tell you? We're stupid."
Police dusted for fingerprints and will let Vanmeter know if they get a match. But neither couple held much hope of ever seeing their jewelry again.
"It's sad because a lot of memories were stolen. You can buy a new TV but you can't buy your grandmother's watch again," said Morrison.
Meanwhile, three local police agencies – the Vero Beach police, the sheriff's office and Indian River Shores police – are still investigating a break-in and theft of the A1A office of barrier island plastic surgeon Alan Durkin that occurred on Jan. 30.
Video surveillance film showed that four thieves in black clothing broke a large plate-glass window with a crowbar, then kicked in the glass to enter the office. They left with a laptop computer and a large laser machine that cost six figures.
"We're relieved that no patient information was on the computer," said Durkin.
An EKG monitor was also moved from one room to another in an apparent attempt to take it, but was left behind.
"You'd expect thieves to go after cash and drugs in a doctor's office but that didn't happen," said Durkin. 
"You can be sure the thieves didn't leave the doctor's office with that laser and head to a pawn shop," said Indian River Shores police chief Mike Jacobs.
But with the other two thefts, which police don't see as related to the Durkin break-in, thieves may well have tried to sell the jewelry to gold and jewelry buyers in the area.
Both couples say they'll be checking around.
"You may think we live in paradise and in a lot of ways we do, but there are criminals out there making random attempts and succeeding, and you need to be aware," said Vero Beach police spokesman Morrison.