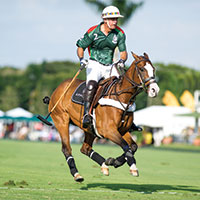 Star of Windsor Charity Polo Cup dies in freak accident
STORY BY SIOBHAN McDONOUGH (Week of March 6, 2014)
Photo of Carlos Gracida.
It's been less than three weeks since Carlos Gracida graced Vero Beach with his world-class polo skills.
The 10-time winner of the British Open, and 9-time winner of the U.S. Open Polo Championship, galloped at high speed, seemingly effortlessly, to the awe of those on the sidelines at the Windsor Charity Polo Cup. It was yet another stellar match played and won by one of the game's most beloved legends.
Now, the sport of kings has lost its prince. Gracida, 53, died in a freak accident last week while playing in a match at the Everglades Polo Club in Wellington in Palm Beach County.
Gracida suffered massive facial and chest trauma after his horse stumbled, launching him to the ground. It is thought that the horse's head knocked him unconscious before he ever hit the playing field. The horse then fell on Gracida, and efforts to revive the polo player failed.
Gracida was playing for Santa Clara Polo Club against Goose Creek in the International Polo Club's Freebooters Classic on February 25 when the accident occurred. He was surrounded by his brother and sons and other family when he died at Delray Hospital a short time later.
Gracida was born in Mexico and lived in Wellington. Both his sons, Carlos Jr. and Mariano, are polo players, as is his brother, Guillermo, who is in the Hall of Fame.
Gracida held the sport's highest rating, a 10-goal handicap, for 15 years. He was the only player in the history of the sport to win polo's Grand Slam: the U.S., Argentine and British opens all in the same year, and he did this three times – in 1987, 1988 and 1994.
Luis Escobar, whose family owns Santa Clara Polo Club, and whose 13-year-old son was playing on Gracida's team that fateful day, recalled playing against his friend at the February 15 Windsor Charity Polo Cup.
"It was a reunion of sorts," he said.
"When they were starting the development at Windsor, there were two polo fields, and we'd play there all of the time," he said of the Gracida brothers and Mike Azzaro. "We always enjoyed the drive up to Vero Beach and playing there. When we all got together to play there a few weeks ago, Carlos said, 'What a first-class place this is,' and we all agreed."
"It was great to have legends to play against and their style of polo at their ages," Escobar said of the match that included Vero Beach resident John Walsh.
Befittingly, Gracida's team won.
"He was one of those guys who you think you've got him, but when you look up at the score, he is always up a point or two. He is ahead and so smooth."
Max Secunda, match director of the 2014 Windsor Charity Polo Cup, similarly respected Gracida's style and ability to win.
"He enabled a lot of young guys to win … they had to do a job, and he'd win the tournament for them," said Secunda. "You pretty much won if you played with him. Unfortunately I played against him, which is why I lost."
Also, Gracida mentored many polo players throughout the years. "For polo players my age in England, he was like an idol, a god," Secunda added.
"His style was truly entertaining. He played very gracefully, very fast and had incredible technique. He was mesmerizing. He had very fast horses. He could pass people at great speed and score a lot of goals. That's what I grew up dreaming about doing in polo. To be fast and score goals."
But playing polo to earn awards and titles was not all Gracida was about. He played for charity, as he did at Windsor recently.
"He was a real gentleman," said Walsh, a good friend of Gracida who played in many polo matches with him. "I'm completely shocked by his death."
That day at Windsor he played an 11 o'clock game in Wellington, had a tiny fender bender at a gas station and then drove all the way to Vero Beach to play at Windsor for the charity game, Walsh said. "He played many times for nothing, for charity."
Walsh had dinner with him that night after the Windsor game, and they were talking about the multiple injuries of polo players. Gracida said he had never broken a bone or had an injury since he was a little boy. "And then he gets killed last week," said Walsh. "It's just so sad. It is such a horrible shock. He was such a gentleman, good father, great charitable heart, special player, skillful player."
"We are so grateful to have had the privilege of meeting Carlos Gracida," said Susan Knott, who co-chaired the Windsor Charity Polo Cup. "His generosity, time and legendary expertise brought to our polo event not only great excitement but also far-reaching awareness for our girls suffering with Rett Syndrome and the Children of Indian River. We will remember him for his spirit both on and off the polo field."