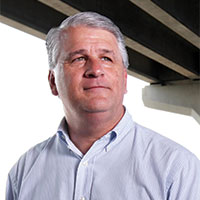 Soured business venture forces Zorc to file bankruptcy
STORY BY LISA ZAHNER (Week of March 20, 2014)
Still reeling from what he describes as a bitterly soured business venture, Indian River County Commissioner Tim Zorc filed for Chapter 7 bankruptcy last Tuesday in federal court.
Potentially more than $1 million in debt and about to be forced from the home he shares with wife Laura and their children, Zorc, who still has nearly 32 months left in his first four-year term on the commission, has spent the past few days meeting with supporters and community leaders to explain his predicament and to ask for their continued confidence in his leadership.
Zorc's problems all started, he said, nearly a decade ago when he entered into a business partnership with Vero Beach barrier island resident Chuck Mechling, developer of high-end communities Collier Club in Sebastian and Arbor Trace and Pointe West in Vero Beach. As his family's construction business, Richard Zorc and Sons was winding down with his father's and brother's retirements, Zorc was seeking another opportunity. He, Mechling and partner Steve Melchiori teamed up to form Southern Classic Homes.
In 2005, Zorc says Mechling approached him to invest in a deal on a parcel of land on 78th Avenue in Sebastian under an LLC called Spirit of Sebastian. Public records show Spirit Development Corp paid $1.7 million for the land in June 2006. Zorc said Mechling told him that the St. John's River Water Management District was interested in the land and would purchase it from them for $7 million, leaving a tidy profit for the investors. The water management district did indeed purchase the land for $7 million in June 2008, but Zorc said he and Southern Classic Homes never reaped the benefits. He said Mechling kept stalling, asking for more cash to float Southern Classic Homes, in the meantime.
Mechling said he's more than a bit confused by Zorc's story. "Tim was never a partner in Spirit of Sebastian. No, he was not a partner in Pointe West." Mechling said the only business ties he had to Zorc were through Southern Classic Homes. Southern Classic Homes' two key projects were building residences at Mechling's Pointe West and Collier Club developments. "Probably Southern Classic Homes was caught in that umbrella," Mechling added.
Eventually, Zorc says, the money that was supposed to bail out Southern Classic Homes seemed to evaporate. Zorc sued Mechling, Melchiori, Southern Classic Homes, Mechling's OnSite Management and Pointe West of Vero Beach for damages in circuit court in Feb. 2012. Claims include breach of employment contract for a promised $120,000 annual salary, transferring assets without due consideration, breach of duty of care, breach of duty of loyalty, fraudulent transfers of assets and other allegations in an effort to recover what he claims he was owed.
This sum, he says, includes repayment of the funds he'd provided to pay business expenses for Southern Classic Homes while he waited for Mechling to sort out the finances.
"Chuck asked if I could maybe borrow money from my dad or if I could get money to help pay the bills. I ended up putting about $100,000 on my personal credit card and taking money out of my retirement account and even out of my kids' college savings," Zorc said.
Meanwhile, Zorc's personal debt was mounting and he was in a predicament in which many homeowners have found themselves in recent years – deeply underwater on his own house in the Polo Grounds at Pointe West, which was last valued by Property Appraiser David Nolte's office at $545,000.
That lawsuit is still pending, as is the bankruptcy of both Southern Classic Homes and Pointe West. Mechling's company OnSite Management, which used to manage the common areas and amenities for Collier Club and Pointe West but has since sold those accounts, "is still an entity, but doesn't have anything left that it manages," Mechling said. Mechling said he still serves as president of the Collier Club Homeowners' Association.
Zorc was criticized when he ran for office in 2012 because he still listed all the money he felt he was owed and still expected to receive from his business deals on his financial disclosure paperwork as on-paper assets or receivables. That made his personal financial picture appear far better than if he'd given up all hope of collecting.
Mechling stands by what he said at the time, that there were no assets available that could have paid those receivables, but he won't go so far as to say Zorc's financial disclosure amounted to deliberate deception.
"Tim never came to me or Steve my partner and said look I'm going to run for county commission and have to file this financial report and what do you think is the worth of the company. Never was discussed, never had a chat," Mechling said. "I'm sure he got with an accountant or somebody when he filled this information out. I never talked to Tim and Tim never talked to me on that and I don't know, maybe he thought there were more resources than there were."
What's changed since the election is that Pointe West Development filed for reorganization through Chapter 11 bankruptcy on Aug. 6, 2013, court records show. Subsequently, Zorc was served on March 7 with a Motion for Deficiency Judgment from Wells Fargo Bank on a $3 million debt.
Zorc said he filed Chapter 7 last week on the advice of his attorney that he could potentially be left holding the bag on Southern Classic Homes' debt. The original Pointe West bankruptcy filing listed Zorc as a creditor in the amount of $855,000, but the proposed bankruptcy settlement plan, he said, completely cuts him out.
Mechling said both he and Melchiori were served with the same Wells Fargo lawsuit, that they're all in the same boat.
"Let me assure you we were all three partners in this and I was many, many more dollars in debt than Tim. Banks weren't financing, the values of homes went straight down, there was no way of selling the product for even the value of the product," Mechling said. "Tim ran the company, Tim ran the books. We were investors in that and partners and put way more money in that than Tim did. It's not a case of who put more money in. For every dollar he lost, I probably lost $3 of $4."
Though Mechling said he'd rather, of course, not have his failed business dealings splashed out in the media, but that Zorc's choice to run for office justifiably made Southern Classic Homes' financial woes, and Mechling's troubles by association, the public's business.
A hearing in Pointe West's bankruptcy is set for Tuesday and Zorc said his attorney plans to appear in federal court to object to the proposed settlement agreement. Zorc was not listed as a creditor in Pointe West's bankruptcy filing, according to court records and Zorc contends that he should have been.
With regard to Zorc's service as a county commissioner, Mechling, who backed opponent Tony Donadio, actually praised his former business partner as a public servant.
"Many people run for office and everybody makes the decision on whom you might support. Tony Donadio was an astute business person and I think that's what we should look for because I feel we entrust them with our dollars as we all pay taxes," said Mechling, who is also a leader of the local Tea Party group.
"I served on the chamber board for years with Tony, but let me also say that since Tim's been elected, I think he's done a good job in office," Mechling said. "Though I don't agree with every vote he's taken, I think he's applied himself and I think he's done his homework and I think he takes the time to research things."
Mechling acknowledged that people are very quick to judge – especially in a small town – but that he hopes locals will give Zorc the benefit of the doubt with regard to the bankruptcy. "I don't know today if it's fair or equitable to judge someone on what happened in the dark days of our economy. Small, local builders who produced a quality product and that just got wiped off the map.
"The unfortunate thing is that it affected so many people," Mechling said. "I don't think it's a black mark on Tim. I think he's done a good job as a commissioner."
Zorc says he doesn't expect anyone to mount a recall effort, but if necessary, he'll not only fight to retain his seat, but he also intends to run for re-election in 2016. The county is, in fact, his only paying job right now as he's no longer building homes and he's severed ties with two companies engaged in obtaining impact fees for property owners. Wife Laura works part-time as a retail sales clerk.