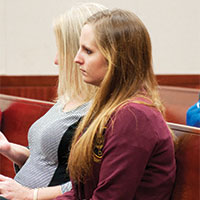 Miranda Dean gets probation for leaving scene of accident
STORY BY MEG LAUGHLIN (Week of May 29, 2014)
Almost two years after Vero Beach resident Miranda Dean hit two people on a motor scooter and drove off as they lay bleeding in the road, she got 18 months probation for leaving the scene of an accident with injuries.
After the hit and run, Dean drove to Vero Beach High School and hit a mailbox across the street and a parked car. Witnesses said she appeared to pass out at the wheel before the second accident.
At issue in the case was whether Dean, 22, had ingested a drug that caused her to behave as she did or whether she had a seizure, which would suggest her actions were beyond her control.
While prosecutors raised questions about drugs that would not show up in tests, Dean's defense attorney, Bobby Guttridge, enlisted the help of Vero Beach neurologist Stuart James Shafer and University of Florida neurologists to conduct tests that would show Dean had a seizure, caused by an undetected medical condition.
Their finding was that she probably did have a seizure, caused by a medical condition, and her behavior was beyond her control.
After she pled no contest, Judge Robert L. Pegg gave her probation and said he was withholding adjudication.
The probation was accompanied by these restrictions: Dean can only drive to and from work. She is subject to random searches of her belongings and residence at any time. She is also subject to frequent and random drug testing.
While the weight of evidence suggested she had seizures not in any way related to drugs, prosecutors requested the random searches and drug testing in what they called "an abundance of caution."
Neither Dean, her father nor Guttridge returned calls from Vero Beach 32963.