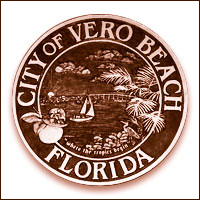 Fletcher, Turner not inclined to seek re-election
STORY BY LISA ZAHNER (Week of May 8, 2014)
Both citing sheer exhaustion, along with burnout on their efforts to get Vero out of the electric business, Councilman Craig Fletcher and Councilwoman Pilar Turner say they are hoping to pass the baton to some fresh faces in November.
With Vice Mayor Jay Kramer in recent months also non-committal about whether he will run again, and openly stating that he's more than weary from the battle over Vero electric, that could mean an unprecedented three Vero Beach City Council seats up for grabs this fall with no incumbents seeking re-election.
Fletcher, 72, is in his eighth year of service to the city, having been elected to two terms a decade ago and then again in 2010 and 2012. He's also served as mayor twice, both times during tumultuous periods in the history of the city.
"I'm probably not going to run. I'm burned out," said Fletcher. "If I find somebody strong to run, I would step aside."
Turner, 59, was first elected in 2010 and would be looking at a third term.  But instead, she's ready to bow out of elected office for good.
"I'm tired. My family is tired," she said.  Turner echoed Fletcher's sentiment that she would gladly bow out "if we could find some strong people to come in here."
Both said their spouses have urged them not to run again, as the stress of the job has taken a toll not only on the council member, but on those around them.
Fletcher and Turner have been the target of attacks in social media and political blogs, and occasionally in the mainstream print media as well. In 2013, Fletcher also had to fend off a recall effort after a controversial run-in with a local humanist group over a proclamation.
It has been rumored that Turner, like Sandra Bowden, Caroline Ginn and Bob Solari, might be hoping to use the Vero Beach City Council as a stepping stone to run for the Board of County Commissioners, but she flatly denies it.
"I have no further political aspirations," Turner said Monday. "I've only run for City Council because of my love of the city and to try to get Vero on a better financial footing."
Prior to serving on the council, Turner was active in the Taxpayers' Association and served on the city's Finance Commission. She has been a stalwart advocate of the sale of Vero electric to Florida Power and Light, and some would say she's ventured behind enemy lines serving as the city's representative on the Florida Municipal Power Agency board.
"I've tried to support this and be there for Florida Power and Light to get the sale done," Turner said of the transaction, which for months has appeared to be falling apart.
For his part, Fletcher is not leaving things to chance but is actively seeking his replacement. "We've been looking for someone to run," Fletcher said, explaining that "we" includes Tea Party founder and custom homebuilder Toby Hill and others. "We've got a list of people that we're working on trying to recruit. We had a list of five and now it's down to two."
Fletcher said the challenges for the incoming City Council may be even more complex than trying to bring about a successful conclusion to the electric sale.
With the County and Indian River Shores amassing legal teams to extricate their customers from Vero electric, Vero could be looking at a perfect storm of financial challenges ahead.
"We need someone with business background mainly, someone who has to sign a check and basically (people who) have their own business – some business acumen," said the fifth-generation Vero native. "Someone who can face the real-life reality of a budget and someone who has had to run a business."
So far, no fresh faces have emerged who look like they're running for office.
Former councilman Charlie Wilson has stated he intends to run, as he moved into the city last September and made a point of letting his friends and rivals know he had established residency a year out from the qualifying period for the November 2014 ballot. Wilson, who first made the motion in 2009 to invite FPL to talk about purchasing Big Blue, recently founded the new Vero Beach Chamber of Commerce and has been an outspoken activist with regard to the fair assessment and prudent use of impact fees.
Former councilman Ken Daige, who now heads up the city's High Speed Rail Commission, has been appearing regularly at the City Council podium and seems to be honing his populist campaign message of speaking up for downtown businesses and for oft-forgotten mainland neighborhoods.
Rounding out the list of familiar characters who will likely throw their hats in the ring this November is former councilman Brian Heady. He has said on numerous occasions that "it wouldn't be an election if my name wasn't on the ballot," and he's getting ready to release his second book about the shenanigans of Vero Beach politics and government.
"Anatomy of a Fraud," which details Heady's effort to prove wrongdoing surrounding the city's entry into the 20-year, $2 billion Orlando Utilities Commission power contract, should be on shelves just in time to promote a Heady candidacy.
But is Vero "ready for Heady," or Wilson, or Daige – again?