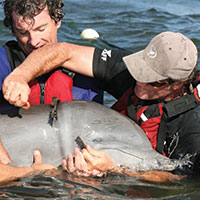 Marine mammal rescue program near collapse
STORY BY STEVEN M. THOMAS (Week of May 15, 2014)
Photo: Dolphin guru Steve McCulloch (far right) rescues a dolphin.
The Harbor Branch Oceanographic Institute's marine mammal rescue program, which brought the institute international acclaim, has fallen apart in the wake of dolphin guru Steve McCulloch's controversial firing by HBOI Interim Director Megan Davis.
McCulloch, who was terminated in February, has hired a lawyer and is seeking reinstatement, but in the meantime four out of five people who previously responded to stranded, entangled and injured dolphins and whales along the Treasure Coast have left the program.
The sole remaining person, to whom Davis has given the title marine mammal specialist, previously functioned as McCulloch's assistant.
The rehabilitation pool at Harbor Branch, an impressive veterinary facility designed and equipped by McCulloch to care for injured marine mammals, using funds he secured from the state legislature, has been drained, awaiting repairs that may never come.
"The marine mammal stranding program is in a meltdown and HBOI managers are in damage control," Juli Goldstein wrote in an email to Vero Beach 32963 last week. Goldstein, who was HBOI's Chief Clinician of Veterinarian Services and a Florida Atlantic University Associate Research Professor, resigned from her positions in the wake of McCulloch's firing, citing unfairness and a lack of leadership at Harbor Branch.
"Since Margaret Leinin resigned and Megan Davis was put in charge, HBOI has gone downhill fast," Goldstein said. "Her investigation and termination of someone as dedicated and experienced as Steve was for me and others the last straw that broke the camel's back."
Six months ago McCulloch, Goldstein, Vet Tech Emily Langille, master's student researcher Christi Gonzalez and Steve Burton, McCulloch's assistant, were on call to rescue marine mammals in distress and gather scientific information about dolphin disease and the lagoon environment.
Today, only Burton remains.
In an email, HBOI spokesperson Carin Smith, who said she consulted with Davis, wrote that "Burton was hired in 2010. He is well-versed in all aspects of strandings and we have the utmost confidence in his ability to perform this job."
But he is not perceived as an expert by the marine mammal community and, in any case, his several years' experience carrying McCulloch's tools pales in comparison with McCulloch and Goldstein's combined 50-plus years as active marine mammal research, rescue and rehabilitation professionals.
"Steve is the best of the best, one of the most renowned marine mammal experts in the world," said David Yates, CEO of the Clearwater Marine Aquarium. "Everybody looks up to him."
Yates met McCulloch and Goldstein in 2006 when they helped with the rehabilitation of Winter, the dolphin with an artificial tail featured in the 2011 movie "Dolphin Tale." Both McCulloch and Goldstein will appear in the sequel, "Dolphin Tale 2," which features a dolphin named Hope that they rescued.
Yates is far from alone in his high regard for McCulloch. Scores of leading marine mammal experts have written Davis attesting to McCulloch's exceptional expertise and unparalleled experience, and expressing shock and outrage at his dismissal for a single minor breach of protocol in which no humans or animals were injured.
McCulloch was fired for placing a dolphin in the swimming pool at Sea Oaks to keep it from dying an agonizing death on the beach without first getting permission from a National Marine Fisheries supervisor.
The action was technical violation of McCulloch's Stranding Agreement with Fisheries, and he received a letter of reprimand.  But a number of experts have since come forward to say it was the best thing to do under the circumstances.
"Difficult decisions need to be made in difficult situations and sometimes the decisions made are not ideal or agreed on by everyone involved, but in this case no one was injured and the animal was treated humanely," University of Florida Aquatic Animal Health faculty member and doctor of veterinary medicine Craig A. Pelton wrote Davis a month after the event.
"In this particular incident actions were complicated by bad weather and poor communications," wrote John A. Knight, an internationally known zoo and wildlife consultant. "It appears that Steve made the most of what circumstances allowed. Termination of [McCulloch's] contract is a grossly disproportionate reaction to his misdemeanor. I also fail to see how it could be to the benefit of Harbor Branch Oceanographic Institution, or its national or international reputation."
"Given his track record of success and my observations of his animal and people skills under field conditions, any deviations that Mr. McCulloch may have made from protocol were in response to existing conditions with human and/or animal health and welfare concerns in mind," wrote David S. Miller, one of the most highly regarded animal disease and welfare experts in the world.
Even if HBOI still believes McCulloch did make an error, it was his first in 16 years of high-risk, invaluable scientific missions undertaken for the institute.
"This is the first time Steve McCulloch has been reprimanded by our agency," said NOAA spokesperson Allison Garret.
McCulloch remains well regarded by top current and former officials at the National Oceanic and Atmospheric Administration, the agency National Marine Fisheries is part of.
In a May 5 notarized affidavit provided to an HBOI disciplinary review committee evaluating McCulloch's firing, Conrad C. Lautenbacher, a retired Vice Admiral in the U.S. Navy and former head of NOAA, wrote, "Mr. McCulloch has proven over many years that he possesses the knowledge, sound judgment, and compassion to do the right thing in the most difficult and complex situations ... and has demonstrated his skills and dedication in faithful service as a key member of Florida's stranding and rescue network, which I highly valued while leading NOAA and continue to support. His loss to FAU and HBOI would be detrimental to the [marine mammal] program and the people involved, notwithstanding the injustice to Mr. McCulloch."
"It would be a catastrophic loss to FAU students to lose Mr. McCulloch," wrote Glenn Gillard, a veterinarian and adjunct professor of Animal Science, who credits McCulloch and Goldstein with inspiring many of his students to study veterinary medicine.
NOAA Senior Scientist Patricia A Fair wrote Davis that "Steve has not only been instrumental in the execution of fieldwork necessary to support the Dolphin Health and Risk Assessment studies but has excelled at planning and coordinating the field research operation in advance ... I hope the positive contributions that Steve has provided to this project for more than a decade will be considered favorably in his evaluation.
Despite these statements of support and scores more just like them, from equally distinguished marine mammal experts, Davis is sticking to her guns. She is determined to get rid of McCulloch.
Since the action appears to be harmful to Harbor Branch, speculation has arisen that the swimming pool incident is merely a pretext and that McCulloch is being fired so that others can control the revenue streams he created for HBOI when he got the dolphin and whale specialty license plate legislation approved. The plates bring Harbor Branch $3 million a year.
Others believe his termination is a matter of petty institutional politics.
"Mediocre minds are threatened by superior minds," said McCulloch's attorney Barry Silver. "Some people are jealous of successful, passionate people. Others have suggested he was fired because they want to control his funding or because he has no formal degrees."
"Hundreds of supporters share my opinion that Davis' decision has far more to with politics, power and personalities than with how Steve handled one dolphin stranding that took place without any injuries," Goldstein said. "The ones that will feel Steve's loss the most are the dolphins and whales he worked so hard to protect."
Michael Boos, VP of Zoological Operations at SeaWorld Orlando, wrote that the marine mammal research and rescue program McCulloch co-founded and built into a world-renowned operation at Harbor Branch is "viewed as a template for us all," but that program will be history unless FAU's new president, John Kelly, intervenes and reverses Davis' decision in the next week or two, during the final stages McCulloch's termination review process.
If Kelly upholds the termination, the Indian River Lagoon will lose a giant in the field of marine mammal research and rescue, along with his expert team, leaving his former assistant alone at the helm.
Vero Beach 32963 tried to interview Davis for this article but she was not available.