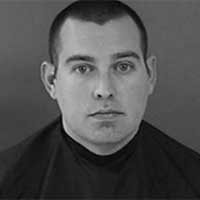 Police trace Jones' drive to Melbourne with nurse's body
STORY BY LISA ZAHNER (Week of November 20, 2014)
Despite accused killer Michael Jones' apparent effort to throw police off his scent on the day he allegedly disposed of his victim's body, police have reconstructed a trial of evidence that follows Jones from his Vero garage to Melbourne – where nurse Diana Duve's body was found – and back to his apartment.
The trail of evidence from several different sources starts early Saturday, when a neighbor up early to make a tee time saw Jones pulling out of the garage of his Carolina Trace apartment just before 6 a.m. and leaving – alone – in Duve's black Nissan Altima.
Vero Beach crime scene investigators using a substance called BLUESTAR subsequently found evidence of blood on the garage floor, suggesting that prior to Jones' early morning departure, he had loaded Duve's nearly naked body into her car's trunk.
About an hour later, security cameras picked up Jones driving up to the Wal-Mart in Palm Bay in a black car.  He entered the Wal-Mart and purchased a "burner" – a no-contract cellphone to use instead of his own iPhone. 
He then drove to the Wal-Mart dumpster, where he was also captured on a security camera, seeking to dispose of something in a garbage bag.  The dumpster was secured, however, so Jones could not get rid of his bag.
Police subsequently searched nearby dumpsters behind shops with no security cameras. The report notes that Duve's cell phone and purse were never recovered.
Jones is next alleged to have driven to Melbourne, to have left Duve's car with her body in the trunk in a Publix parking lot, and to have walked across the street to a Wendy's to call the Black Diamond taxi company using the newly purchased burner phone.
Black Diamond got the call from Jones around 8:21 a.m., and dispatched cab driver Calvin Ratteray to the Wendy's at 1150 S. Babcock St.
Video surveillance footage from Wendy's also places Jones at that location, which is about a half-block north of the Publix parking lot where Duve's body was found.
Ratteray said he pulled into the Wendy's parking lot in his Black Diamond cab, and beeped his horn.
"Wendy's was closed, yeah ... so it was kind-of – I was shocked, you know. I was kind-of caught off guard," Ratteray told police. "He was sitting down, I wanna say at the bus stop. There's a bus stop in front of Wendy's."
Police asked Ratteray to describe the man.
"I know he was a white guy ... he, I wanna say he had on a hat. It was backwards. I don't know what color it was, I can't remember," he said. "If I'm not mistaken, he had on glasses."
The driver said the man climbed into the front passenger seat of the cab and said he needed to go to Vero.  "Just hop on 95," he told the driver.
"I said, well I'm not gonna hop on 95," Ratteray told police.  "I'll take U.S.1 because it's quicker and it's shorter, I'll save you on the mileage. I asked him, 'How did you get down here?' And he said he came down with a friend of his," Ratteray said. "And he said her car broke down ... and he had no way to get back.
"So I said, 'Okay, so is she gonna get her car fixed?' And he said, 'Oh, I don't know. She was pretty pissed anyways, so I doubt she would have gave me a ride back," the taxi driver said. "And that's about it. So we was driving and I asked him, ... I couldn't understand how that happened, because it's not every day someone gets in – you pick them up from the side of the road and they say, 'Hey, I wanna go to Vero' ... That's unusual, without asking how much, nothing like that, no price."
The fare for Jones' taxi ride to Vero Beach Saturday morning was $125.05, which Ratteray said Jones paid in cash, giving him a $100 bill and two $20 bills and said to keep the change.
Near the end of his police interview, Ratteray said, "I gotta ask, what happened?  What did this guy do?"  
Det. David Farquharson responded, "We're not allowed to talk about that right at this juncture."