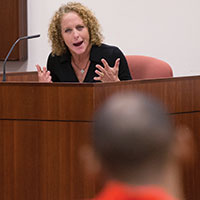 Simpson's family speaks of loss at killer's sentencing
STORY BY MEG LAUGHLIN (Week of November 13, 2014)
Photo: Kristen Simpson and Henry Lee Jones
Even though the outcome was a foregone conclusion – Henry Lee Jones was sentenced to life in prison without parole for the murder of Brian Simpson – the scene in Judge Robert L. Pegg's courtroom Friday was a gut-wrenching tearjerker.
It began with Simpson's sister, Sue Haller, taking the witness stand and telling Jones, who shot her brother to death after breaking into the Simpson family home on Fiddlewood Road three years ago, how it had destroyed their family.
"We will never be the same again. Brian was our rock, our fun, our life. Now, my family stands around lost and just tries to get through holidays," said Haller, one of three siblings of Brian Simpson, who was the youngest of four when he was shot to death at age 41 after he interrupted Jones rifling through the master bedroom bureau. 
Haller then read a letter to the judge from their mother, Betty Graham: "My beloved son Brian is dead. I can't put into words what the void in my life is."
Next, Brian Simpson's son, Scott, 17, took the witness stand to talk about what losing his father at age 14 had done to his life: "I didn't just lose my father. I lost my best friend. I see the empty spot next to my mom when I walk up to the plate," said Scott, who plays baseball for his high school. "I still listen for the voice I haven't heard in three years, and the worst part is I'm beginning to forget what that voice sounds like."
Scott said he couldn't sleep at night because he kept asking himself: "How could a man shoot a man in his own home surrounded by dozens of loving pictures of him with his family, then walk over his dead body?"
Glaring at Jones, the teenager asked, "How?"
As Scott spoke, friends and family of Brian's, sitting in the courtroom, sobbed.
Jones, 26, was 14 years old when his career as a criminal began – the same age Scott Simpson was when he lost his father.
Between age 14 and 23, when he killed Brian Simpson, Jones racked up a string of misdemeanors and felonies for theft, breaking and entering, drug possession and other crimes, but  always avoided being sentenced to a state correction facility.
Brian's widow, Kristen Simpson, told Jones: "You chose to live by burglarizing others and carrying a loaded weapon. You chose to use it."
By doing this, she said, "you broke my heart."
Talking about the almost impossible struggle to continue without her husband, Simpson said: "I miss the presence of his body beside me ... He was my support, my safety. Everything I ever relied on, you took away," she told Jones. "You cared more about taking personal possessions from our home than humanity, itself. The pain that you caused cannot and will not be healed."
Though he kept his head down, Jones, in a red-orange jail suit with his wrists and ankles shackled, looked at her, sadly.
Neither he nor his defense attorneys said anything on his behalf, and no friends or family of Jones' spoke or were present in the courtroom.
Prosecutor Tom Bakkedahl told the court that Jones had set his life on a criminal trajectory in 2002 when he was arrested for trespassing at age 14. After that, Jones was arrested for breaking into homes and stealing from people, but sentences were always withheld, and he got probation and second, third, and fourth chances.
"The system gave him multiple opportunities. But here he is after multiple arrests and prosecutions," said Bakkedahl.
Pegg sentenced Jones to life in prison without the possibility of parole for Simpson's murder, and to life with a minimum mandatory of 25 year for armed burglary.
The testimony of Jones' accomplice, Darius Robinson, who was 16 at the time of the crime, contributed greatly to Jones' conviction. Robinson's trial is scheduled to begin in early December.