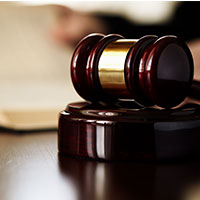 Island woman sues Vero Beach over battery by police officer
STORY BY RAY MCNULTY (Week of November 20, 2014)
A 61-year-old island woman is suing the City of Vero Beach and a now-former police officer she claims punched her in the face and used unnecessary and excessive force during a traffic stop in December 2010.
In the lawsuit filed in federal court , Alison Landsman alleges that Vero Beach Police Officer Fletcher McClellan violated her civil rights under the Fourth and Fourteenth Amendments while arresting her at the front door of her Sea Oaks home.
The complaint also accuses McClellan of battery.
"I was putting my key in the door and he grabbed me," Landsman said. "He pulled and twisted my shoulder twice, then started punching me and knocked me unconscious."
After being handcuffed and formally arrested, Landsman was transported to the Indian River Medical Center, where, according to the complaint, she was diagnosed as having suffered "traumatic injury" to her brain (intracranial bleeding), nose (bridge fracture) and left eye (peri-orbital swelling).
She was then transferred to the trauma center at Lawnwood Regional Medical Center in Fort Pierce for specialized care of her brain injury. She later learned that she also had suffered a torn rotator cuff in her right shoulder.
"Plaintiff was deprived of her civil rights and forced to suffer great aggravation, humiliation, embarrassment, mental anguish, harm and serious, permanent injuries," the complaint states.
Landsman is seeking compensatory and punitive damages, as well as reimbursement for costs and attorney's fees, from both the city and McClellan, who left the VBPD three years ago and joined the Indian River County Sheriff's Office, where he works with road-patrol deputies as a field training officer.
According to the suit, McClellan had a "history of reports of excessive use of force incidents causing injuries and violations of rules and regulations" with the VBPD, and that the city "knew or should have known McClellan had a propensity for misconduct, including excessive use of force, against members of the public."
The suit further claims that, as McClellan's employer, the city is "responsible for his acts and is liable to Landsman for her damages, including physical injuries resulting in pain, suffering, mental anguish, loss of capacity for enjoyment of life and mental suffering."
The case was scheduled to go to trial Dec. 1, but Robert Bonner, the Longwood-based attorney representing the city and McClellan, has filed an appeal asking the U.S. 11th Circuit Court of Appeal in Atlanta to issue a summary judgment that would essentially dismiss the complaint.
The appeal argues that McClellan used only the force necessary to take Landsman into custody and that, because he acted within his capacity as a police officer, he and his employer are immune from such civil claims. The appeal is expected to delay the proceeding for six months to a year.
U.S. District Judge Donald Graham, who will hear the case if it goes to trial, already has granted motions removing VBPD Chief David Currey and his predecessor, Donald Dappen, as co-defendants.
The incident occurred shortly before 9:30 p.m. on Dec. 6, 2010, after Landsman arrived at the Sea Oaks security gate. She said she had dinner with a friend at Porpoise Point, just northeast of The Moorings, and was driving north on State Road A1A in her black Mercedes when she realized she had left her cell phone at his home.
She pulled into the Villa Solana subdivision and, while attempting a tight U-turn, she "inadvertently and unknowingly backed into a light post, causing less than $200 damage," according to her complaint. A man who identified himself as Gary Hughes, a resident of the community, heard the impact, saw the car drive away and called the police at about 8:35 p.m.
Hughes gave the dispatcher the license tag number, and McClellan responded to the call and filled out a report. Landsman, meanwhile, returned to her friend's home to get her phone, ate some ice cream and then headed home again.
Able to trace Landsman's address through her tag number, McClellan and fellow VBPD officer Craig Urbanczyk drove to Sea Oaks – in separate patrol cars – to talk to Landsman about hitting the light post at Villa Solana. The complaint contends the officers had left their jurisdiction, were "not in hot pursuit," had "no prior visual contact with Landsman and had "no information regarding Landsman committing any felonies or causing any injuries in Vero Beach."
Thus, the complaint continues, the officers "possessed no legal authority to investigate criminal matters" outside the city and "lacked authority to arrest or detain" outside the city – "except in 'hot pursuit' after witnessing criminal activity or in pursuit of a fleeing suspect who the officers reasonably believed had committed a serious felony in the City of Vero Beach, or upon the request for assistance by other law enforcement agencies."
However, in his sworn deposition, McClellan testifed that Urbanczyk saw a black Mercedes driving north on S.R. A1A and "observed the vehicle's driving pattern," adding that "once he caught up to the vehicle, that's when he observed that there was damage on it" and "initiated the stop."
At that point, according to McClellan's deposition, Landsman turned left into Sea Oaks and continued through the gate before Urbanczyk turned on his emergency blue lights and stopped her about 300 yards inside the community. McClellan, who arrived only minutes later, said Urbanczyk suspected she was driving drunk.
Yet, when Urbanczyk approached her car, Landsman lowered her driver's side window and, according to her complaint, the officer merely asked if she was all right.
"Landsman responded by advising Urbanczyk that she urgently had to go home to use the restroom to urinate," the complaint states. "Urbanczyk did not respond to her statement, did not order her not to leave the scene, did not order her not to drive away, did not ask for or take her car keys, did not ask her to step out of the car, did not ask her for identification, did not give her any kind of sobriety test, did not advise of any suspicions he had regarding her driving or ability to drive, did not advise her she was under arrest or otherwise indicate she was not free to leave or go home to relieve herself."
When he walked toward the rear of her car and toward his patrol car, Landsman's version is that she put her car in drive to head for her home, approximately one-tenth of a mile away.
It's there that McClellan's deposition offers a vastly different version of what happened. He claims that when Landsman put the car in drive, Urbanczyk ran to the driver's side of the vehicle, shined his flashlight through the windshield and ordered her to stop.
McClellan testified that "she floored it" and "turned into" Urbanczyk, striking him with the driver's side mirror and knocking him off balance as she raced away. He said Landsman "had committed what I believed to be aggravated assault on a law enforcement officer."
While Urbanczyk continued the pursuit on foot, McClellan said he jumped in his patrol car, drove past Urbanczyk and chased Landsman to her home.
"As she was unlocking the front door to her residence, and without any warning or other verbal commands, 6'1" 220-pound McClellan grabbed 5'2", 115-pound Landsman with unreasonable and excessive force, thereby wrenching her right shoulder in the process, and punched her on the left side of her face, causing Landsman to bleed profusely from her head, lose consciousness and fall to the ground," the complaint states.
It was then that she was formally placed under arrest, her hands cuffed behind her back.
The officers, on the other hand, claimed Landsman was attempting to flee and tried to run down Urbanczyk with her vehicle. In his deposition, McClellan testified that she also resisted when he chased her upstairs, yelled for her to stop and apprehended her as she tried to unlock the door to her home.
"I put my hands on her shoulders and I said stop, and I tried to stop her from being able to open that door," McClellan testified, adding that she immediately shrugged her shoulders to shake him off.
He said Landsman was wearing a "red fuzzy bra" covered by only a denim jacket and that the "jacket started to slide off of her shoulders and made me lose my grip." She then continued her attempt to unlock the door.
So, according to his deposition, McClellan then "did a modified armbar takedown and we went to the ground so I could control her and handcuff her without letting her get into that house." He said he "was trying to do as little impact and injury as possible."
However, McClellan said his foot slipped as he performed the takedown and "we both fell to the ground." He said he doesn't think he landed on Landsman, but when he looked over at her, she was "face down" and "limp." He immediately handcuffed her, then noticed she was bleeding.
Landsman initially was charged with aggravated battery with a deadly weapon, fleeing and eluding, DUI and leaving the scene of an accident. She later pleaded guilty to DUI and leaving the scene – stemming from the Villa Solana accident – accepting a deal from prosecutors to drop the charges of aggravated battery with a deadly weapon and fleeing-and-eluding.
Landsman's Stuart-based attorney, Guy Rubin, said the police video shows the officers were behind her car and that she did not try to hit them. He said there also were discrepancies in the accounts they gave in their depositions.
"Aggravated battery with a deadly weapon carries a possibility of 10 years in prison, and they used that to get her to plead guilty to the DUI," said Rubin, who did not represent Landsman in the criminal case. "But the video shows their claim is absolutely false."
Rubin said Landsman incurred "hundreds of thousands of dollars" in medical expenses as a result of the incident.
Bonner declined comment on the allegations in the complaint.