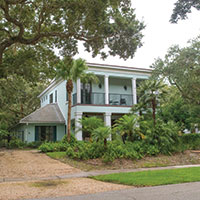 Vero can't halt Central Beach vacation rentals
STORY BY LISA ZAHNER (Week of October 2, 2014)
Photo: Central Beach home rented out by John and Tracy Carroll on Camelia.
A three-judge panel in circuit court last Wednesday affirmed the Aug. 2013 decision of the Vero Beach Code Enforcement Board that the city's ordinance regarding short-term or "vacation" rentals was too vague to enforce a $50 fine levied against former Councilwoman Tracy Carroll and her husband John.
The Carrolls were cited, in response to a resident complaint, for renting out their home on Camelia Lane in Central Beach on a weekly basis to vacationers.
In the wake of the circuit court ruling, Vero Beach is left with no ability to prevent owners of homes in Central Beach from offering them for rentals of any length an unlimited number of times a year.
The Florida Legislature, at the behest of special interest groups representing the vacation rental industry, in 2011 passed a law pre-empting all authority to regulate short-term rentals to the state. Cities, towns and counties that had tough laws on the books were grandfathered in, but cities that did not were rendered powerless to strengthen their existing codes after June 2011. Vero did not act to tighten up its existing code.
This past legislative session, bills were introduced to repeal the 2011 law, but what emerged out of the Tallahassee horse-trading was a watered-down piece of legislation designed to please the well-funded vacation rental lobby. When the bill passed, leaders sent out press releases lauding it as a wonderful compromise, but in reality, the toothless bill gave cities like Vero no more regulatory power than before.
City staff, specifically Planning Director Tim McGarry, had held that the city's code of ordinances prohibited rentals of residential properties for less than 30 days. But the code board essentially went against this interpretation so the City of Vero Beach appealed, saying the code board overstepped its charge by rendering a decision contrary to staff interpretation of the ordinance.
When asked where the judgment leaves the city in terms of its desire to regulate vacation rentals, McGarry said, "We are not sure where we stand as no opinion was given on what basis the three-man panel upheld the Code Enforcement Board's ruling. The City's attorney will be at the City Council's October 7th meeting to discuss options with the City Council and answer any questions."
Tracy Carroll on Monday said she and John had been out of town and found out about the judgment from a phone message left by Vero Beach 32963. Carroll, who lost her bid for re-election in 2013 in part due to the controversy over the vacation rental issue, made the following statement:
"Since 2004 with the illegal Riomar building moratorium and simultaneously to my firm beginning doing business in Vero Beach, Mr. McGarry has conducted a vindictive campaign against both my company and against me personally. He has attempted to render judgments not in line with either the law or his duty to the city.
"Though his paycheck comes from the city, it is clear that he reports to the Indian River Neighborhood Association. He has now again lost the City of Vero Beach a great deal of time and money and it will be up to Jim O'Connor if Mr. McGarry continues in his position or resigns gracefully, she said."
The IRNA and its supporters poured thousands of dollars into making a ban on vacation rentals an issue in the 2013 Vero Beach City Council campaign – despite the fact that the City Council had no authority to enact such a ban.
Carroll was unseated by newcomer Amelia Graves, who was endorsed by the IRNA and who advertised the vacation rental issue on her campaign materials.
Carroll declined to say whether she and her attorney, Tom Tierney, are planning to seek any further legal remedy in the case. "I can't comment on that," she said.
John Carroll was present at the oral arguments on Sept. 19, but Tracy Carroll did not attend. The panel of judges had 90 days to review and return the judgment, but they returned a decision on Sept. 24 after only five days, a move that Tracy Carroll characterized as "incredibly fast."
Carroll would not comment on whether or not she and her husband continued to rent the Camelia Lane home out during the proceedings. "That's a moot point at this point," she said.
City Attorney Wayne Coment, who serves in the complex role of legal counsel to the Code Enforcement Board, said Monday, "No comment. The outside attorney that handled the appeal I believe is scheduled to be at the council meeting on Oct. 7 to report on the case and get direction from council on how to proceed.