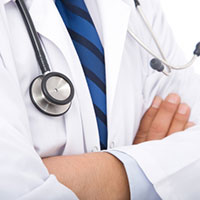 Doctor vs doctor: Gillis sues Ramdev for defamation
STORY BY MEG LAUGHLIN (Week of October 2, 2014)
A former, well-respected Indian River Medical Center emergency room doctor is suing a prominent local vascular surgeon for defamation, according to court records filed last week.
Former hospital ER physician David Gillis accuses Vero vascular surgeon Pranay Ramdev of acts and statements that caused him to suffer "injury of reputation, shame, humiliation, distrust and ... a loss of earnings."
The latest litigation stems from a medical malpractice lawsuit filed against both Ramdev and Gillis in 2011.
In that suit, according to records from IRMC and Lawnwood Medical Center, Gillis, who was in the IRMC emergency room, called Ramdev, the vascular surgeon on-call at IRMC, and asked him to come in because of a life-threatening blockage in a patient's left leg which required immediate vascular surgery.
Ramdev, who was at Lawnwood in Fort Pierce when Gillis called him twice summoning him to the IRMC ER, told Gillis to send the patient to Lawnwood. But when the patient arrived by ambulance at Lawnwood, Ramdev had left, according to hospital records.
When a Lawnwood trauma surgeon called Ramdev at home and demanded he come in and operate on the patient immediately in order to save her limb and possibly her life, Ramdev refused, saying he was not the doctor on call at Lawnwood.
The patient, Catherine Bollman, did not have surgery in time to save her leg and had to have it amputated.  She died a few days later, and her husband subsequently sued Gillis and Ramdev.
Gillis, however, was dropped from the malpractice suit when IRMC records showed that he tried twice to get Ramdev to come in to IRMC, where Ramdev was on call,  then sent Bollman to Lawnwood with the understanding that Ramdev would immediately treat her there to save her leg.
Ramdev, the lone defendant, continued to insist that he was not responsible for Bollman's death because he was not the vascular surgeon on call at Lawnwood and had every right to leave and not return as demanded by an angry Lawnwood trauma surgeon.
Nevertheless, in March 2013, Ramdev settled the suit with Bollman's husband for an undisclosed six-figure amount.
But while the battle was over, the war was just starting to rage, according to the recently filed defamation suit.
On the same day that the malpractice suit against Ramdev was dismissed, according to the complaint, Gillis was called to IRMC and told by ER director Brad Damiani and assistant ER director Eric Carter that "the administration was presented claims by Ramdev, claiming that Gillis was 'an unethical and incompetent physician,'" who had "lied" in the Bollman lawsuit. 
Both ER doctors told hospital administrators that Ramdev's claims were "patently untrue and without factual basis," according to the defamation suit.
Then, says the Gillis suit, Ramdev met with Carter in April, 2013, and told him: "I will make it my life's mission to prevent Dr. Gillis from ever working at this hospital again, as well as at Sebastian River Medical Center and Lawnwood Medical Center. "
After that, according to Ted Perry, M.D., Ramdev tried to block Gillis "from getting re-credentialed at IRMC," the suit charges. 
But Gillis was recredentialed anyway – even though IRMC chief of staff Charles Celano told Gillis that Ramdev had called Gillis "an incompetent physician" numerous times and said that Gillis lied in the Bollman lawsuit.
As 2013 came to an end, the hospital was changing most of its ER physicians, as part of a new contract with an Atlanta ER management company. But several of the current ER doctors, the physicians were told, would be asked to return.
Gillis asked to be among those invited back, but learned, he said, that Ramdev was on the committee that would decide.
In his suit, Gillis said he explained to the hospital's Chief Medical Officer Charles Mackett that "Ramdev was blaming him personally for having to settle the Bollman litigation." Gillis also said in his suit that he met with the new ER director Roderick Bennett and had asked to be retained.
Chief of staff Celano was at that meeting, and told Gillis that "Ramdev was extremely vocal in demanding that Gillis never be allowed to work at the hospital, again," the suit continued.
Then, on Oct. 12, 2013, history repeated itself.
A woman arrived at the IRMC Emergency Room with a blockage in her leg that, if not quickly treated, could lead to amputation and death. Gillis saw her and called Ramdev, the on-call vascular surgeon.
According to the Gillis suit, Ramdev called back but would not speak to Gillis and insisted upon speaking to ER physician Dudley Teel on a recorded line.
Gillis, as the patient's ER physician, asked Ramdev to talk to him but Ramdev hung up, says the defamation suit.
Gillis then called chief medical officer Mackett, who advised Gillis to use Teel as the middle man in conveying information. Gillis told Mackett that this was "an unacceptable procedure," and Mackett called Ramdev back, who then called Gillis on a recorded line.
Gillis asked Ramdev to come treat the patient and Ramdev hung up on Gillis, according to the lawsuit. But Ramdev arrived in the ER within 30 minutes.
Things, however, did not go smoothly: According to an ER nurse, says the Gillis lawsuit, Ramdev "badgered the patient's husband and inquired ... how (Gillis) had examined the patient." Then, two ER nurses witnessed Ramdev demanding that a nurse "write in the patient's chart that Gillis never examined the patient's motor strength," the lawsuit adds.
The nurse, however, refused to add to the chart because she said she didn't witness Gillis' examination. Instead, she later wrote a report about Ramdev's "attempt to illegally modify a patient's chart," says the Gillis lawsuit.
Gillis asked ER director Damiani and chief of staff Celano for a meeting with hospital top administrators "regarding the inappropriate and unprofessional behavior of Ramdev." But, according to the lawsuit, "no such meeting occurred."
When Gillis was not retained at IRMC, says his suit, he applied for a position at Lawnwood.
But, the suit says he "later learned that Ramdev had gone to the Lawnwood CEO approximately three times pleading for Lawnwood not to hire Gillis."
Gillis' current work address, however, is Lawnwood Medical Center, according to online information provided by the Florida Department of Health, and the ER receptionist at Lawnwood said he works there.
Ramdev did not respond to a request from Vero Beach 32963 for comment. Gillis' attorney Buck Vocelle said he couldn't talk about the suit.
Gillis has asked for a trial by jury.