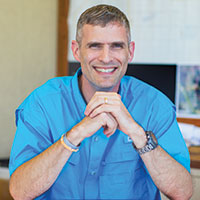 Jason Nunemaker: The man with a plan for Fellsmere
STORY BY RAY McNULTY (Week of October 16, 2014)
Photo: Fellsmere city manager Jason Nunemaker.
Spend an hour visiting with Jason Nunemaker and you can't help but come away feeling optimistic, even excited, about the future of this small-in-numbers, large-in-area city in northern Indian River County.
Not only does Fellsmere's city manager have a wonderfully intriguing blueprint for what this mostly undeveloped swath of land can become, but he also exudes a passionate-yet-practical enthusiasm for transforming his vision into a reality.
"It's definitely something I can see," Nunemaker said, not a hint of doubt in his voice. "And what I see is the chance for this city to become even more special than it already is – to become something that will be a source of pride, not only for our residents but for the entire county.
"We're going to take advantage of the resources we have and not try to be something we're not," he added. "Most of our plan is long-term, though there are some things we want to do sooner rather than later. Certainly, the economy will be a factor.
"At the end of the day, though, everything we do will be uniquely Fellsmere."
Nunemaker, a 43-year-old Virginian who now lives in Vero Beach, fully embraces Fellsmere's small-town charm and rural feel. He said he is determined to preserve both in a city with a current population of 5,300 residents, nearly 85 percent of whom are Hispanic, most of them agricultural workers.
Though he expects Fellsmere to grow in the coming years – the city now stretches from the Brevard-Indian River County line to State Road 60 and reaches east across I-95 – he does not want the community to lose its quaint identity.
"It's just real nice here," he said. "I don't ever want to lose that."
You want to believe him, even root for him, and he gives you no reason not to.
Just as there's a Mayberry-like feel to Fellsmere, there's an Andy Griffith quality to Nunemaker, whose folksy and engaging demeanor is a perfect fit for this community. He's quick with a handshake and a smile, speaks easily and possesses an assuring combination of confidence and competence.
"He's just a very genuine person," said County Commissioner Wesley Davis, whose district includes Fellsmere. "What you see is who Jason is. He's not trying to be someone he's not.
"He's a very likable guy, very approachable to the community, very knowledgeable about his job. And I think he's earned the trust of the people he works with and works for."
Said County Administrator Joe Baird: "He's done a great job in Fellsmere. I've dealt with him a lot, and he's very good to work with. He's a sharp guy, a fair guy."
He's the guy hired by the City Council here in 2005 to be the architect charged with designing, implementing and overseeing Fellsmere's present and future, albeit with respect for its past.
Though he insists council members own the responsibility for deciding what's best for Fellsmere and its residents – "a city manager does what the council instructs him to do," he said – Nunemaker will have a significant say in how their wishes are carried out.
He's the expert, possessing multiple degrees in public administration. He has the experience, having previously served as city manager in Dania Beach and Lake Park. He has been city manager here for nearly 10 years, arranging the annexation of 18,000 acres of agricultural land in 2007 and nearly 9,000 more earlier this month, when the council voted to bring the Corrigan ranch property into the city.
And operating under a "strong city manager" form of municipal government, Fellsmere appears to have the right man and right plan to grow wisely, comfortably and in a way compatible with the rest of the county.
"Going to a strong city manager style of government was one of the smartest things they've done – after hiring Jason Nunemaker," Davis said. "You talk to him and it doesn't take long to figure out that this guy isn't just flying by the seat of his pants. He's a trained professional and he knows how to manage a city.
"A lot of people were very concerned a few years back, when Fellsmere annexed those 18,000 acres," he continued. "People were worried because they didn't know what the city was going to do with all that land. You heard people talking about 'Port St. Fellsmere.' But Jason has been very methodical about these annexations.
"There's a method to what he's trying to build out there, and his focus isn't on building houses. His focus is on creating jobs, improving the city's economy and bettering the quality of life for the people who live there."
Indeed, Nunemaker's thoughtful and deliberate approach to moving Fellsmere forward seems to have calmed any fears that this county would become home to another Port St. Lucie with its uncontrolled development.
Unlike the uproar sparked by Fellsmere's 2007 annexation, the reaction from the rest of the county to this month's addition of 8,845 acres owned by the Corrigan family has been muted – almost non-existent, really – even though the city now covers 52 square miles.
"We've put actions to our words, people see what we've done and it's good stuff," said Nunemaker, who developed an interest in public administration early in his college years at James Madison University, where he earned bachelor's and master's degrees before continuing his education at Florida Atlantic University.
"So just by being accessible, being honest, working with folks and listening to people, I think we've established credibility."
Surely, he has.
His plan for Fellsmere's future development includes several spacious parks, a greenway that crosses I-95, attractively designed villages and hamlets, well-planned roads, a new I-95 interchange (probably at 53rd Street), new neighborhood schools and plenty of space for commercial development, particularly along SR 60, I-95 and CR 512.
Nunemaker said he's actively trying to convince a hotel company to build at the I-95/CR 512 interchange. He also wants to bring more business to Fellsmere's historic downtown, which he hopes will emerge as the city's "anchor."
Currently, Fellsmere has one bank and no supermarket.
As for residential development, Nunemaker said "retirees could be a big part of what we do," but that the key will be luring businesses to create jobs that will, in turn, bring more working people and families to the city.
And when that growth occurs, he said homebuilding will be restricted by Fellsmere's low-density, low-rise zoning, which currently limits developments to two units per acre. "But even in the most densely developed areas, there's a 50-percent open-space requirement," he added.
That's why, Nunemaker said, there's no reason for residents of other parts of the county to fear urban sprawl in Fellsmere.
Besides, Fellsmere, at this time, doesn't have the tax revenues – or tax base – to provide the roads, water and sewer lines needed to build on most of the land it has annexed.
"Infrastructure," Baird said, "will be their biggest hurdle."
Developers would need to provide the necessary funds through impact fees. Nunemaker also has been very aggressive in pursuing federal and state grants. Even so, he concedes, the city probably would need the county's help in providing some services.
Baird said that could happen ... when the time comes.
In the meantime, Nunemaker has plenty to keep himself busy.
"It's a full plate, no doubt about it, but I look at it as all positive," he said. "There's a lot to accomplish, but there are a lot of building blocks to work with. This is a tremendous opportunity, and it's exciting to be a part of it."
And just so you know: He's not using Fellsmere as a stepping stone to a bigger job.
"I like where I am, I like the people I work for and I'm very anxious to see this through," Nunemaker said, adding that he's hoping to start a family with his wife, even though she lives and works in Pompano Beach and they commute to be with each other. "I also feel I have some level of responsibility here, having taken on the annexations.
"Thing is, we're in a good place now. We've weathered the recession; it would be nice to experience a boom. I look forward to being here many years and seeing how this all turns out."
Spend an hour visiting with him, and you'll come away hoping he stays.