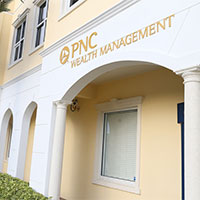 PNC in litigation over fees for wealthy clients
STORY BY PIETER VANBENNKOM (Week of October 30, 2014)
How much leeway do the local offices of big banks and investment houses have to ignore the home-office's fee schedule for the highest net worth clients?
That question is at the heart of noise-making litigation involving the PNC Financial Services Group, Inc., one of its former rain-makers, and the head of its Palm Beach office, who also oversees the PNC Wealth Management office in Vero.
At issue is the claim that when PNC in late 2012 significantly lowered fees for the wealthiest ultra-high net worth clients – while raising fees for its lower net-worth clients – the head of the Palm Beach office refused to go along because it would resulted in a major loss of revenue.
Whether his refusal to make the fee adjustments also applied to the Vero office could not be readily determined. Kevin Grady, the manager of PNC's Wealth Management office in Vero Beach, did not return messages.
Grady's assistant confirmed to Vero Beach 32963 that PNC did indeed implement a new fee structure system-wide in 2012, but she would not give any details on whether any accounts were exempted from the new structure, as was apparently the case in Palm Beach.
The litigation offers a rare insight into how the big banks and investment houses fight tooth and nail over the privilege of managing the money of their high net-worth customers, and the fees they can collect for doing so, which can easily top $1 million per year.
It also raises questions how the banks charge their clients for managing money, and how much leeway local branch managers have implementing national policies on fees.
PNC Financial Services Group, Inc., the parent company, filed suit in March of this year in federal district court in Pittsburgh against Eileen Daly, who had resigned as a PNC Senior Vice President in the Palm Beach office on Jan. 31 and jumped ship to Morgan Stanley.
When Daly quit PNC to go to Morgan Stanley, she took two high net-worth accounts with assets of around $250 million with her. PNC says in its suit that the loss of those clients cost the bank in excess of $1 million in fees annually.
Daly, 53, a respected figure in the northern Palm Beaches and chairman of the board of Jupiter's Maltz community theater, has since countersued PNC and her former boss, Mark Stevens, who supervises the PNC offices in Vero as well.
She has also asked that the lawsuits be transferred from Pittsburgh – the PNC national headquarters –  to Palm Beach since all the principals are located in South Florida.
Daly has accused Stevens of false imprisonment by blocking her car as she tried to get out of her parking garage, verbally attacking her, and failing to transfer the accounts of her two high net worth clients to her new employer after repeated requests to do so in violation of banking regulations. She says Stevens caused her "severe emotional distress."
Daly also says PNC filed the breach of contract suit against her "with unclean hands" because PNC itself, through her former boss Stevens, convinced her to break her contract with her previous employer U.S. Trust and bring her two wealthy clients with her to PNC back in 2007.
Daly alleges that her boss, Stevens, refused to lower the fees on her account despite instructions from headquarters. The result:  Daly's countersuit alleges PNC overcharged her largest client by $190,000.  She says she was told to write a letter justifying the higher fees because she accompanies the client on seasonal travel between homes. She refused to sign such a letter.
While Grady did not return a message asking if fees on ultra-high net worth clients had been reduced according to the instructions from the head office, another Vero Beach financial adviser who asked not to be named said that in his experience, when banks and investment houses deal with high net worth clients, "everything about fees is negotiable."
The PNC Wealth Management office in Vero Beach recently came under fire for its hiring practices over the last couple of years.
Michael David Jones, now awaiting trial on charges of murder in the death of Sebastian nurse and beachside resident Diana Duve, was apparently a star employee at PNC Wealth Management, getting a salary increase from about $100,000 to $130,000 per year after just one year of work. He had been hired despite a conviction for aggravated stalking in Fort Lauderdale.
The local PNC Wealth Management office got an earlier black eye when employee Burim Turkaj, an immigrant from Kosovo, was arrested for bilking four elderly clients out of about $400,000.