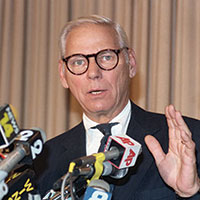 Warren Anderson, 93, dies here in obscurity
STORY BY MICHELLE GENZ (Week of October 9, 2014)
Photo: Warren Anderson, CEO of Union Carbide
Thirty years after the deadliest industrial accident in history caused the deaths of 10,000 in Bhopal, India, Warren M. Anderson died in virtual obscurity in Vero Beach last week. The former CEO of Union Carbide, who was held accountable by Indian authorities for the 1984 disaster at the pesticide plant, would have turned 93 in November.
It was four years after the toxic gas release, and two years into retirement, that Anderson and his wife Lillian in 1988 bought a three-bedroom, 2,000-square-foot home in Sea Forest, one of Indian River Shores' least pretentious private communities.
There, they lived a quiet life together, reportedly retreating to an apartment in John's Island only on the December anniversary of the Bhopal incident, lest yet another activist or journalist disturb them.  The couple also kept a century-old home in Bridgehampton, NY.
"He was extremely well admired and well-liked," said Warren Schwerin, whose company, Related Properties, acquired the Union Carbide headquarters in Danbury, Conn., soon after Anderson's retirement.  "He was a gentle, soft-spoken man and extremely private."
Anderson had initially insisted on flying to India in the aftermath of the incident, in which 40 tons of deadly methyl isocyanate were released into the slums surrounding the plant, killing more than 3,000 people immediately and injuring tens of thousands more. Some say a half-million people who survived the initial gas release are still suffering health consequences.
Union Carbide, at the time the third largest chemical company in the world, claimed it was not in charge of plant operations in Bhopal, and that the plant was run by its Indian subsidiary, of which Union Carbide owned just over 50 percent.
But arriving in Bhopal, Anderson was immediately arrested and charged with homicide. He was released on bail, whereupon he returned to the United States. The U.S. rejected subsequent efforts to extradite him.
Though the controversy would never go away, he clearly thought by 1989 the worst was over. Eleanor Wishart, widow of Ronald Wishart, Anderson's dear friend and right-hand man at Carbide during and after the Bhopal incident, said "they worked together constantly, they were together all the time."
Wishart, who was head of Treasure Coast Hospice, died last July. His widow Eleanor, who lives in Palm City, still has a letter Anderson wrote to her husband in 1989: "Now that the legal issues are abating, thanks for the indomitable spirit you showed," it read.
But the legal issues did not abate. For years afterwards, Anderson was named, along with Union Carbide, in dozens of civil suits in the United States. In early 1991, the Indian Supreme Court agreed to a settlement in which Union Carbide agreed to pay the Indian government $470 million.
At the same time, it ordered Anderson and others to face criminal charges in Indian court and when they didn't show up, the court seized what remained of the company's assets in India.
As recently as 2009, pressured again by victims, a magistrate in India again issued a warrant for Anderson's arrest. Again, the U.S. denied the request for extradition.
Chief among the accusations was that Anderson knew toxic gas was stockpiled at the factory within city limits and that cost-cutting measures had impacted safety at the plant. 
But Union Carbide countered that the event was an act of sabotage, claiming its investigation showed someone forced large quantities of water into the storage tank, triggering a chemical reaction that formed the gas that was released into the air.
No executives of the parent company were ever convicted.
Over the years, Anderson mostly maintained his silence to the media on the matter, leaving reporters seeking him out in his Vero refuge with little to write.
After reaching the Anderson home by phone or beach, they could report little more than Lillian's claims that her husband's memory was dimming.
But a few months after Bhopal, Anderson, then 63, did speak to the New York Times – for six and a half hours, in what the reporter called "an unusually candid conversation" at the company's Danbury, Conn. headquarters.
Anderson told the reporter he hadn't taken his wife out to dinner much because "if somebody caught me laughing about something over in the corner, they might not think it was appropriate. 
"It must be like when someone loses a son or daughter," he went on. "You wake up in the morning and think, can this possibly have occurred? And then you know it has and you know it's something you're going to struggle with for a long time."
Even before the Bhopal incident, Anderson had kept a low profile. According to the Times, he read mystery novels in the evenings; Lillian cooked dinners at home. He called his wife his only real confidante.
"We've never been into keeping up with the Joneses," Lillian said. "We'd rather have a small garden that we did ourselves than a large garden done by landscapers."
Hence, perhaps, their decision – despite membership in the John's Island and Riomar clubs – to not buy in tonier private communities. 
The two talked during long walks together, particularly in the time after the disaster, when as she put it, "we went to bed with lumps in our chests." Warren, a sound sleeper, suddenly suffered from insomnia, as did she.
Heading up a company that before Bohpal had 700 plants around the world, 100,000 employees and $9 billion in sales, Anderson was known for having breakfast every morning in the company cafeteria, chatting up the staff.
One thing in Anderson's office caught the eye of the Times reporter: a paperweight inscribed with the Chinese proverb: "Leader is best when people barely know he exists."
That seemed the case here on the island.

"We visited them in Vero a few times," says Eleanor Wishart. "I think they were very happy there. I just remember they really liked it a lot when there were problems and people were trying to get them and give them grief."