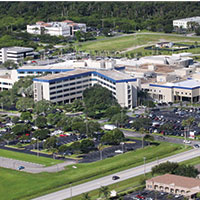 Hospital seeks to grab District's reserves
STORY BY MEG LAUGHLIN (Week of September 25, 2014)
Indian River Medical Center CFO Greg Gardner says the hospital wants to tap the Hospital District Trustees' $2 million dollar reserve fund to bridge the gap between the $7 million the District says it can afford and the $9 million the hospital says it must have for indigent care for fiscal 2015. 
Gardner's suggestion came as a shock to District trustees at last Thursday's meeting because the grab would  clean out District reserves, earmarked for other agencies and emergencies.
"You have reserves of $2 million, and there are choices," Gardner told trustees.
"We are not going into reserves," Trustee Burton Lee responded, calling the hospital's insistence on getting $2 million more than the District budgeted "a burr under the collar."
The six elected Hospital District trustees direct property tax dollars to the hospital to pay for indigent care. They also help fund indigent care for seven other nonprofit agencies in the county. For the current year, the District budgeted $8.1 million for the hospital. The hospital, however, has gone $620,000 beyond that amount, and is likely to need more before the fiscal year ends.
The District budget of over $13 million for 2015 for all of the agencies, which includes the $7 million for the hospital, requires a small increase in property taxes that will amount to a few pennies extra for every $1,000 of the appraised value of a property.
District trustees have repeatedly said they are determined not to deplete reserves, mindful of a warning from District accountants several years ago to stop dipping into reserves or face an investigation by the state auditor general who monitors whether public funds are at risk.
But Gardner told District trustees last Thursday that the hospital needed more than the $7 million that has been offered. It wants $6.6 million for indigent care reimbursement and $2.4 million for the Partners childbirth program. 
Once again, Trustee Lee responded on behalf of the trustees: "Deliveries get paid for with Medicaid. We don't want to have to be paying on top of Medicaid. We don't want to charge taxpayers on top of that," he said.
District chairman Tom Spackman said that how deliveries get reimbursed is a topic being discussed by the District's and hospital's negotiating teams, which began meeting the day before the District meeting.
The negotiating teams, made up of attorneys from each side, met behind closed doors last week to discuss how to arrive at a fair method for District reimbursement, which included money for Partners.

A joint email sent out by the negotiating teams said: "Both the District and the Hospital are committed to providing the community with the best possible care while ensuring that taxpayer money is appropriately expended."