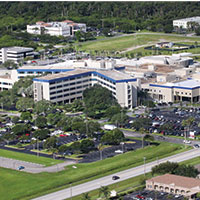 Hospital sees a profit - if District comes through
STORY BY MEG LAUGHLIN (Week of September 4, 2014)
Indian River Medical Center says it has stabilized its finances, may turn a small profit of $10,000 to $50,000 for fiscal 2014, and sees a $2.7 million profit for 2015 – as long as it gets the $9 million for indigent care it is seeking from the county's elected Hospital District Trustees.
The Hospital District, however, has offered only $7 million for indigent care reimbursement for fiscal year 2015 – $2 million less than the hospital says it must have – and has refused to raise county real estate taxes to cover the difference.
The Hospital District and the hospital will begin mandated negotiations for the second time next week to try to bridge the $2 million gap before the dispute heads into potentially lengthy and expensive arbitration proceedings on their mutual claims.
"We'd all love a negotiated settlement," hospital CEO Jeff Susi said at last week's meetings of the full hospital board and the board's finance committee where the optimistic figures were presented.
Hospital CFO Greg Gardner, agreeing with Susi, reiterated several times during his presentation that the promising numbers were based upon getting more than $9 million from the District in taxpayer money.
When asked by board members what would happen if $9 million is not the final amount coming out of the negotiation or the arbitration, Gardner responded: "We'll have to roll in and readjust."
In his overview of hospital finances, Gardner said the first part of the 2014 fiscal year had looked dismal, but in February, things started to turn around, putting hospital finances "at plan for the year and at budget for 10 months, through July. The growing theme for the last six months is stabilization."
The financial turn-around plan had been put in place by former CFO Dan Janicak and Gardner has overseen it during the past year.
"We're feeling good about our activities this year," he said, predicting that the hospital could go from the millions of dollars in losses it had amassed over the past decade to a profit of between $50,000 and $100,000 for 2014.
Some recent real estate and stock expenditures have yet to be included in hospital expenses, and it appears that the hospital's finances also benefited to the tune of $2 million from a new stretched-out amortization schedule for the hospital's pension plan.
The hospital also continues to rely on generous donors to keep giving millions of dollars to subsidize expansion and operations.
Still, most board members at last Wednesday's meeting expressed delight with the positive news and Board Chairman Tom Segura called Gardner's work as CFO "really terrific."
By the conclusion of fiscal year 2015, Gardner estimated that the hospital would show a $2.7 million profit, aided by greatly revenue from Vero Radiology, which the hospital recently purchased after borrowing $23 million.