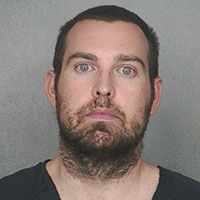 New details on bizarre behavior of accused murderer Jones
STORY BY LISA ZAHNER (Week of September 11, 2014)
Photo of accused murderer Michael Jones
Dozens of pages of emails chronicle the bizarre and erratic behavior that accused murder Michael Jones exhibited while a master's degree candidate at the University of Miami in 2010 and 2011.
The emails not only show the emotional roller coaster Jones was apparently on, but how he took fellow students, professors and university staff along for the ride.
Jones, charged anew last week with the attempted strangulation of a Fort Lauderdale woman in addition to the charges pending against him here for the strangulation murder of Sebastian nurse and Vero resident Diana Duve, claimed while attending the University of Miami to have an amazing variety of "medically significant" problems including three different rare forms of cancer.
As his troubles mushroomed, Jones constantly worked to flatter, cajole and manipulate people who were kind to him or could help him. As for people who were not kind to him, Jones lodged complaints and accusations of discrimination.
By one month into the University of Miami program, Jones' "disabilities" were seriously affecting his ability to participate in class.
In mid-September 2010, Jones' behavior led a professor to document the incident in an email to Program Director Laura Adams.
"Michael, assisted by his girlfriend, made their way to the classroom and were standing there outside the door. Michael seemed to be falling asleep while standing there so I thought it was a little unusual so I went over and asked Michael's girlfriend if he was OK and she said no. About that time he fainted and collapsed," Shawn Snyder wrote.
"He said he wasn't feeling good and then started having a minor seizure. The seizure lasted what seemed to be 30-45 seconds and then Michael came to," Snyder wrote, adding that after Jones refused to call 911, he, Jones' girlfriend and another student helped Jones to the car, that he fainted twice on the way and that he thought Jones and the girlfriend were going to Mercy Hospital.
A subsequent email from Snyder relates that he spoke to Jones by phone the next day, who said he was checked into Mercy, had nine more seizures and was awaiting the results of a CT scan.
Then on Oct. 21, Jones tells of having a seizure in class and fainting, then being taken to the hospital and spending "several nights in the ICU" before being released and returning to class.
"I am recovering from a double spinal fusion surgery and have been dealing with severe back pain and neck issues for nine years. I use a walker to get around which has not inconvenienced any students but has only solicited ignorant remarks from a professor," he wrote in an email.
On Nov. 28, 2010, Jones wrote to Adams, "My family is of the opinion that I need to be rushed to the hospital. I haven't been well in days. In fact much much worse."
And the next day at 2:17 a.m., he wrote: "I was just taken by ambulance to Lumkin (Larkin) Community Hospital. I should be taken to Baptist in the afternoon. Therefore, I will miss the partnership review and the elective share hypo due tomorrow will not be complete as I have been in the hospital for a while then released myself only to be taken back a few hours ago. Please just try to work with me.
"Obviously I won't be able to study but maybe we can all work together on simply passing or something. I'm giving you everything I have and all my will power to take the finals."
There was some discussion of a medical withdrawal, but Jones remained in the program, as the emails continue into 2011.
Six fellow master's degree candidates together wrote letters to Adams asserting that awarding Jones the same degree they would receive would denigrate the school and the program.
"There has been a student who has been in class this summer for approximately 50 percent of the time. He leaves class early and will actually fall asleep while professors are lecturing ... It has been extremely noticeable to everyone in the program that he does not attend class," wrote fellow student and attorney John Fusco. "We actually take bets (not for real money, but for the sake of 'winning') on this person (1) actually showing up and (2) how long he will be there for."
Down the page, Fusco explains that he and other classmates were becoming increasingly skeptical of Jones' wild claims and myriad excuses.
"Now he claims he is going through some serious health issues, but his stories are very conflicting. Furthermore, he has come up with wild and outlandish stories the entire year – he has zero credibility among most members of the class," Fusco wrote.
"He claims to have had his identity stolen, his car stolen and a whole host of maladies that could only befall one of the most unlucky people in the world. If these things happened, then I am truly sorry for him. However, there has been no substantiation of his claims."
At the time, Jones was claiming, as documented in an email to a group of friends, that he was simultaneously battling prostate, pancreas and stomach cancer. On March 30, 2011, he wrote to Adams about picking up a CD for an assignment.
"I had to have surgery yesterday to help stop the cancer from spreading," he wrote.  "I will be there tomorrow and come by if that is OK?" and he followed up, "I am recovering and will be better than ever."
On April 10 he wrote, "I am still in the hospital and I still don't think they are letting me out for a little while, at least not in time for the exam. I have tried everything to get healthier but the cancer is spreading and they are adamant about monitoring me. My girlfriend's mother flew down from New York last week to help take care of me. I am writing to ask if it is possible if she or my girlfriend pick up my exam or if you can email it to me so I can take it in the hospital."
The students were all aware of Jones' very odd claims.
"I understand that this is a tricky situation as he is claiming to have three types of extremely rare cancer. However, I feel that the integrity of the LLM (program) is at stake here. We are all paying a lot of money to be here and are dedicating a year of our professional lives to this endeavor," Fusco wrote. "I honestly don't care if the kid has straight-As. The fact of the matter is that we were all told we wouldn't get credit if we didn't show up to class."
On April 11, 2011, Jones wrote to 21 classmates (including the six who didn't want him to graduate), under the subject line "Happy Hour for Allison's birthday," a note that is simply a head-scratcher.
"By now most of you know that I have been battling prostate, pancreas and stomach cancer and that is why I haven't been around much and have been nodding off in class at times. However, it is one of our last times to get together and agree that it is a special occasion.  As long as I am feeling up to it I am there with bells on to help celebrate Allison's bday. I'm looking forward to it."
A subsequent email chain indicates Jones did not attend the party after all. He wrote that he was not well that night, and asked for a rain check.
As graduation approached and exams and deadlines loomed, Jones wrote on April 26, 2011 to his ethics professor, "Hi. I'm Michael. I was the one in the walker last night that left at the break. I apologize for doing so. I don't know if the staff informed you, but I'm battling cancer.
"I had surgery this weekend and checked myself out just so I could attend your class. It's quite hard for me to sit up that long and last night I started to bleed through and had to leave since I was wearing a white shirt (I don't make that mistake again). I tried my best to participate as much as possible during the first half once I noticed I was bleeding heavily so that you were not offended and that I offered my most to the class. I promise to you that I have a lot of fight in me and only three days left of class to graduate to which I have poured every ounce of my body into. I apologize and look forward to seeing you tonight (hopefully tonight or tomorrow I will no longer need the walker)."
Miraculously, or perhaps at the mercy of his instructors, Jones ended the courses with passing grades and soon thereafter got a job with Wells Fargo in Fort Lauderdale.
A former classmate of Jones' at St. Louis University Law School, where Jones attended from 2007 to 2010, contacted Vero Beach 32963 after reading initial reports of Jones' arrest and spoke on the condition of anonymity.
He said Jones' law school classmates in Missouri also witnessed some very erratic behavior in the three years they knew him. He said they thought he was very troubled and a liar.
While in St. Louis, Jones reportedly claimed to have brain cancer, said the man, now an attorney in private practice. He said the St. Louis University Law alumni were watching the Jones case closely and that, although they were horrified, they weren't entirely shocked to hear he had been charged with first-degree murder.