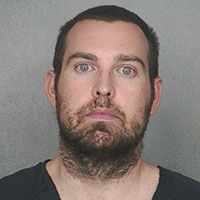 New details from 'mother figure' of accused killer
STORY BY LISA ZAHNER (Week of September 25, 2014)
Photo of Michael Jones
In an effort to unravel the events leading up to the tragic death of Sebastian River Medical Center nurse and Moorings resident Diana Duve, Vero Beach Police detectives methodically interviewed people close to Duve and to her accused killer, Michael Jones.
One of those interviews was with a confidant of Jones, PNC Bank co-worker Kathleen Pickard, to whom he allegedly made some troubling statements.
Pickard told Det. David Farquharson on June 26 that she'd known Jones for about 14 months and described the two of them as "really close friends."
"She stated that she viewed their relationship like a mother-son relationship and that they had become 'very close,'" Det. Farquharson wrote after interviewing the 63-year-old woman.  She "stated that Michael would come to her about all sorts of problems and would often speak to her about Diana."
A few days before Duve was last seen leaving What A Tavern with Jones at 1:30 in the morning, as Kathleen Pickard tells it, Jones had given her some big news.
"Kathleen stated that Michael had told her on June 16 that Diana was possibly pregnant and that Diana was upset about it," the report says.  "Michael said he had planned on taking Diana to dinner on Tuesday (June 17) with the intention of making her take a pregnancy test. Michael had claimed to her that Diana was threatening to have an abortion if she was pregnant, and that he was upset about it."
The police report says Kathleen Pickard and other PNC co-workers were concerned about Jones' mental state, that he seemed depressed, and that two co-workers came to Pickard and "said that we need to have an intervention with Michael and that they felt that he drank too much."
Pickard said Michael Jones' position, in contrast, was that Duve drank too much and had a drug problem.  Pickard also told police that over time, she had suspected Michael Jones was being less than honest with her about the state of the relationship.
Jones, she said, "would claim his girlfriends would stalk him," according to the report, but Pickard said what she thought was really happening was that Jones was "spinning back what Michael was doing to them."
The Brevard County coroner's examination showed that Duve was not pregnant. Medical Examiner Dr. Sajid Qaiser ran blood tests that also showed there were no drugs in Duve's system – except for nicotine and caffeine – but a blood sample returned an alcohol level of .13 when the autopsy was performed four days after she disappeared.  The medical examiner ruled her death a homicide by manual strangulation.
The months prior to Duve being found Duve was found dead in the trunk of her car in a Melbourne Publix parking lot June 24 had been a rocky time for Jones and Duve.
Duve broke up with Jones on April 30 after a neighbor called police to Jones' townhouse because of a disturbance. Jones told police the noise was from "rough sex," and Duve told police she was leaving. Case file documents show she did indeed leave, showing up at The Stamp Bar in downtown Vero in her pajamas, seeking help from a friend, Chelsea Cairns, who worked there.
Cairns told Lt. Matt Harrelson, Vero Beach Police investigations supervisor, that she had been Diana Duve's roommate before Duve moved in with Jones.  When Duve came to the bar, Cairns said she was "hysterical" and crying uncontrollably, and told her "she and Jones had been in a fight and that Jones had choked her by placing his hands around her neck."
About a month later, according to numerous interviews, the couple got back together and Jones took Duve on vacation to the Keys.
The Florida Keys locale becomes significant later, in a conversation between Kathleen Pickard and Jones after Diana Duve had been missing for two days.
Pickard was concerned about Jones because she hadn't heard from him since he'd called in sick with a stomach ache.  Normally, she told police, "Michael was always reaching out to her and that he would visit her in her office 20 times a day to talk about various things."
Pickard feared something bad might have happened. "She mentioned that the thought crossed her mind that Michael may have killed himself because he had been upset lately and she could not reach him on the phone," the police report said.
When Kathleen Pickard finally did reach Jones the Sunday evening after Duve's slaying, he claimed to be at a friend's house.
"When Kathleen inquired with Michael why he couldn't go home, he stated that the house was staked out and that there are unmarked cars there." At the time of this call, Michael was in the Hampton Inn in Ft. Pierce where police arrested him for violation of probation on a 2012 aggravated stalking charge. Jones was not permitted to leave Indian River County without permission.
Pickard said Jones told her he thought he was being framed, that "Diana told me that I'm going to do something really big and you are going to look responsible."
"Michael then told her that he knew that she (Duve) had not shown up for work and that he spent Saturday night searching for her in two different cities, but he knew that she must be in the Keys but that he did not know anyone that he could call down there," the police report states.
Pickard asked Jones why he was so scared and he replied, "Cause look how it's going to look if they find her hurt or murdered. I did it." She asked, "What did you say?" and Jones replied, "If she's found murdered, I did it."
Later in the conversation, Pickard told police Jones eased up a bit, saying his speculation was ridiculous.
By the next morning, Pickard told police that her initial worry about Jones' well-being turned to grave concern over what he may have done.
Pickard told police she "went into work and was told that Michael was in police custody and had cashed a check for $2,000 or $2,500 on Friday, and she immediately thought, 'Whatever comes of this, Michael is responsible.'
"She stated that she did not know why he was in police custody, but she felt that Michael was involved in Diana's disappearance one way or another," the police report concluded.