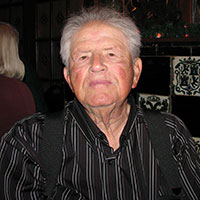 Ralph Sexton:Vero loses a gentle giant
STORY BY MARY SCHENKEL (Week of September 18, 2014)
Photo of Ralph Sexton
Indian River County lost a gentle giant last week when  Ralph W. Sexton died in the care of VNA Hospice, just two days shy of what would have been his 87th birthday.  At his side in death as in life was his wife Chris Dale Sexton; the couple would have been married 33 years this coming Halloween.
The eldest son of Elsebeth and Waldo E. Sexton, Ralph Sexton's contributions to his beloved hometown were as impressive and significant as those of his flamboyant father.  Sexton was a longtime cattle rancher, overseeing his expansive Treasure Hammock Ranch.  A shrewd businessman, he also deftly managed the family's real estate holdings, which included many of the landmark properties built by his father. 
Unlike Waldo, who was famous for his showmanship and the creation of properties such as the Ocean Grill, Driftwood Inn, Szechuan Palace, Patio Restaurant and McKee Jungle Garden, Ralph Sexton was renowned for his nurturing spirit and giving nature. 
"Mark said earlier that Ralph lived his life for beaches and cattle," said Hilde Tripson, wife of Ralph Sexton's nephew Mark Tripson.  "He was a magnificent man; I loved him. He was such an honorable man. He spent his whole life setting the bar for our beautiful community. He continued the love of Vero that his father had." 
Ralph Sexton was particularly influential with regards to guiding beach re-nourishment projects and curtailing overdevelopment. It was under his gentle guidance that the county's unique quality of life was preserved. 
Sexton served for 22 years on the Indian River County Planning and Zoning Commission, and it was while he was its chairman that current code height limitations were enacted. As chairman of Save our Shores, he was instrumental in getting beaches restored and the PEP reef installed in an effort to protect beachfront hotels and businesses from erosion. 
In the 1970s, Ralph Sexton even agreed to sacrifice the former Waldo's Mountain – the colorfully tiled stairway to nowhere near Bethel Creek that had been built by his father – to help shore up oceanfront properties.
Sexton related the story in 2006 saying, "A bad northeaster had washed away the beach in front of the Driftwood, the Ocean Grill and other buildings. It was so bad that trucks couldn't haul in material fast enough to shore it up and protect the buildings. The dirt hauler suggested that we dump the mountain over the side, so over it went." 
In 2007, the family's 462-acre Treasure Hammock Ranch became the first property in Florida to receive a conservation easement, protecting the ranch not only as an important bit of Florida history, but also guarding its natural and agricultural resources in perpetuity. 
A true chip off the old block, the home Ralph Sexton built for his family at the ranch was equally as impressive as any of those designed by Waldo.
But despite all his other remarkable achievements, it is Sexton's warmth and humor that will missed most by all who knew and loved him.
Sexton generously welcomed one and all into his circle – often around circular tables such as those at Szechuan Palace where the family would meet regularly for dinners – where he would regale his listeners with tales of yesteryear. 
Reminiscences included those of his childhood, waking before dawn to work on the family's 160-acre dairy farm on 12th Street in Vero Beach, before heading off to school.
He would later go on to earn an agricultural degree in Animal Husbandry at the University of Florida and also served a tour in the Merchant Marines before returning home in 1951. 
"He was a giant of a man with such a sense of humor. Even though his body was failing, his mind stayed crystal clear," said wife Chris Sexton, a dancer, instructor and choreographer. They were known by friends as "the rancher and the dancer."  
Many people realized that something was amiss when they didn't see Ralph at the annual August Anniversary Celebration at Szechuan Palace hosted by John and Sue Liang and the Sexton and Tripson families. Everyone on the guest list, a who's who of old-time Veroites, felt the loss of his presence. 
"I always wanted to be a cowboy and I spent my whole life being a cowboy with him," said Mark Tripson, adding with a chuckle, "Most of what Ralph and I spent time doing together you don't want to print. He didn't have any hobbies; he just liked to work. He was big and strong as I don't know what. It's amazing the strength he had. He was happiest in the cow pen, working his cows and looking at them." 
Tripson said he knew Sexton's time was near, when he showed disinterest in the cattle. "Couple of weeks ago they were weaning heifers and he told me, 'I just don't want to go over there.'  It was the first time in 60 years."
The ranch has always been the epicenter of the family; Ralph Sexton gave each of his children a five-acre homestead on the property. And while the job of a cowboy is strenuous, hot, dusty, sweaty and expensive, it also seems to run in the blood; four generations have worked the ranch.  Ralph's son Sean, an artist and poet of note, and Sean's son Mike worked side-by-side with Ralph, managing its daily operation and numerous other members of the Sexton and Tripson clans were equally willing to pitch in. 
"He just loved his Mikey," said Chris Sexton of Mike, who followed in his grandfather's footsteps to earn a degree in animal husbandry. "He was so proud of Mike and all his accomplishments and the fact that he wanted to continue in the ranching tradition.   
"He gave me a career and a lifestyle that he enjoyed and that I love. He really just had an indelible impact on my life," said Mike Sexton. "He was my friend, my advisor and my hero. He touched the lives of everyone who knew him. He was very humble, and God, was he funny. We spent our whole lives laughing with him."