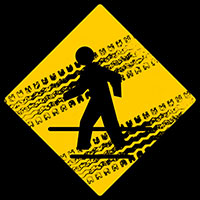 2 elderly pedestrians hit by car in condo parking lot
STORY BY RAY MCNULTY (Week of April 9, 2015)

Last week, Brian Goodman, 87, and his wife, Corinne, 84, were walking through the parking lot of the Oceanside Condominiums in South Beach when they were struck by an SUV that was backing up.
Goodman was knocked unconscious. His wife hit the ground hard enough to cut her head. Both were taken to the Lawnwood Regional Medical Center & Heart Institute in Fort Pierce.
Goodman, reached at his Ocean Drive home Monday, said he sustained a broken cheekbone and stitches on his face. His wife, meanwhile, required stitches on her head and still had a sore neck when the London-based, long-time winter residents were released from the hospital Sunday.
"We were just walking from our car to the apartment and, apparently, the driver didn't see us," Goodman said. "I don't know how he didn't see us, but he backed up and hit both of us.
"Fortunately, it was nothing serious."
Statistically, it could've been. According to Phil Matson, Indian River County's Metropolitan Planning Organization director, accidents involving motor vehicles hitting pedestrians or bicyclists account for only a small percentage of traffic crashes – but produce most of the fatalities.
Statistics for the number of crashes involving pedestrians and bicyclists who are senior citizens were not readily available, but, given the average age of the local population and the desire of many of them to walk, jog and bike to stay healthy, it's likely to be higher here than in some other parts of the state.
"We address pedestrian safety in general; we don't specifically single out seniors," said Anna Carden, public information officer for the Vero Beach Police Department, which responded to the Ocean Drive accident. "We've had a couple of bad accidents involving people of advanced age, but that's a dominant age group in our community, particularly at this time of year.
"We can't say older people are at a higher risk," she added. "There's a lot of traffic out there – on the roads, on foot and on bikes – and we all need to be aware of our surroundings."
In fact, Carden said crossing only at intersections and looking both ways before crossing, even when at a one-way street, is especially important during the busy season.
She also cautioned against crossing streets "with your head buried in your cell phone," as well as when walking, jogging and biking while wearing headphones that could hinder the ability to hear car horns, motorcycle engines and emergency vehicles.
"The place has been crazy this winter," said Karen Deigl, president and CEO of the Indian River County Senior Resource Association. "We've got all these people on the road – some of them older drivers who are down here for the first time and don't know our roadways – and they're interacting with pedestrians and bicyclists.
"The problem might be more with the drivers than the pedestrians, but, either way, all of us need to pay more attention to what we're doing," she added. "This is why we need safe bike paths and sidewalks."
"We've been coming here for 34 years," Goodman said, "and this is the first time anything like this has happened."
Goodman said the vehicle that hit him and his wife was driven by a 57-year-old neighbor of theirs who was distraught and very apologetic over the incident. Goodman said he's going to let the insurance company sort out payment of medical bills.
Police said the traffic unit is continuing its investigation into the crash and has 30 days to complete its report. DUI has been ruled out, Cardin added.