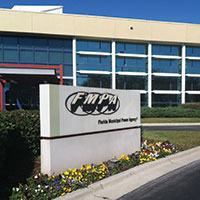 FMPA brass scolded by members for meeting no-show
STORY BY LISA ZAHNER (Week of April 23, 2015)

Members of the Florida Joint Legislative Audit Committee are not the only ones incensed that the two top officials of the Florida Municipal Power Agency failed to appear in Tallahassee last month for a hearing on the agency's much-publicized audit findings.
At the latest board meeting in Orlando, key FMPA board members railed at CEO Nick Guarriello and General Counsel Fred Bryant not only for bailing on the Tallahassee meeting, but also for not telling them that legislators had specifically summoned them to testify.
Kissimmee Utility Authority Vice President of Power Supply Larry Mattern had asked to speak on the FMPA's epic failure in Tallahassee.
"That we chose not to have Nick and Fred there, I personally take that as a very difficult pill to swallow," Mattern said near the end of the recent meeting. "We were not told that Nick and Fred were requested to be there."
Members said that during a pre-hearing telephone strategy session, it was stated that FMPA Chairman Bill Conrad of Newberry, ARP Executive Committee Chairman Howard McKinnon of Havana and Deputy General Counsel Jody Finklea would represent the FMPA.
The reason given by Finklea for the top dogs' non-attendance, other than the fact that he said they were "very busy people," was that Guarriello had a physical therapy appointment and that Bryant was ill. Those excuses, in light of the withholding of key information during the teleconference with board members prior to the meeting, didn't seem to wash.
"The Auditor General wasn't doing a good job of presenting," Mattern said, adding that the arguments at that point were pretty weak and he felt the FMPA had some sympathetic members on the legislative committee – until they found out that Guarriello and Bryant had defied the panel's request and skipped the meeting. "When that became apparent, they were 10-0 against us."
Green Cove Springs voted years ago to try to exit the FMPA (they've had about as much luck as Vero) and, in response to the Auditor General's findings, voted that the FMPA should be disbanded. That city's representative blamed Guarriello and Bryant for the fact that the FMPA is now on the JLAC's annual audit list.
"Why didn't you tell me that the two key people were asked to be there?" he asked. "I just find that a violation of trust. They are going to continue to audit us and continue to probe and push."
Jacksonville Beach City Manager George Forbes, one of the more outspoken members of the FMPA board when it comes to high rates, echoed his colleagues from Kissimmee and Green Cove Springs. "I think you both let us down," Forbes said. "You're paid to be accountable for this organization and when the bell rang, you didn't show up."
The executive committee of FMPA's All-Requirements Project did plod away at some corrective actions recommended by the Auditor General. During a discussion of FMPA's risky investment policies, Forbes was adamant that the co-op should employ only fixed-rate and variable-rate vehicles for investment and debt. He urged staff to take the riskier hedging practices out of the list of allowable practices.
"I think we've proven that we shouldn't be in the swaps business. Honestly, I can't explain these other kinds of things to our constituents," Forbes said.