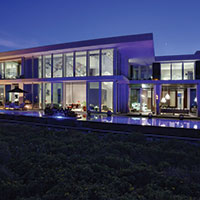 Largest Central Beach home goes on market
STORY BY STEVEN M. THOMAS (Week of April 2, 2015)

The largest house in Central Beach has just been put on the market for the record-breaking list price of $35 million.
While the Wackenhut house in Indian River Shores and a couple of houses in the so-called Estate Section at the southern end of 32963 have in the past been listed at higher prices, there never has been a sale on the 32963 island for anything like that number.
The 18,200-square-foot modernist house at 3700 Ocean Drive sits on a 1.4-acre oceanfront plat south of the Jaycee Park boardwalk in the Veromar subdivision. Built in 2013-14, it is the home of Katherine McConvey, a 10-year Vero resident who is owner of KMM Telecommunications, a billion-dollar telecom supply firm, and more recently CEO of Alloy Development.
McConvey paid $4 million for the two beachfront lots the home sits on in 2011, and spent a large but undisclosed amount to build the finely-detailed custom home. 
Designed by architects Erik Helgen and Jared Della Valle, McConvey's business partner and president of Alloy Development, and built by Joe Foglia Contracting, the house was mildly controversial during the construction process, with some people objecting to its size and style as inappropriate for Vero Beach.
Others praised the Bauhaus-style building as an important addition to the city's built environment.
McConvey says positive sentiment has prevailed. "Every time I have had people over, it surprises me how much they love the house," she says. "They are amazed at how different it is from their vision of what 'modern' structures are like. The positive response has been overwhelming. The house is much warmer and more livable than people expect."
The house has received good reviews in the architectural press, meriting a cover story in Florida Design magazine, which lavishly lauded its interior dimensions and details.
McConvey, who lives in the home and recently had her stepdaughter's wedding there, says she built the house as a personal residence but also "with a certain amount of interest in seeing how the design goes over in Vero Beach."
Community reaction convinced her and Della Valle that Vero is ready for thoughtful modern design and the partners just announced that Alloy will develop an 18-unit luxury condominium complex in Indian River Shores that, like her house, expresses the company's preference for and expertise in contemporary architecture.
The Ocean Drive estate, which was listed by Kay Brown of Premier Estate Properties, has 200 lineal feet of ocean frontage along with eight bedrooms, eight full baths and four half-baths in the main house and guesthouse.
It has two swimming pools with patio islands along with numerous fountains and terraces. More than 4,000 native plants were used to stabilize and enhance the dunes behind the house.
McConvey, who seems to have made it part of her life's mission to bring modern architecture to Vero Beach, says that when her home sells, she will launch into another home project here in Vero Beach.
"I know that will happen," she says. "I am not leaving Vero."
One possible location for a new house is a 1.33-acre oceanfront lot she bought for $2 million in 2013 next door to her current home. Another might be the old Lowell estate on the edge of the Riomar Country Club golf course, which she purchased in January for $6.999 million.
Wherever she builds again, judging by her past accomplishments and projects, it will be a notable structure.