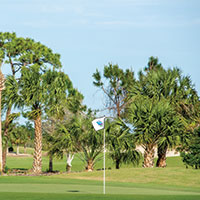 Moorings seeking to acquire Hawk's Nest Golf Club
STORY BY RAY MCNULTY (Week of April 16, 2015)

The Moorings Yacht & Country Club has made a $2.5 million offer to purchase the Hawk's Nest Golf Club, and hopes to know within weeks whether a "unique" opportunity to add a Jim Fazio-designed course to its existing amenities will enable it to move into very top tier of Florida private residential clubs.
Moorings general manager Craig Lopes confirmed Sunday that the club made an offer last week to acquire Hawk's Nest, but he said it was "too premature to comment at this time."
Members of Hawk's Nest are expected to vote by May 1 on whether to accept one of three bids for the 300-acre property, which was built along the same sand-based ridge to the west of town as Red Stick, John's Island West, Bent Pine and the Indian River Club, as well as the county-owned, aptly named Sandridge.
A small group of Hawk's Nest members and the San Diego-based Heritage Golf Group also have submitted letters of intent to buy the stand-alone course, which opened in October 1987 and has operated as an equity-member-owned club since September 1993.
In an April 7 letter to members, Moorings president Joe Vargas wrote that the club's board of governors voted unanimously to approve a proposal to pursue the purchase of Hawk's Nest, which he described as a "unique and perhaps transformational opportunity."
According to Vargas' letter, the offer was to be funded through a "special member offering" in which 25 "founding members" – selected via lottery – each would pay $100,000 and, in exchange, would be exempt from all club dues for the rest of their lives and the lives of their spouses.
The $2.5 million, Vargas wrote, would allow the Moorings to pay off Hawk's Nest's $2 million debt and provide an additional $500,000 for other expenses related to the acquisition.
Moorings members would not incur any debt as a result of the purchase, Vargas wrote, nor would there be any increase in dues, fees or charges, "other than normal cost-of-living increases." Also, the board would complete a due-diligence examination of Hawk's Nest's business, operations and assets.
Vargas' letter said the acquisition would require the approval of Moorings members through a vote that would be held at a special meeting in November. It also said the board would conduct in the interim Town Hall-type meetings to provide more information and allow members to ask questions and express their thoughts.
Vargas could not be reached for comment, but his letter explained the reasons the board decided to pursue the purchase of Hawk's Nest.
The Moorings is the site of the only "short course" designed by famed golf-course architect Pete Dye. The par-64 layout was built in 1974 and, though it offers 18 holes – nine par-3, eight par-4 and one par-5 – it spans only 4,434 yards.
To provide its members with opportunities to play full-length, championship-level courses, The Moorings entered into reciprocal agreements with other local golf clubs in recent years, only to see those relationships end for various reasons.
In fact, The Moorings' reciprocal agreement with Bent Pine is scheduled to expire in May. The termination of that partnership prompted members to ask the board to explore alternative arrangements.
The possibility of acquiring Hawk's Nest intrigued the board, which was forced to move quickly to put together a competitive offer before last week's deadline.
"Other clubs in our area are investing heavily in their facilities and offerings," Vargas wrote in his letter. "Many new, younger retirees and professionals are looking for a championship long course.
"Given our current extraordinary package of amenities, adding a long course will set us apart in the marketplace and help assure the future growth and financial stability of our wonderful club," he continued. "Your board believes the acquisition of Hawk's Nest will position our club in the top tier of clubs in the state."
A recent appraisal valued the property at $5.5 million, he added.
Hawk's Nest general manager and golf director Bob Gruber echoed Lopes' sentiment, saying only that the process is "in the beginning stages" and that confidentiality agreements prohibit him from discussing the matter.
He would not divulge even the size of the club's membership.
Hawk's Nest was created by a group of private investors that included current club member Sam Bell, then sold to members Jay and Nancy Rhoads in 1989. A Cape Cod-style clubhouse was built and opened in January 1990. Three years later, the Rhoads donated the entire property to the membership.
The clubhouse underwent a renovation after two September hurricanes damaged the structure in 2004. The entire golf course was re-grassed during the summer of 2006.
The Moorings' stiffest competition for Hawk's Nest could come from the Heritage Golf Group, which owns four clubs in Hilton Head Island, SC (Port Royal Golf & Racquet, Shipyard Golf, Oyster Reef Golf and Palmetto Hall Plantation), two in Florida (TPC Tampa Bay and TPC Prestancia in Sarasota), and one each in Georgia (Champions Retreat in Augusta) and Virginia (The Dominion Club in Glen Allen).