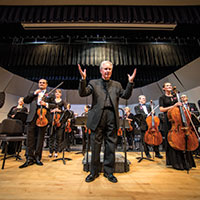 Robertson ends 11 years with Atlantic Classical Orchestra
STORY BY MICHELLE GENZ (Week of April 16, 2015)

World class talent was embraced with small-town emotion this weekend, as a misty-eyed Stewart Robertson tried to maintain composure while taking his last bow after more than a decade as conductor of the Atlantic Classical Orchestra. 
The Scottish-born conductor Robertson also feels like a native son of Vero after 11 years conducting the Atlantic Classical Orchestra. Warm and approachable, his departure last week – a  result of his deepening battle with Parkinson's disease – touched audiences and orchestra members alike.
As usual, he tucked a handkerchief in his tux for his last night as conductor Friday in Stuart. He had conducted his final Vero concert the night before.  Normally at the ready to wipe his brow, for his final bow, it might have wiped a tear or two.
What he didn't expect, in the middle of world premiere violin concerto, was to have to stanch the bleeding finger of the young soloist at his side, the diminutive, cherub-faced, Grammy-winning, 23-year-old virtuoso Caroline Goulding.
Somewhere in an endless series of passionate attacks during 33-year-old composer Zhou Tian's ravishing 20-minute work, Goulding had torn a nail to the quick. Waiting for a pause between movements, she murmured to Robertson as she held up the bleeding finger; Robertson discreetly reached into his pocket and passed her the handkerchief.
She held it to her hand, as the audience waited and winced, then, with Robertson's whispered assent, she shrugged a "here goes!" warning to the audience and carefully mopped up the blood off her Stradivarius.
And off she went again, as energetically and brilliantly as before. The crowd was absolutely dazzled.
Jerry Rappaport, former ACO board chair, thought the concerto was the runaway favorite of all the works his foundation has commissioned for ACO.
Rappaport and Robertson met at the conductor's castle in Scotland to discuss the commission program. "We became very close," said an obviously saddened Rappaport.
Robertson, born in Scotland, changed the program to close his final concert with a Scottish piece, Alexander MacKenzie's "Benedictus," in honor of family members gathered "from several continents."
"A 'Benedictus' is a blessing, and a blessing, I think, infers that something is beginning, not ending." He noted that though the piece was "bittersweet," it ends "on a major chord, which is important."
The night before, in Vero, Robertson had taken his final bow with his eyes glazed with tears.
Afterwards, at a gathering at Quail Valley Club, he pointed out with annoyance the tremble in his left hand that to the public was the only sign of the Parkinson's disease that has recently worsened.
Along with commissions of new music, Robertson's legacy may well be his part in turning ACO into a regional chamber orchestra. Founded in Vero and Stuart, the ACO last year began to offer free dress rehearsals in Palm Beach Gardens; this season, that was expanded to full paid performances.
Held in Florida Atlantic University's Eissey Campus Theatre, a beautiful facility with excellent acoustics, the concerts have been reasonably well attended by a very enthusiastic audience. That was the case for Tuesday's matinee when the mostly female audience cheered vociferously for Robertson. Several speculated intensely over the "little schmitzig" on the orchestra members' lapels. Turns out, it was a ribbon in the Robertson clan tartan.
And while many had become enamored of Robertson in the short time they'd known him, they seemed dazzled by the caliber of the chamber orchestra itself and several were vowing to come back next year with new recruits. "It's a treasure," one woman said rapturously. "And this is a very culturally sophisticated audience."
Already, 113 applicants have put in for Robertson's post. Four will be chosen as guest conductors for next season. That will afford ACO's new executive director, Alan Hopper, a means of auditioning them not only with the audience but with the musicians.
For now, Stuart has the largest audience for ACO concerts, offering both an afternoon and evening performances at the small, historic Lyric Theatre. Friday night, it was an emotional final concert. "I wisely didn't wear makeup," said a tearful Tina Burr, a flutist who has been with the group since its inception.
After Robertson's repeated calls back to the stage for a long ovation, there was a champagne reception in the lobby for board members, supporters and musicians.
As for Goulding, she had changed out of her sparkly high heels into the same black flip-flops that peeked out from under her evening dress at the Palm Beach Gardens matinee. On her finger, she proudly displayed a Hello-Kitty Band-Aid, offered by one of the violinists.
"She said she always keeps two in her purse for her kids," said Goulding. "I got to choose between Hello-Kitty and Sponge Bob."