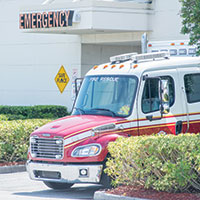 Sebastian River Medical Center: Vero's other Emergency Room
STORY BY SAMANTHA ROHLFING BAITA (Week of April 9, 2015)

One a Sunday afternoon last month, when the Indian River Medical Center Emergency Room was swamped, 17 ambulances were diverted and sent up US 1 to the Emergency Room at Sebastian River Medical Center. 
How does the 154-bed Sebastian River Medical Center handle its own Emergency Room patient load as well as the occasional diversion from much larger IRMC?
"Our hospital is prepared to care for any patient who comes into our emergency department," said CEO Kelly Enriquez.
While Sebastian River primarily serves the unincorporated North County, Sebastian, Fellsmere and South Brevard, it sees a growing number of patients from Vero Beach and the northern part of the barrier island.
A point of special focus for all hospitals is the ER "wait time," and Sebastian River Hospital offers a "30-minute ER Pledge."
"Our goal is to initially see every patient within 30 minutes of their noted arrival," says Director of Emergency Services Brad Guffin, noting that this wait time does not apply to patients with serious trauma/injury, who always receive immediate attention.
Guffin explained that 30-minute-or-less wait time goal represents the time it takes from arrival until a patient triage nurse has determined their priority status and they have been initially seen by a physician, physician assistant or advanced practice nurse. 
Data from the last three months show that SRMC is beating its goal handsomely, with an average wait-time of 16 minutes compared to an average wait of 23 minutes statewide and 24 minutes nationwide.
According to the most recent data available from Medicare, the national average time from arrival at the Emergency Room to discharge for all hospitals was 133 minutes. The Florida average during that same time period was 143 minutes; for SRMC, it is currently 124 minutes.
At noon on a recent Wednesday the website showed a wait time of just 4 minutes; at 10:45 a.m last Thursday it was 10 minutes; by 5:45 Thursday evening, the wait was 16 minutes.  
To serve emergency needs around-the-clock, Guffin says, "the emergency department is staffed with a board-certified physician 24/7 as well as either a Physician Assistant or Advanced Practice Nurse" during the period that typically sees the greatest patient load.
The ER nursing staff is adjusted up as ER traffic increases, with a minimum of three and up to six or more, as needed.
"We are staffed," says Chief Nursing Officer Anna Brooks, "above the recommendations provided by the Emergency Nurses Association, and board-certified physicians are always available if we need additional staffing." The hospital reviews staffing patterns and volumes and prepares for changes on a daily basis.
What would happen if Sebastian's ER exceeded maximum capacity?
"When emergency departments are unable to accommodate new patients because volume is at capacity, they go into diversion, and ambulances are directed to transport patients to another hospital," Enriquez said.  "As a result of our processes, we have not been on diversion in at least a decade."
Sebastian River ER patients are asked to fill out a patient satisfaction questionnaire "grading" service and care in several categories with 5 response choices, from best to worst. The answer that indicates best was marked 86.7 percent of the time in the most recent period during the height of the season.
Enriquez, a hands-on administrator, expresses pride in the ER team.
"We appreciate the dedication of our emergency department physicians and employees," she said. 
"They understand the needs of the community and they're prepared to respond to the emergency needs of our patients."