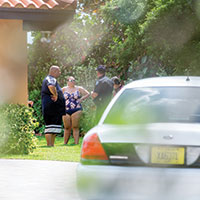 Will police visits, bigger fines curb short-term rentals?
STORY BY MEG LAUGHLIN (Week of April 23, 2015)

In a beefed-up effort to curb short-term rentals, uniformed police are now accompanying code enforcement officers who visit residences to see if they are being rented in violation of a Vero Beach ordinance that says the rentals cannot be for fewer than 30 days.
When barrier island residents met recently to learn about the involvement of Vero Beach police, city police chief David Currey and public information officer Anna Carden told them that a $500 a day fine is now in effect for those who have already been given a warning.
Rental owners who show code enforcement officers that they have contracts already in place for the next three months will be given a 90-day grace period before being fined, as long as they sign an agreement saying they will stay in compliance after the 90 days, explained city attorney Wayne Coment.
If they sign the agreement and stay compliant, they won't be fined.
The 90-day grace period runs from April 7 to July 7, said Currey. But it only applies to those short-term rental owners who show rental contracts and sign the compliance agreement.
"Owners not doing this will be warned and have 10 days to comply before being fined the $500," he said. "And after July 9, any short-term rental owner not in compliance will be warned and have only the 10 days before the $500 fine is due."
To put more teeth into enforcement, Vero Beach police not only accompany code enforcers when they present warnings and citations to home owners who are renting for under 30 days, they also moved code enforcement into the Vero Beach police department to work under Lt. Matt Monaco.
"The City Council wants code enforcers to work with police officers and home owners to put an end to this," said Coment.
"This is a watershed moment because the council and city officials are showing they are  serious about getting the word out that the party is over," said beach resident David Hunter, who became especially vocal against the rentals, along with other beach residents, after a weekend rental on Dahlia Lane in late January ended in a neighborhood crime spree. 
In 2011, the state legislature said local governments could only ban the short-term rentals if an ordinance against them had been in place prior to 2011. The Vero Beach City ordinance forbidding "transient occupancy" in residential neighborhoods had been in place for decades, said city planning and zoning chief, Tim McGarry.
"We're sorry if anyone didn't understand this and bought homes for short-term rentals, because they shouldn't have," said attorney Coment.
But short-term rental homeowner Charles Fitz, who rents out several homes on the barrier island for under 30 days, is challenging the city zoning ordinance in court because he believes the state law preempts it. Fitz and his attorney J. Garry Rooney argue in a recently filed lawsuit that the city code was vague in defining the time period for "transient occupancy," which it forbade. And they also argue that by not enforcing the code until 2014, what was written prior to 2011 had little meaning.
The crux of the battle between beach residents opposed to the short-term rentals and home owners who want to rent their properties can be summarized by representatives from both sides:
"Short-term rentals are destroying our sense of neighborhood, decreasing property values and increasing crime," said former Piper Aircraft CEO Jim Bass, who lives on Date Palm, where four homes are available as short-term vacation rentals.
But Fitz, who filed the lawsuit, obviously disagrees with Bass.
"That crime spree was an aberration. Most of us are very careful about who we rent to, and the families who come to our places bring life and an economic boost to the area," he said.  "If we can't rent for under a month then we'll have lots of vacant properties for most of the year, which is likely to be worse than the rentals to nice families."
At the close of the recent update meeting between barrier island homeowners and city police, Chief Currey said that despite the dispute between the two sides, the city was seeing less aggressive marketing by the home owners who rent their properties for under a month.
"They are dropping out of the rental websites," he said.
Staff writer Lisa Zahner contributed to this report.